Topic starter
14/05/2010 3:15 am
I just bought an Ibanez SR 500 bass which is supposed to be mahogany but obviously isn't. The tag that was on it says "Ibanez SR500PBBBF .Can anyone decipher what the PBBBF stands for? I suspect,when de-coded,it will explain the change from mahogany to what I have(which is beautiful)Thanks for any help.
Pretty Bass Body in Brown FInish
:twisted:
:lol:
P.S. Congrats!
My old Ibanez Artcore was listed as "flame maple" in the US but was actually sycamore, and correctly ID'd on their Japanese web site.
"Everybody got to elevate from the norm."
Pretty Bass Body in Brown FInish
LOL!
Dreamer, congrats on the new bass! I watched it in my usual store and it is very pretty and it has a really good finish.
A 'B' could stand for 'Bartolini'.
Pictures?
Topic starter
14/05/2010 2:34 pm
If some kind soul would tell me how,I would post a picture.
Nice bass!, though I can't find the exact thing anywhere.
This may be embarassing to write initials, but the "BM" would have been Brown Mahogany, before.
All of those B's may have a Bartolini, Bubinga and Brown Finish reference, but IDK. The mahogany may be covered in pretty Wenge wood?
To post a pic, host your own in Photobucket or similar site and then copy the image on a link there, and paste here. Or hit "Img" above which gives
then paste your own or anyone's URL inbetween the brackets where I put the*.
Like a bird on the wire,
like a drunk in a midnight choir
I have tried in my way to be free.
Topic starter
14/05/2010 9:39 pm
I don't know for sure but hope you don't mind; I enlarged a part of it for everyone's eyes and an assessment of wood type.
It has some flamed maple characteristics and also an appearance of burled walnut. There is mahagonay in the neck inset.
Maybe the forum will nail it for you. I have to go watch NASCAR. http://www.warmoth.com has excellent wood samples!!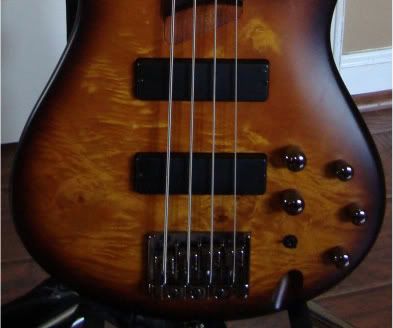 Like a bird on the wire,
like a drunk in a midnight choir
I have tried in my way to be free.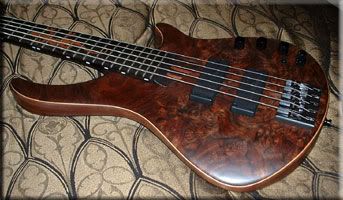 From Warmoth Gallery > Bass > Gecko style, Joe Meyer, builder says:
This is the 6th Warmoth bass that I've put together but the first Gecko. The cosmetics of the Gecko just blew me away! For several years I've been waiting on Warmoth to offer a 35" scale bass and for them to offer one with such a slick looking body was certainly an added plus. The neck of my Gecko is Wenge/bubinga with an ebony finger board and the body is a figured walnut top with a walnut core. I finished the body with 12 coats of low luster Polymerized tung oil, rubbing it down with steel wool between coats. The result was a nice deep satin finish that really shows off the figured walnut top. I applied just 3 coats of Polymerized tung oil on the neck since wenge doesn't really require a finish. I installed Bartolini soap bar pickups and a Demeter 3-band preamp. The electronics of the bass are extremely quite (I also applied 2 coats of shielding paint in the control cavity and pick-up routing holes). The bridge that I used was an ABM and the tuners are Gotoh. I was going for a nice warm sound and the bass definitely produces that! Overall I'm very pleased with the bass. It actually turned out even better than I hoped. As a side note, If you're looking for a soft case for a Gecko, it fits in the Gator GL Lite case very well. A great alternative to the heavy expensive hard cases and offers much more protection than a gig bag.
Back to the question, most of the basses like yours were figured Walnut. Some were Wenge and many were Maple of course, one Cuban mahogany was similar.
http://www.warmoth.com/Pages/Gallery.aspx?type=GECKO_BASS
Blue Jay
Like a bird on the wire,
like a drunk in a midnight choir
I have tried in my way to be free.
Nice bass! Congrats.
From the looks of it, a lot of Ibanez basses have a poplar burl top.
It also appears the type of top gets worked into the naming convention.
I bolded how I think the naming works:
The new 2009 BTB basses feature gorgeous mahogany body/poplar burl tops (BTB775PBCN, BTB776PBAM).
mahogany body/figured maple top (BTB570MFMCN, BTB575MFMTOR).
Most/all their bass bodies seem to be mahogany. So I'm guessing mahogany with a poplar burl top. But I'm just guessin'!
:)
PS Search Goggle images with 'ibanez bass poplar top' and you'll find a bunch more pix/models
Today I was playing a SR600. I guess it is very similar. Great bass! You must be very happy!
Topic starter
21/05/2010 12:07 pm
Alphabet mystery solved. The PB stands for Poplar Burl. The BBF after that means Brown Burst Flat.Also,it is a Guitar Center exclusive which is why it didn't appear in any catalogs. I was lucky and hit the GC at the right time. This one is a keeper. Thanks for all the help.