Topic starter
16/08/2005 4:01 pm
Of the proper way to roll your index finger to hit barre chords? I can hit most of them just holding my finger flat but some are just too hard.
This is what gets me barre chords, when I need help. They're crappy pix, but you'll get the idea
NOrmal position:
Rolled finger:
The fingers are far too close to the fret, but it's a demo not music :D
Topic starter
16/08/2005 5:46 pm
Thanks. That looks like its going to be tough to hit all the other notes that way but I guess I will just have to learn. Elbow should be were and how high to tip the neck?
Don't tip the neck. The roll is to get the more bony side of your finger onto the strings, that's all.
But beware - you also have the joints to consider - those little crreases can also cause a flat note, if you're not careful. It's all a matter of trial and error. Some people have bigger fingers than others and guitar necks are wider/narrower than others. There's no "one size fits all" in barre chords, I'm afraid.
Not sure if this will help (I'm also struggling with a clean barre sound) but I also roll the finger as shown but I've found I get more 6 string contact when the tip of my finger is only slightly past the top of the neck. I've seen pics where players have a inch or so of finger above the neck (low E part in case I'm not being clear)...when I do this, my joint creases mute a few strings. Give it a try...I hope it helps!
Mike
Topic starter
16/08/2005 6:53 pm
I don't really have a problem on my electric but on my acoustic I definitely have a problem. Hopefully once my tech can get it in and does a proper setup this won't be much of a problem. I'm just looking for alternate ways to hit these notes clean.
Here's another nice pic of a barre chord.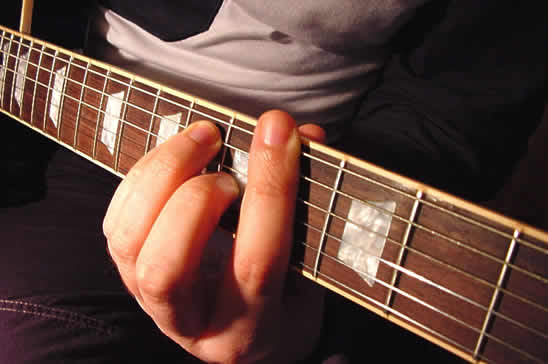 You can see that this person has their index finger just slightly rolled on it's side (thumb side).
This might help. You do not have to worry about the strings being fretted by other fingers. So, for a barre E type chord, your index really only has to hold the 6th, 2nd, and 1st strings. So you do not have to clamp your index finger down hard to hold all 6 strings.
Your index does not have to be straight. Some people arch their finger. What is important is fretting the notes properly, not how pretty your hand looks.
If you know something better than Rock and Roll, I'd like to hear it - Jerry Lee Lewis
Unfortunately, it seems there's no exact "one size fits all" way to do barres.
Guitars have different neck widths; the string widths vary from top to bottom of the neck; and we all have different finger lengths (so the tricky bits - the creases at the joints - will be different distances apart depending on how long your fingers are) plus they will have different amounts of flesh on them. :)
It seems that we each have to find just what works for us.
As Wes says, most barres only require you to press down 2 or 3 strings, as the rest will be already fingered. And not all chords need the full six strings to be played.
I've read that the full barre across all six strings is the hardest to do well and may take months to perfect. I've seen good sources that suggest that it's useful to barre just the strings you actually need - so a partial barre will be all that's needed in many cases.
I'm also struggling to learn barres. I can now do the barre using the Am shape with relative ease (flat or rolled) as the tricky joints for me are behind the notes that are already fingered. Ditto for using the E shape down the neck with a barre.
The one I still find hard is the Em shape which needs me to hold 4 exposed strings down with the barre. Sometimes it works, sometimes not. But I take comfort from knowing that this might take a fair bit more work before I nail it, and that's it's not just me that found it hard to get perfect.
Good luck, and let us know if you discover some neat tip. :)
Topic starter
17/08/2005 12:52 am
I can hit most barre chords just fine on both guitars. There are a few that are just plain tough, just ask Mikesp. I've been working on the same song "Stairway to heaven". Those barre's are just difficult to hit on my acoustic and I'm looking for away to hit some of them a bit easier.
This is me at my first gig doing some 12 Bar Blues in the key of A.
NOTE - If you look at my index finger in person, you will see that it naturally slants towards my middle finger. Which does not make it easy to do barre chords because my index finger is formed the opposite way one would hope, but I don't seem to have any problems barreing chords.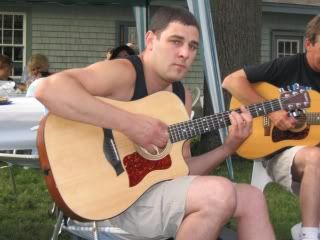 Edit- I downsized the image seeing that you already have a grasp for barre chords.
Maybe these pics will help.
Somebody else posted this link on another thread. It's to an article about barre chords in one of the GuitarPrinciples Newsletters.
Click here for Newsletter on barring
A fairly long but very interesting article with some good pics.
Topic starter
17/08/2005 2:09 am
Tracker, I absolutely no problems hitting that chord its more of an
7
5
5
6
x
x
and to be fair it's an arpeggio E5+/G#, it's just an odd fingering. OH,BTW my finger bends the same way. I will get it eventually.
Thanks Chris, I'll take a look at that site a bit later.
Then it seems like a chord transition problem, not a barre chord problem. You should distinguish those two because the formation that you came from should help you set yourself up for the next one. Yes, not always the case, but more often than not, there is a rhyme to the reason.
What was the chord you came from?
EDIT- At that, what you are doing is a mini barre.
1) Mini barre 5th fret with index and your ring finger on the A (d string)
1a) Same mini barre, now put your middle finger on the G# (d string) and your pinky on the B (e string)
It's an easy shift, you'll get the hang of it.