Use Winamp to make learning to transcribe easier....
Topic starter
03/03/2007 11:52 am
I've been trying to sharpen my ear and transcribing skills of late and had a hunt around for tools to help me out - was using Audacity but not really liking the experience, so gathered together plugins to use Winamp to do the same job.
Here's a quick guide I knocked up in case anyone wants to give it a try...
Grab Winamp if you haven't already got it installed...
Install these plugins
Loop Master - cool way to loop parts of tracks
Repeater - this lets you customise the rewind/fast forward time
Pace Maker - change the pitch and speed
Chronotron - another pitch/speed change
Just download and double click the downloaded exes to install, we'll configure in a bit
...and set the scene with a Marshall Skin :)
Download and extract the zip file to your Winamp skins directory
Fire up Winamp and right click on the interface, select options then preferences....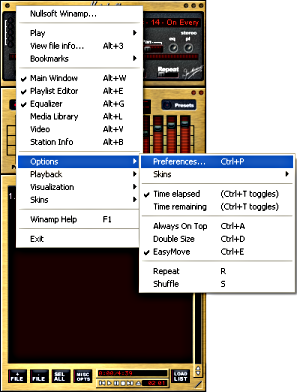 Under General Preferences highlight Global Hotkeys - now assign new keys to pause, rewind and ffw - I used numpad 0, period and enter
* Winamp takes full control of your key selections while it's open so don't use any keys you need to use all the time!!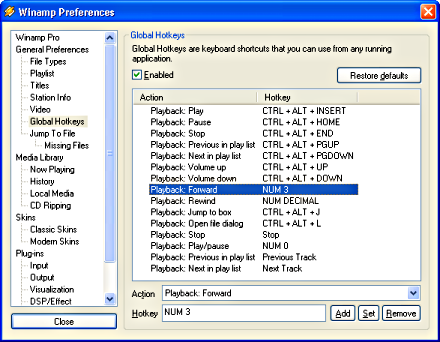 Under Plugins, General Purpose, highlight Loopmaster and click the configure button at the bottom.
Tick the Enable Loopmaster box and then OK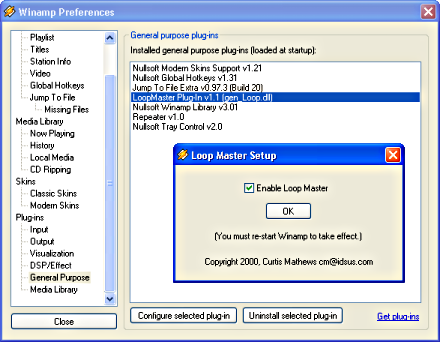 While your there, make sure Repeater is listed as well...

Now head over to Plug-Ins, DSP/Effect and highlight Chronotron or Pacemaker (try both and see which you like best)

Whichever you select, the corresponding GUI should appear...so far so good :)



Close out of the Preferences box and your layout should be something like this....


Now right click on the

button, select Rewind by then your desired amount.....
Do the same for the

but select fast forward by ;)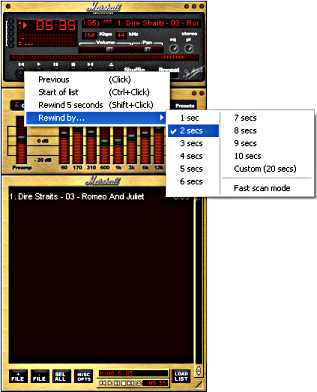 Now you can control your playing track using your chosen hotkeys and skip back a few seconds as desired.
Use Loop Master to loop a piece of the track - use the 'Set Now' button at Loop Start and Loop End to do this, tick the loop enabled box under Start and End
Pace Maker or Chronotron will adjust the speed and pitch of your track
You should now be set to start transcribing some songs......good luck!!

The only thing that keeps me from realising my full potential is the depressing awareness that it wouldn't take much time or effort...
Very good tutorial! :shock:
Congratulations!
Definately something to print out and keep on file. Thanks JinJ!!!
~Mike the Redneck Rocker.
"The only two things in life that make it worth living are guitars that tune good and firm feeling women" - Waylon
I expect this will help me out tons, if I actually spend some time using it (I'm setup now, just need to play with it a bit and then get busy).
OMG! Looks complicated! I'm not sure where to start!
Never assume the other fellow has intelligence equal to yours. He may have more.