What does Full mean?
Topic starter
06/03/2011 6:18 am
I'm trying to learn how to play The Clansman by Iron Maiden, I'm using Guitar Pro 5 and the tabs say G7 Full. What is a G7 Full and how do I play it?
I presume there's a set of chord boxes at the start of the song with two versions of G7.
It's not a musical term, so must have been added by whoever wrote up the song. I would play it (bottom to top) either 353433 or 320001. The choice is yours
"Be good at what you can do" - Fingerbanger"
I have always felt that it is better to do what is beautiful than what is 'right'" - Eliot Fisk
Wedding music and guitar lessons in Essex. Listen at: http://www.rollmopmusic.co.uk
I agree, not a standard musical term.
I would guess the writer meant an inversion of the chord that involves all 6 strings, but I admit, that's a wild guess.
I sometimes get a little irritated with people who don't take the time to write the standard musical terms when they notate the music. Music is the universal language, and the terms in any musical dictionary define the written vocabulary for musical notation. The standard musical lexicon can express just about anything modern music has to offer. If you find yourself in a situation where the dictionary terms don't fit, you should clearly explain yourself.
I do a lot of fake disks for Band-in-a-Box (auto accompaniment program). And I often run across published music in paper form where the first directive is something vague, like "rhythmically". What does that mean? Doesn't most music have rhythm? In fact rhythm is the default, if you want the music to flow without a definite rhythm us the standard term rubato. So agreed the song should have a rhythm, but how fast? 60 beats per minute (mm=60), mm=120, mm=200 or something else?
OK, I'm off my soap box now.
You can ignore the non standard term, or interpret it any way that sounds better to you.
Insights, incites and occasional minor rants by Notes ♫
Without seeing what you're looking at, it can be guesswork at best, but many guitar notation softwares do use the word "full" but it's strictly in regard to bends. A "full" bend would be a bend of a full step, meaning that you've raised the original note a whole step (two frets) in tone.
In your case, as Alan and Notes have pointed out, the use of "full" by whomever wrote the transcription is certainly misleading, not to mention confusing. But if you're looking at a single note lead line, there's a chance that the "full" applies to a single note in the score - depending on where that note appears on the staff can make the "full" of the software appear in many places and it may just be coincidence that it's right after the G7. This is just a possibility.
Hope this helps.
Peace
Topic starter
06/03/2011 5:28 pm
Thanks for the replies. How do I play a bent note?
Thanks for the replies. How do I play a bent note?
Like this: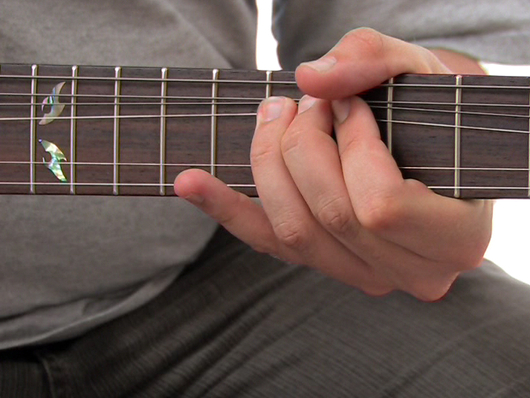 A lesson that talks about bending (among other things)
I wrapped a newspaper 'round my head
So I looked like I was deep