What was #1 on the day you were born.
Topic starter
21/02/2009 8:12 am
Have you ever done this?
My number #1's are:
'You're So Vain' by Carly Simon in the US
'Long Haired Lover From Liverpool' by Little Jimmy Osmond in the UK
'Ben' by Michael Jackson in Australia
See which songs you get
http://www.thisdayinmusic.com/birthdayno1
Topic starter
12/03/2009 4:03 pm
on the day Barack Obama (August 4, 1961) was born Bobby Lewis was at #1 with Tossin' And Turnin' (and The Beatles played a lunchtime show at The Cavern Club in Liverpool).
on my birthday the #1 song in the U.S. was 'Flashdance... What a Feeling by Irene Cara :?:
I think it was probably the 1812 Overture.................................. :oops:
I think it was probably the 1812 Overture.................................. :oops:
:lol:
On my birth date, the number one song (that I've never heard of) was "The Poor People of Paris" by Les Baxter. Yes, I'm old.
..· ´¨¨)) -:¦:-
¸.·´ .·´¨¨))
((¸¸.·´ .·´
-:¦:- ((¸¸.·´ -:¦:- Elecktrablue -:¦:-
"Don't wanna ride no shootin' star. Just wanna play on the rhythm guitar." Emmylou Harris, "Rhythm Guitar" from "The Ballad of Sally Rose"
Sheb Wooley - Purple People Eater
for some strange reason i'm not at all surprised :mrgreen:
Memories are made of this - Dean Martin :D Gawd I'm old!
This is gross......
Wanted.....Perry Como
I'm old too......
Album: Soundtrack from Mary Poppins
Song: Mrs. Brown, you've got a lovely daughter by Herman's Hermits.
Actually, I've always sung along to that song...
I wrapped a newspaper 'round my head
So I looked like I was deep
Man, I've never even heard of the songs or artists that were #1 on my B-Day. :(
"Wooden Heart" -Joe Dowell U.S. :roll:
"You Don't Know" -Helen Shapiro U.K. :?
"Smokey Mokes" -Joy Boys :shock: Sounds like an 80's boy band!?!?! And what is a "smokey moke". Or any other kind of moke for that matter?
But, hey, "Wooden Heart", I got a new one for the song association game :lol:
But, on my wedding day, it was "Irreplaceable" by Beyonce... aaaaaawwwwwwww. Obviously referring to my wife :wink:
My number 1's were for the day i was born: 20/08/1990
UK: Itsy Bitsy Teeny Weeny Yellow Polka Dot Bikini - Bombalurina
US: Vision of Love - Maraiah Carey
AUS: Not available
For my 18th: 20/08/08
UK: I kissed a girl - Katy Perry
US: I kissed a girl - Katy Perry
Aus: I kissed a girl - Katy Perry
The day i got with my girlfriend 19/12/07:
UK: What a wondrful world - Eva Cassidy and Katie Melua
US: No one - Alicia Keyes
Aus: Apologize - One republic
David Watts
Takamine G-Series - £229
Fender STD American Telecaster (Cola Red) - £849
Vox 15watt AMP (Valve pre amp) - £129
Acoustic/Electric Rhythm and Lead (Occasionally) Southport Elim Youth Band
Former Aftershock 24/7 Rhythm Guitarist (Band split)
Interesting, everyone.
This is sooo right for me, and I wondered why it was stuck in my head, 'long with forceps, towels 'n stuff. :roll:
Like a bird on the wire,
like a drunk in a midnight choir
I have tried in my way to be free.
... and for my sweetest baby child, on the day she was born: (get your magnifying glass) I actually bought this...
http://en.wikipedia.org/wiki/Candle_in_the_Wind_1997
Beauty left us, not once but twice for that song, but I feel blessed even though it was a very bad year. I have loved Marilyn Monroe all my life, and Princess Diana when we knew her.
Not to be morbid, but I can never forget that year, while others are less remarkable. We also lost Denver Pyle (Dukes of Hazzard), Pat Paulsen, Brian Keith, Robert Mitchum, Jacques Cousteau, Gianni Versace (that fashion designer), Red Skelton, Mother Teresa (of course - big news), John Denver (miss you bro), Michael Hutchence (INXS & God Bless You), Nicolette Larson- sweet angel voice, and last but not least Michael Kennedy, son of Robert Kennedy, on December 31.
Since this is about music, looking on the brighter side, we will always have John Denver, Nicolette Larson and Michael 'Immortal' Hutchence.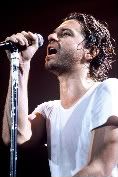 And here's a song that just nails this topic of birth from Nicolette:
as if this one didn't already do it
Like a bird on the wire,
like a drunk in a midnight choir
I have tried in my way to be free.
well, I've never heard of it before but it was
All 4 Love by Color Me Badd
I listened to it..............don't like it so much, I think they could have written me a better song lol