42 year-old guitar....What is it??
Guitar Players Discussion
Topic starter
16/11/2008 5:23 pm
I was talking to one of my friends who said that her dad had an old guitar up in the attic from when he was about our age. A couple days ago she brought it out. Its 42 years old and only has one pickup. There isnt a brand name and the bridge/saddle is quite quaint and humerous. Anyone got an idea as to what this contraption might be called?? Or even who made it??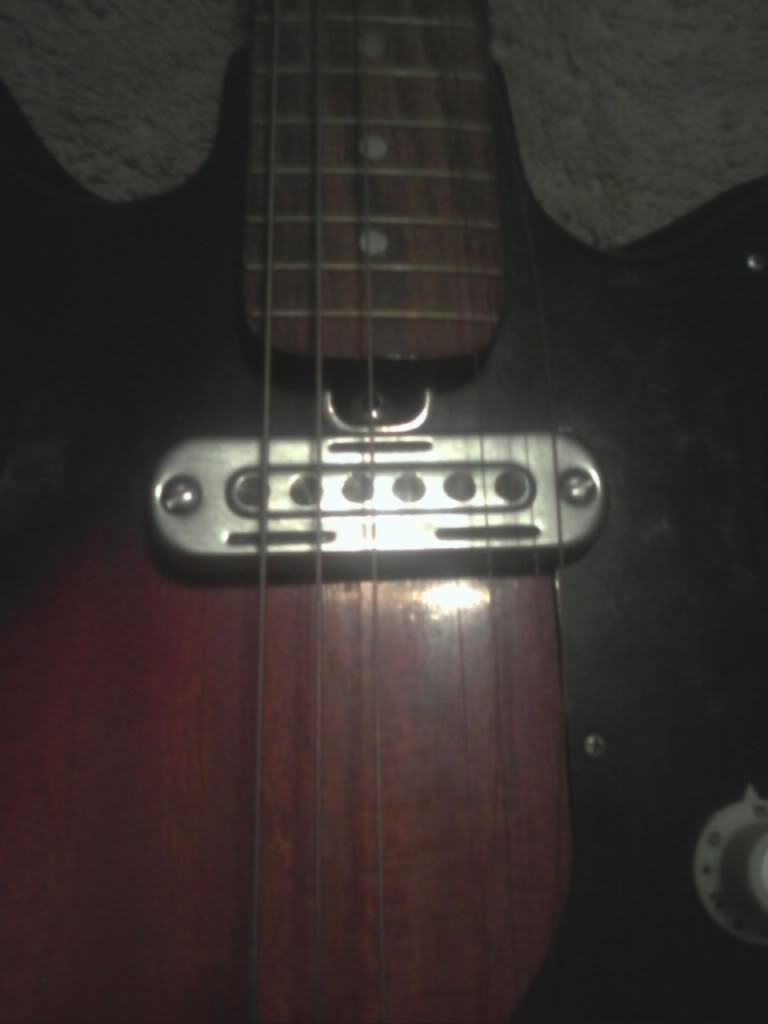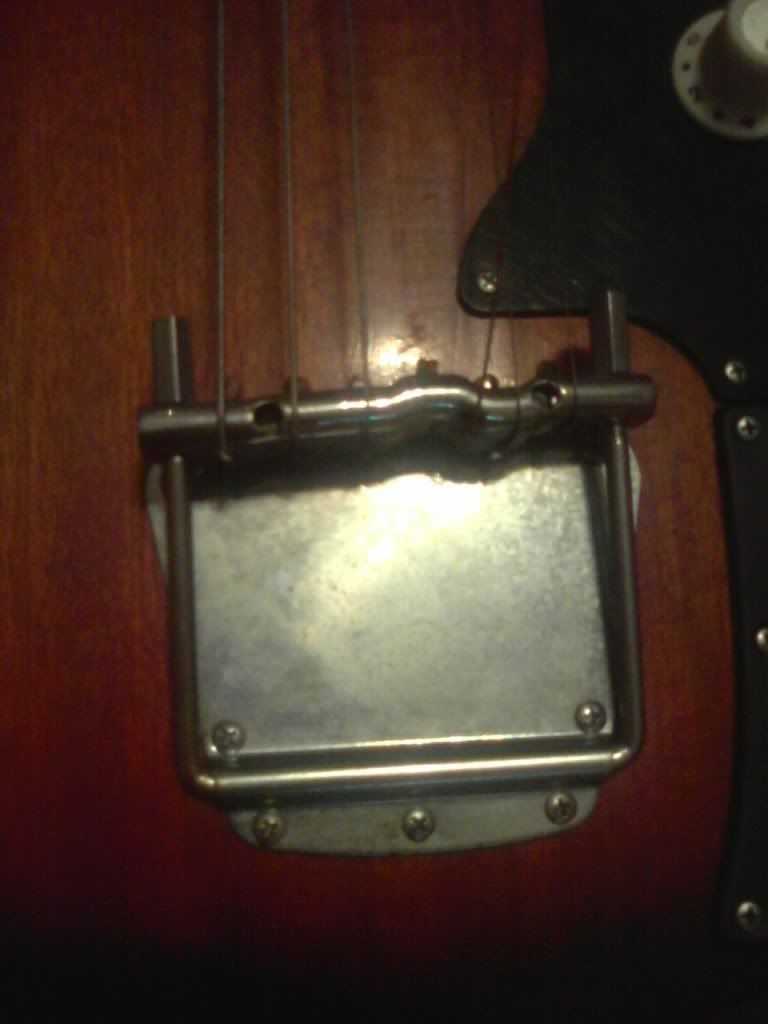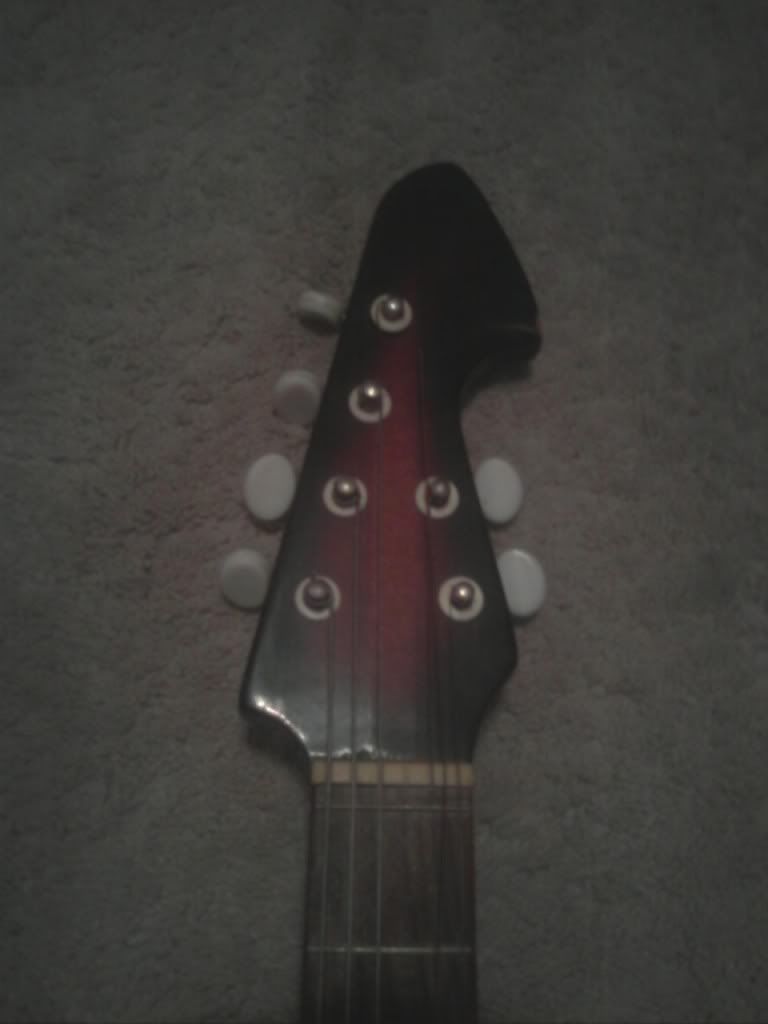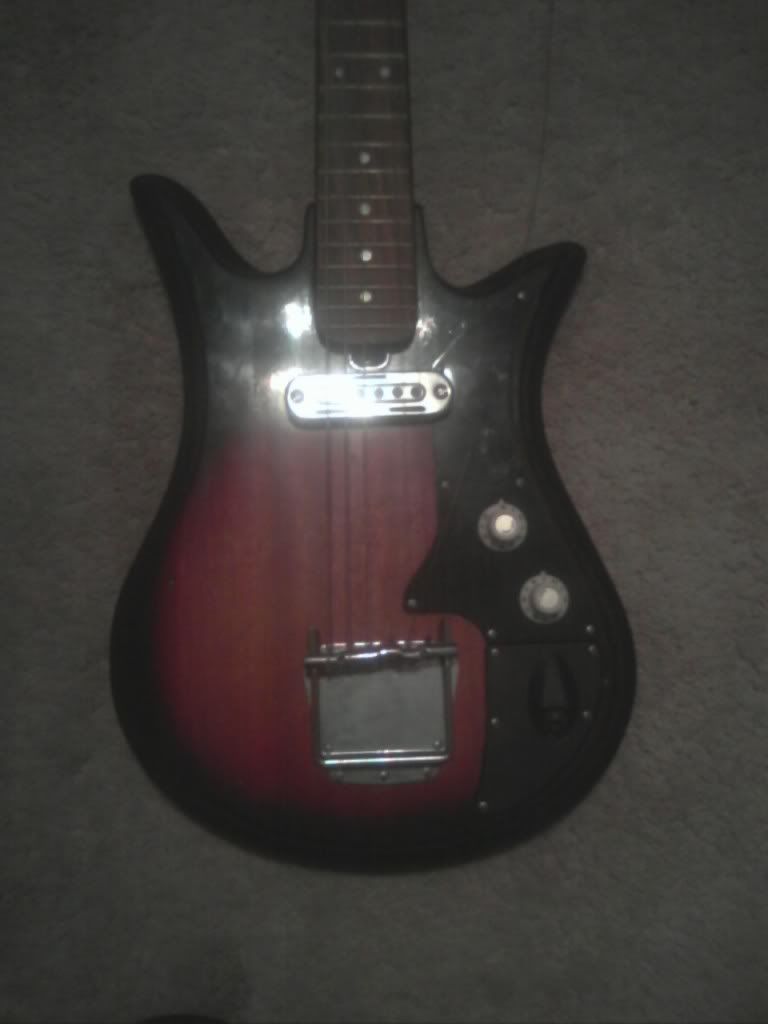 ps sorry about the size...i couldnt figure out how to change it.
I'd bet it's a Teisco.
A low-end one at that, but still plenty cool. Made in Japan, mid-60s as you suspect.
Here are some old adverts; I don't see a direct match with the wrap-around bridge and 4+2 shark fin headstock:
http://www.mark-cole.co.uk/teisco/literature.htm
"Everybody got to elevate from the norm."
I think old Japanese guitars are cool.
I really like the Buck Rogers looking ones with about 5 pickups and as many switches and knobs as a B-52 cockpit.
"A cheerful heart is good medicine."
+1 on Teisco Del Rey, though it may have been sold under the Silvertone marque. the 4 + 2 "can-opener" headstock, rounded bottom fretboard, tulip-shaped body and even that particular slotted chrome pup are all hallmarks of Teisco.
That's a relic. Consider placing it in a museum ?
Hey, Rahul...
How'd you get yer mitts on my mum's favourite baby picture???
Cat
"Feel what you play...play what you feel!"
No idea... I couldn't even something that looked like that in my history of the guitar book... it's pretty cool though
No idea... I couldn't even something that looked like that in my history of the guitar book... it's pretty cool though
history of guitar book? some of us here at GN learned to play on guitars like that ... and they were new at the time.
God what I would give to refurbish that. I dont know if any of you guys have what I have, but ive got a REAL problem with refurbishing used guitars. Its the greatest feeling in the world turning it from that, to a like-new beauty. 8)
I buy used guitars week in and week out and my favorite part is working on them, I just bought a used Charvel Fusion of the 80's, totally RE-DID the guitar and realized I didnt really want it so I took it back. Oh man did they get a different guitar then they sold lol :lol:
Im a freak!
Sing Me A Song Your a Singer, Do me a wrong, your a bringer of evil. - Dio
I hope by refurb, you mean clean it up, replace the strings and maybe a fret or two. because beyond those, that is not a guitar to refurb. it has the vibe, sound and feel of a design from a particular era. see that cheesy little pup? that is the type of pup guys like Ry Cooder and Jackson Browne put on their Strats for slide playing ... who knew? that little guitar -- plastic tuner buttons, bent wire bridge/tailpiece -- is a bit of coolness from a bygone day. and it's actually in pretty good shape.
David (dhodge) can tell you a story about when we were at uni together. briefly: he showed me his dad's beat up, rusty, worn out electric that clearly needed a good refurb. and I was on my way to doing it -- paint job and all. fortunately, David told a local shop owner about it before I did too much. he offered David a considerably trade deal for that late 50's Tele. and it hung in that shop for years as a prize find -- nearly as beat up as the day I first saw it.
These were sold in the UK under the Antoria brand in late 60s early 70s , larger branches of Woolworths sold them , the shop that was the 5 and dime in USA?.
Antoria was just a name back then for guitars imported from various Japanese factory produced guitars , most arrived without brand name on the headstock and the music shop workers usually put the decals on afterwards.
Some later Antorias were made in the famous Matsumoko factory but these models were not as far as I remember.
Jap Antorias and Arias were very high quality later and anything Matsumoko now is getting pretty rare and gaining a bit of value certainly in the UK , it would be nice if there were a serial number that could be checked .
That actual model was branded as a starmaker as far as I can remember but that was in the UK , the name starmaker was reintroduced again later on a cheap strat copy again a "catalouge range guitar".
It makes sence with the blank headstock as they were left this way upon leaving the factory and brand put on at destination , whick was usualy a screw on fake trusss cover with emblem or a transfer , or of course many were just left blank as they were a cheapish guitar.
I had one but got rid a while ago and considered buying one at a boot sale a couple of years back for nostalgia sake but it was so badly beaten I left it.
Certainly looks more like the Antoria bridge and although it might be a Tiesco , I cannot remember many of them having the Eko style zero fret , which was something that the UK Antorias had.??
Would be nice to know if the pick up has any info on it that may point back to Matsumoko who were making guitars for almost everyone , some of the Matsus make nice collectibles
Dont give a shite about punctuation or spelling , I have to do that all day at work.
Free times for rocking !!
Teisco sold under so many names it's not difficult to believe Antoria is related.
Wiki: http://en.wikipedia.org/wiki/Teisco#Guitars
Teisco collectors' site: http://www.mark-cole.co.uk/teisco/index.htm
Parts and pieces of Teiscos (credit to Mark Cole, linked from above site):
note the tulip body, as well as pup and bridge:
The classic 4 +2 Teisco headstock (on the model that was my brother's first electric, but his was red and a Silvertone):
Any my first guitar was a Teisco:
I've got an +-50 years old Guyatone (from somewhere in the sixties, late sixties from what I;ve managed to find out) and the only refurbing I'll do is changing the strings every now and then. Frets are getting worn a bit but with some care I can keep the action low and all frets under the 15th playable. :lol: Really, if I wanted to refurb a guitar I'd get a Squier Affinity for a few bucks on ebay. These cheap oldies aren't great guitars, mine (It cost me less then a halfway decent bottle of scotch) isn't even decent, but it's my favourite all the same. My hi-tech RG550 with it's Floyd, uber-fast fretboard and 99,999% accurate intonation just cant touch it.
That guitar of him looks awesome, if he dont use it and you feel you're serious about music talk to him about it. The financial value of it is nearly non-existent so a deal might be possible and benefit the two of you.
I want to say its something Japanese.