finally got that new guitar!!!!!
Topic starter
15/02/2009 1:11 am
So today I took myself to Guitar Center armed with gift cards and a 10% off coupon to pick up that new guitar I've been wanting forever. So remember I was waffling between the Highway One Tele and Les Paul Studio? Well, after all that I fell head over heels for a Gibson SG Classic. Great feel, great tone, i loved it. But of course, there was an issue. The nut was cut wrong, the slots were too deep. And sadly that was the only SG Classic in the store. I couldn't afford any other Gibsons (except the faded series but i hated the finish). I couldnt order a Classic because the coupon expired today, and the manager told me it was only good for in-stock merch. So my SG Classic dream was derailed. Next time I guess.
So my consolation prize??? Brand spankin new (right out of the box) Fender American Standard Telecaster in 3-tone sunburst. Maple board. It's beautiful. Second best guitar in the store behind that SG.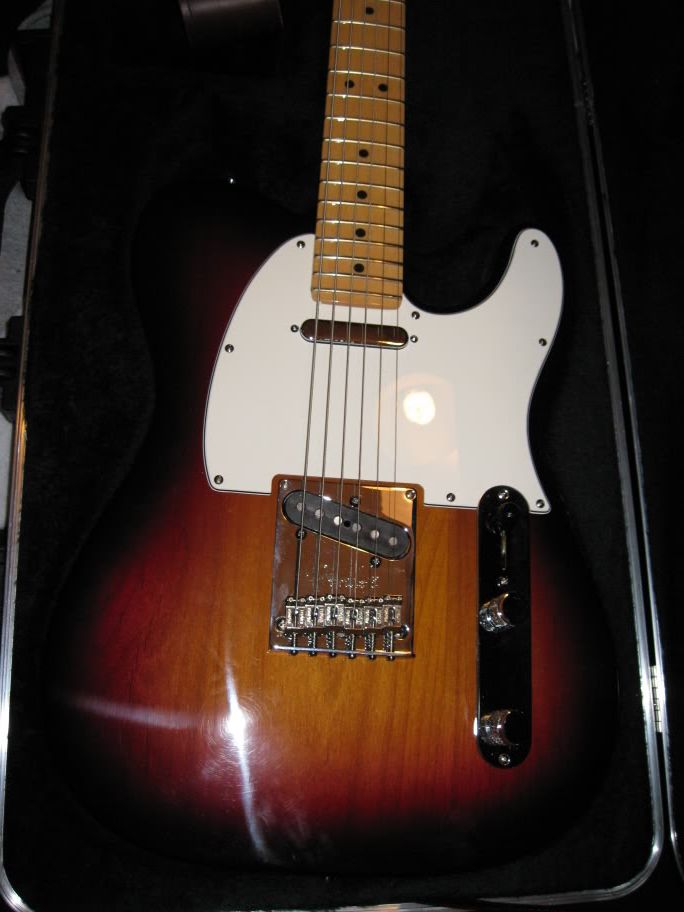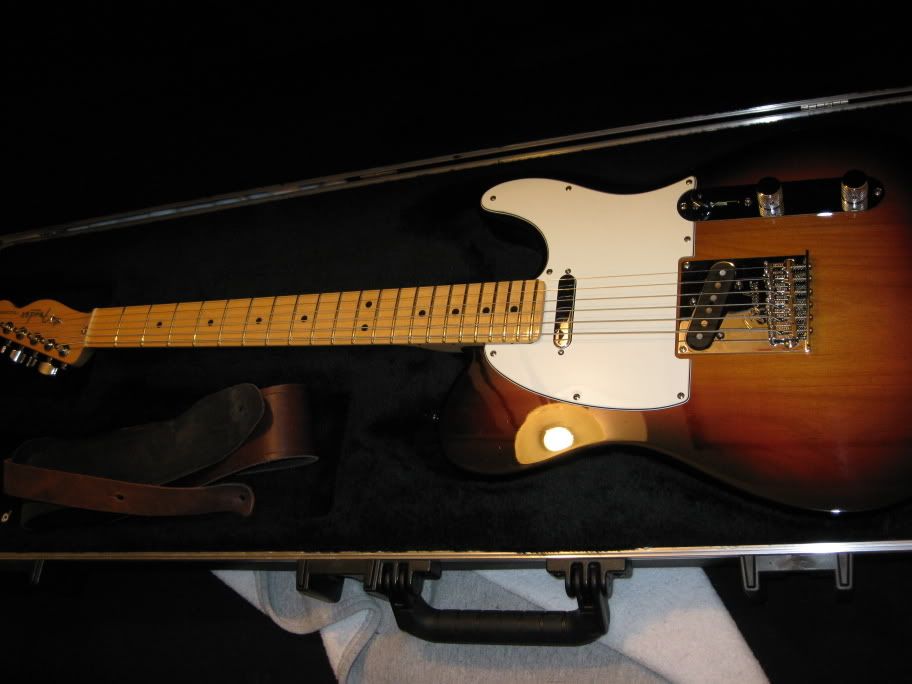 I'm amazed at the quality. It's very well made, not a flaw. the setup was perfect, even after I slapped on my .12s. I did a little tweaking (and still have a little more to do later) but overall it was minimal action adjustment. I love it. Yes, I'd still wish for the SG, but man this tele is great.
btw, I was taken back a little by the lack of stock in GC. They had only 2 MIA teles, no highway ones, and only 3 MIM Standards. But then they had almost 30 strats sitting around. I could have had any strat in any color but the teles were few and far between. I guess they're having trouble keeping the store stocked. The selection was bare. I knew there were other models in my price range but they didnt have them! Whatever, I got an MIA tele so im happy.
I'm glad you saw things my way. :wink:
Congrats on the Tele.
Congrats on your new Tele! Can't go wrong with one of those.
Our GC here is similar. Tons of Strats and tons of LPs. Limited quantities of other things on the floor. Usually enough floating around to have what you want though. If it was a Strat you werelooking for, though, it'd be like "Which red one do I want....."
Roy
"I wonder if a composer ever intentionally composed a piece that was physically impossible to play and stuck it away to be found years later after his death, knowing it would forever drive perfectionist musicians crazy." - George Carlin
Very nice, congrats! 8)
Dan
"The only way I know that guarantees no mistakes is not to play and that's simply not an option". David Hodge
Beautiful, U2.
Congrats!!
Bish
"I play live as playing dead is harder than it sounds!"
Congratz man!
tele's have soul... 8)
Awesome guitar man! :note2:
Very nice lookin' ....Hope she treats you well....
i wouldn't complain about a new tele, but what the heck, man? nuts are like 75 cents. why didn't you just get the sg and slap on a new one? that's what you get for having bono in your avatar.
oh well. it's gorgeous and i personally prefer teles to sg's
Topic starter
16/02/2009 1:24 am
well first of all, I'm not about to slap a 75 cent plastic nut on a Gibson. A Bone to Plastic conversion is not the way you go. Second, Gibson lacquers their nuts into the slots and generally cuts the nut slots very shallow. What this means is that if the slot itself was raised, the string would not be seated in the slot and would be prone to popping out. If the nut is removed, it would need to be relacquered or have a scored finish which wuold ultimately be prone to chipping in that area. While it's not a big deal, if I'm paying $1000 for a brand new guitar I'm not about to do something like that to it. It's not worth the hassle. If I was picking it up for a lower price on Craigslist, that's different but the GC manager wouldn't drop the price, claiming it was more cost efficient to have the GC tech repair it for little cost and resell it. Trust me, I explored every option with the guy and it just didn't work out.
Would you buy a new car if you knew it needed work before you even took it home? I wouldn't. I'm not concerned though, I'll have an SG one day.
Hey! I bought a guitar new that needed nut work last summer! :lol: No, I see your point. The guitar I bought was an Epiphone Les Paul so only $419 and the nut was nylon, didn't need to be replaced, just cut deeper. Glad you're enjoying the Tele!
"Work hard, rock hard, eat hard, sleep hard,
grow big, wear glasses if you need 'em."
-- The Webb Wilder Credo --
i can respect that answer. it still doesn't excuse having bono for an avatar.
Topic starter
17/02/2009 8:39 pm
hahahaha well if my u2 obsession is my only flaw i can deal with it :)
and to go on what TR said...if the problem had been the nut wasn't cut deep enough, we'd be talking about my brand new SG classic now instead of my brand new Tele.
About 6 months ago I went to my local music store to buy a Les Paul. Every one I picked up to play had something wrong with it and they were all brand new. I ended up buying a Musicman Axis Supersport that was perfectly set up out of the box and I'm glad I did. What an awesome guitar. I think the quality of Gibsons has declined recently. Just my opinion.
That's been going on for years.
"A cheerful heart is good medicine."