I forgot to tell you all about my new guitar.
Topic starter
21/11/2010 9:30 pm
Ok so it's a pretty self-explanatory title. About a month ago I picked up a new guitar in trade...I swapped my MIM Stratocaster because since I got my MIA Telecaster, I simply haven't played the Strat. It's too close tonally to the Tele and I figure if I want a guitar with that specific sound and feel, I'd rather play the Telecaster every time because it's nicer and feels a lot better to play. Plus it's got some fantastically hot pickups (stock) that made me forget about the Strat, even though the Strat is a very nice guitar and I always enjoyed it.
So I found this guy on Craigslist and brokered a trade for a sweet Epiphone Dot Studio. But, as you can see in the pics below, it's not just any Epi Dot Studio...Here's the rundown of my new, unique tone machine:
1. New GFS tuners...the kind with mint green knobs, which I think is very sexy looking. They're smooth, accurate and much better than the stock Epis...I had been considering picking up a stock Epi Dot for years because I wanted a semi-hollow but the tuners were #1 on my list of things I didn't like about it.
2. New GFS P-90s. This was the seller. I've been dying for a p90 guitar. These are nice, clear, hot and QUIET p90s. I love them...they're fantastic.
3. All new electronics...100% replaced. Makes the guitar sound clearer and more defined.
4. Telecaster knobs for a cosmetic touch.
5. New GFS bridge/tailpiece combo instead of the Epiphone stopbar. Very nice look.
6. Les Paul Pickguard. Again, cosmetic, but so cool.
7. High-glossed top. Just the top is glossed, and it's pretty.
So I took it home, set it up for .13s and it's fantastic! It's a completely different sound and feel from the Telecaster, because of the different electronics and shorter scale length. Finally, a guitar that's different enough from my Tele that I actually want to put the Telecaster down for a few minutes and play something else. I'm very happy.
Pics! Sorry for the quality, my iphone doesnt like the light in my house, ever. Tell me what you think.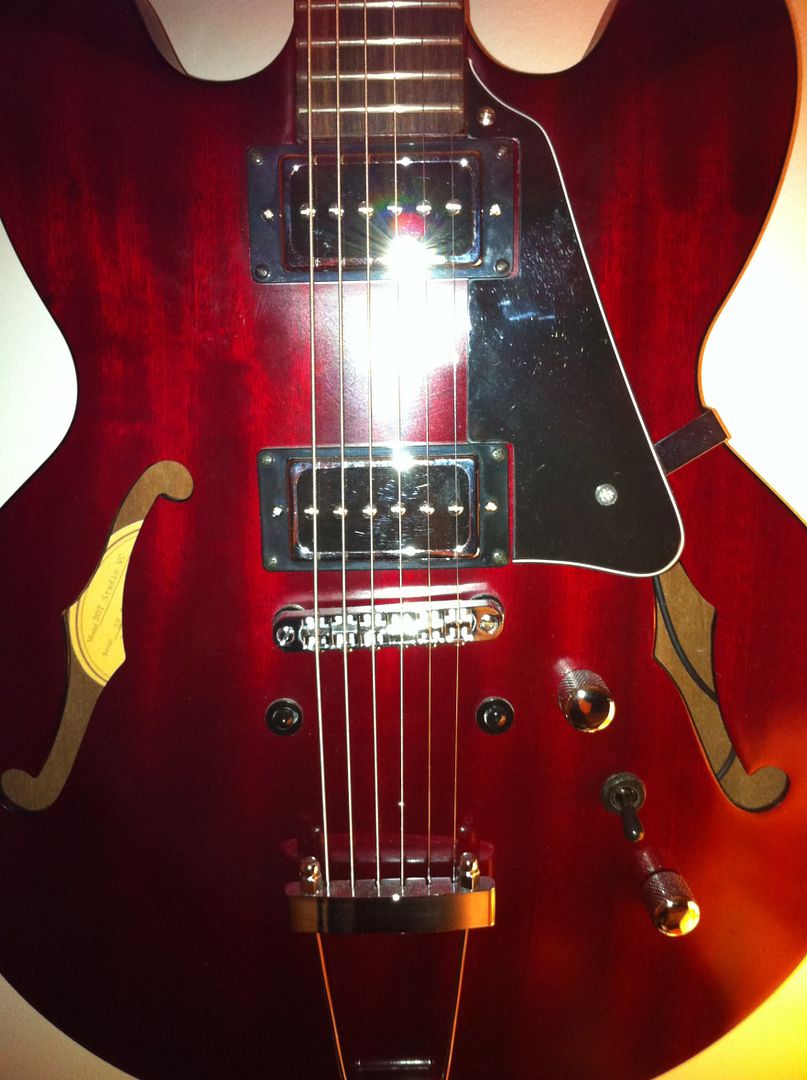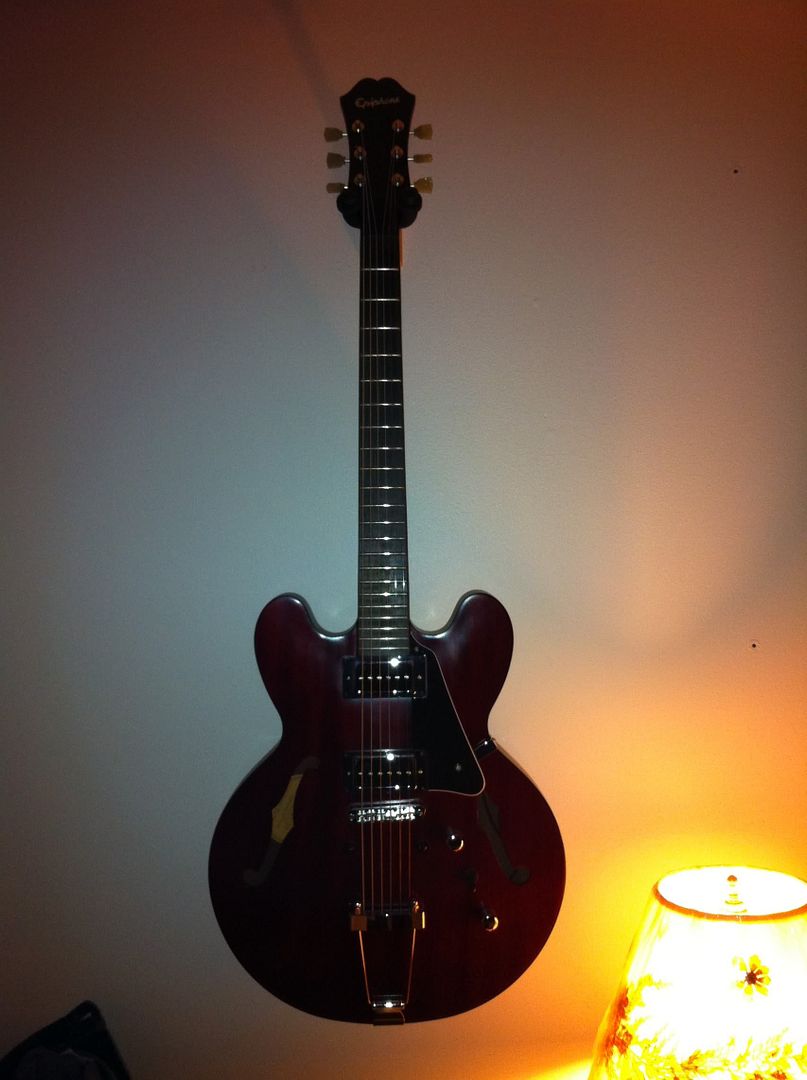 Nice guitar! It seems you improved every part. It has to sound really good.
Enjoy!
Nice guitar. I am quite a fan of P90s. I think they are making quite a surge. I've purchased a guitar to put P90s on. Now it seems like every line up has a p90 option.
Well, enjoy!! :D
Roy
"I wonder if a composer ever intentionally composed a piece that was physically impossible to play and stuck it away to be found years later after his death, knowing it would forever drive perfectionist musicians crazy." - George Carlin
Topic starter
24/11/2010 1:04 am
I just realized the pics are messed up. I'm working on it.
Also, I didn't do these upgrades myself...the guitar came that way, which is why I was so happy to jump on it.
It must be my viewer but I'm only seeing a fraction of the guitar. I love the red, though. :D
Bish
"I play live as playing dead is harder than it sounds!"
Right-click, view image will show the whole thing, full size.
The software that runs GN has trouble with big pictures.
I wrapped a newspaper 'round my head
So I looked like I was deep