Topic starter
16/03/2008 6:34 am
Ok so This summer I will be a counselor at a summer camp in Maine and as such do not want to bring my nice(to me) acoustic out of fear for it. So I've been in the market for a cheap guitar(beater!) that I can take up there without fear of what happens to it. Tonight I ordered this...
which can be found here...
http://www.musiciansfriend.com/product/Washburn-D8STPAK-Acoustic-Guitar-Pack?sku=514585
I figured a solid spruce top for 100 bucks, well why not. I have a 30 day return policy regardless, so I'll reserve judgement on it until it gets here, but in the meantime... Who else has got a beater/ camp guitar?
Let's see em
I can't wait for someone to say something worth quoting here...
Looks like a steal to me. A Washburn solid top for 100 $ with goodies.
Enjoy !
I have the electro-acoustic version of one of these as my campfire guitar:
It's a bit rubbish though. :oops: String change soonish then I shall have to tweak the truss rod a tad as it isn't right at the moment.
Rob
If something's not worth doing it's worth forgetting about.
Epiphone Les Paul Std - Yamaha Pacifica 112XJ - Takamine EG340SC - Taylor Baby - Grainger Hammerhead 50 - Grainger Valve Five
http://www.youtube.com/yashicamatonline
Thinking about the Stagg electric Strat copy for nasty gigs that I don't want to take my SG or my Casino to. No acoustic beater yet, but I'll find one...
Ewan McGregor: I said, "Eve, I want you to look after my wedding ring while I'm away," and she started to cry and I said, "Eve. Eve, I can't wear my ring or I won't get laid on the trip!"
Crap. What you people call beaters are my nice guitars. :(
Here's mine

I bought it cheap as a fixer-upper project, and after a few hours work, it's a perfectly servicable beach/camping guitar, which actually sounds not too bad.
Features: brass frets, painted-on binding, laminated top.
Work done (mostly since the picture was taken): replaced tuners ,replaced bridge, major body cleaning, replace endpin, add strap button to heel of neck, and touch up the binding
I wrapped a newspaper 'round my head
So I looked like I was deep
Crap. What you people call beaters are my nice guitars. :(
I know what you mean...
Topic starter
17/03/2008 8:03 am
well the term beater does kind of come with a negative connotation, but it's used lovingly( by me at least!) everyone has that one car they remember that was just such a piece, but had charm that made it nice..... at the same time you would still drive up a curb with it and have little more than a shrug of guilt.
I can't wait for someone to say something worth quoting here...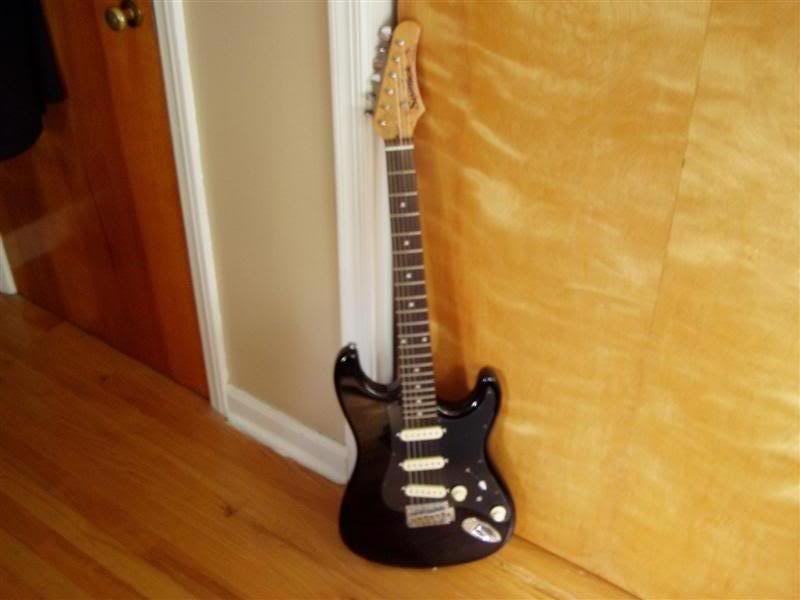 My Samick Strat Copy. Plays good but the electronics don't do it justice. Gonna get a handwired pickguard from guitarfetish this summer.
The Pickguard is custom painted by the way.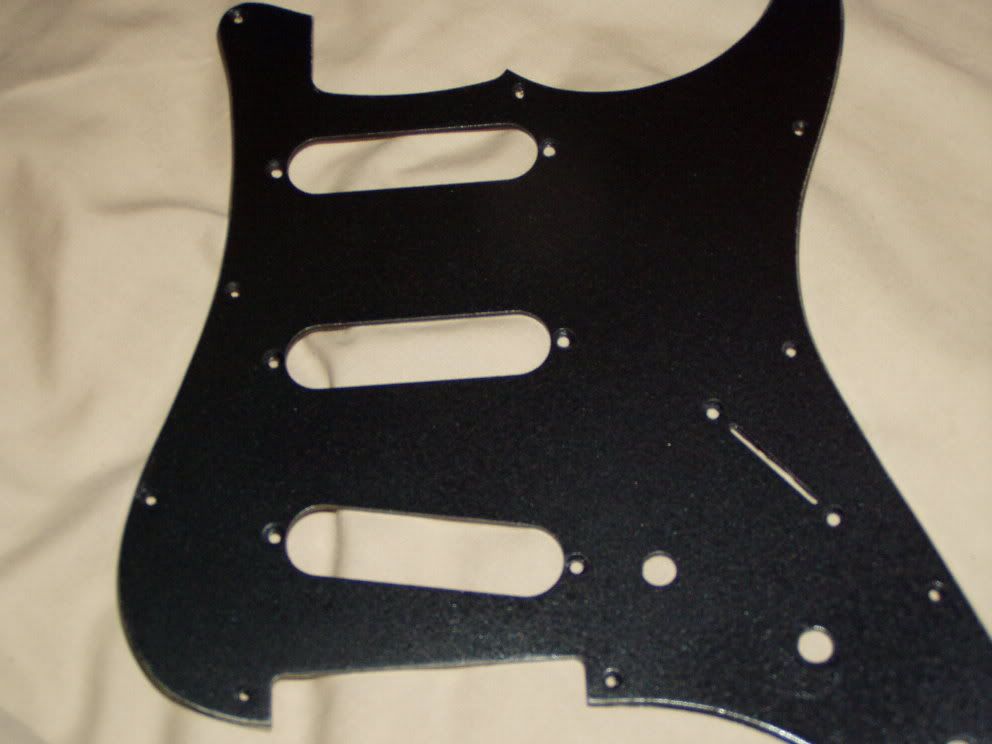 It was white but i wanted the black on black on creme look.
Who needs a signature?
I mean really...
It's almost always lyrics...
or a cliche...
or garbage about me...
Lets just save YOU from the pain, ok?
I have a Chinese Jumbo (a 'vintage' brand http://www.richard-halford.co.uk/guitar.htm ) that I bought kinda by accident. I wanted a beater having watched a friend get a bit to excited with my Taylor when I took it to a BBQ, after which I decided that the Taylor was a 'stay at home' guitar.
I went to a local store and played everything they had and the Vintage just sounded better than everything up to the £500 mark, where a £500 Yamaha (LL6?) kicked its arse. Anyway, at £150 odd I just thought it was a bargain and couldn't leave it there for fear of not finding something as good for that price again. Lots of people agree and would buy it off me for £150, so I consider it a good buy and I'm happy to let anyone use it.
If they damaged it though I'd be gutted!
This one has the guitar fetish pre wired pickguard on it-- :D (Also posted this in show your gear thread)

i don't have pics... but I recently just got a used Cort Earth 100 on Ebay shipped for 100 .....
With a case, electronic pickup, strap, and a bunch of picks! The action is great on it too! All i had to do was change the strings and it's great!