Topic starter
21/10/2008 7:13 pm
The room I practice in at home is a fairly small spare bedroom and the acoustics aren't very good (my setup includes a Strat with a Fender Blues Jr. amp). I have noticed that when I move to the living room the sound is much better (but the wife is much unhappier...).
I plan to do some trial and error moving the amp around as well as my physical location in the room to see what effect it has on the sound(standing up in the middle of the room vs sitting in my chair seemed to help a little) but was wondering if anybody has any advice as to getting better sound in a small room?
Thanks,
Jim
I don't know about small rooms. I do know about moving the wife around from room to room. she did not like it. so I got her to sing. now we play together...well, that was before the divorce.
I experience the same thing as you. my amp sounds better in a larger room. in my larger room I have furniture and carpet. I wonder if that , and more air space in a bigger room, makes the difference.
still, I would try moving your wife out of the big room. :oops:
Well, it's never going to sound as good in a small room no matter what, but you could hang some soundproofing and it would be a big improvement. One band I was in we practiced in a small room not any bigger than an average bedroom. We had thick carpets hung from the walls and egg cartons in the rafters. We could play pretty loud and it sounded good.
Do you have a basement? I would set it up, again hang carpets or even sheets of foam to soundproof it. Even sheets help. Here is my last band, we played in our bass players basement, and trust me, we were LOUD! But you can see some of the egg cartons, carpets, blankets, flags, (whatever we could find) soundproofing we used. :D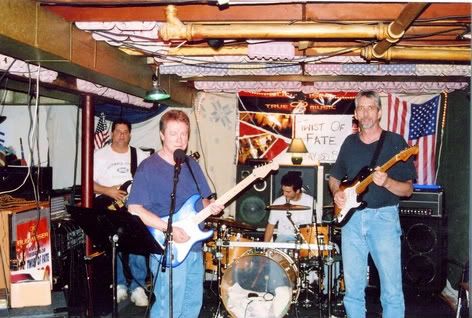 If you know something better than Rock and Roll, I'd like to hear it - Jerry Lee Lewis
The BEST space...is in yer head!
Take some advice from The Governator with regard to his smoking cigars...and his wife's protestations:
"I guess I can smoke down at the club." :twisted:
He smokes at home.
Cat
(Ya GOTTA love Arnie!)
"Feel what you play...play what you feel!"
Topic starter
22/10/2008 12:48 pm
Nice setup, Wes. I was thinking of trying something like that. I'll see what I can come up with. Wife will think I'm weird but what else is new.
My study has the PC, my keyboard, drum synth, hard-disc recorder and monitor speakers, a couple of music stands, couple of amps and a load of books and effects pedals. It sounds very different to the dining room but it's my space. The downside is that I get to run the hoover round in there, but it's ain't so bad.
A :-)
"Be good at what you can do" - Fingerbanger"
I have always felt that it is better to do what is beautiful than what is 'right'" - Eliot Fisk
Wedding music and guitar lessons in Essex. Listen at: http://www.rollmopmusic.co.uk
I appreciate your dilema. I used to use a spare bedroom and it was 10 X 10 with a sloped ceiling as my house is a story and a half. Way too small. I moved to the garage this summer and quadroupled my space. It was so nice I took the time and money to close in and insulate the garage. It is now my studio. That said, you have to make do with the space you have but yes, electric guitars do sound better in bigger rooms.
Wes, I was in a band where we practiced in a 12 X 16 room in a trailer,full band. Loud .... very loud. :lol: That basement looks spacious. :lol:
Here is a pic or two of my rehersal space ........ I wish everyone could have one cause it is nice.
"Work hard, rock hard, eat hard, sleep hard,
grow big, wear glasses if you need 'em."
-- The Webb Wilder Credo --
but where do you park the cars? :D
TRGuitar
Oh, that pic I showed was my last band, that was fairly spacious. But a band I played in a few years earlier we practiced in a very small room, about the size of a normal bedroom. It was really small for a full band. But with the soundproofing we had, we could crank pretty loud and it sounded good, no feedback or other problems.
The band I am in now is great. We practice at our drummer's house and he has the whole basement devoted to the band. We set up just like a club with room to spare, in fact it is much more spacious than the stage you get at most clubs. Keith lets us keep our gear there too, so we just walk in, flip a switch and we're ready to go. We do get a little feedback at times if we go too loud, the walls are bare with cement floor. But we've come down lately and it sounds great. It's also warm! :D
I wish I had a pic of practice space for another band I was in, our drummer was a mechanic and his boss let us practice in the garage after hours. We actually practiced underneath a lift with a car above our heads some nights! I kid you not.
If you know something better than Rock and Roll, I'd like to hear it - Jerry Lee Lewis
Can you use Headphones with your Amp? I use headphones with a Roland Cube 30 so as not to inflict the mistakes I'm making on others, which works okay for me, but I don;t know if it'll give you what you're after.
Play unplugged ! :twisted:
but where do you park the cars? :D
Never parked them there in the first place. It was more of a storage space/work shop. Actually a place to put junk. It was a mess. :lol:
"Work hard, rock hard, eat hard, sleep hard,
grow big, wear glasses if you need 'em."
-- The Webb Wilder Credo --
*elevate your amp*
put it up on a desk or crate or something so it's around chest or head level. barring that, at least tilt it so it's facing up towards you. this will clarify the sound up a ton and allow you to keep the volume at a lower level, which will clear up all the mud you're getting from wall bounces.
i was in a band where we were totally squeezed in. i had to slide behind the drummer, and couldn't move at all or i'd hit the drummer or keyboardist. the key was that instead of sitting on my amp or having it at my feet, i'd put it closer to the keyboardist and point it towards me, so there wouldn't be echoes all over the room.
There is probably alot of big fluffy furniture & stuff hanging on the walls in the living room, which absorbs sound. Maybe not so much in your guitar room. Thats why you see that soundproofing all over the surfaces in recording studios. Big flat hard surfaces bounce alot of sound all over. Unfortunately, this material is very expensive, but can be done on the cheap using rolls of that eggcrate foam they use in hospitals. Start with the wall facing your amp, and that may be sufficient. I did my entire room and it works great. Nothing but pure clean sound. Makes a huge difference. Also, raising your amp as Jason suggested really will help too.
Koy Carson
West Texas
**60th Anniversary American Strat
**Carvin AC175 Thinline Acoustic
**Ibanez EW20ZW Electric/Acoustic
**Arbor AJ145CR Jazz
**Fender Marcus Miller 5 String Bass
**Fender Geddy Lee Signature Bass
**Warwick Corvette 4 string Bass
**Tradition Fretless Bass
**Takamine Hollow body Bass
**Digitech JamMan


The "PickPocket" The ORIGINAL Guitar Accessory
http://www.waxpatterns.com/customguitarpick.htm
A little sound-proofing and a bass trap in your small room will do wonders for your sound.
For sound-proofing, go buy yourself a roll of 8# carpet padding, and staple it up on the wall. Then over top of that affix a ton of egg cartons without the tops. Put some cones up, some cones down, and leave gaps, just try to get a really random surface. Or, if you have any friends who are wood-workers, get as much scrap 1/4" plywood as you can, and build a randomly angled surface. It's not hard, but takes a bit of work. Over top of that hang some thickly woven burlap or carpet remnants if you can find some. With a little shopping around you can do a 10x12 room this way for very little money.
Build a bass trap on your ceiling out of some pine boards and use different fabrics layers to get a mid,low and high end bass filter. Search around you can find plans all over the place.
It will still not be acoustically perfect. But it will probably sound better than any other room in your house.
"The music business is a cruel and shallow money trench, a long plastic hallway where thieves and pimps run free, and good men die like dogs. There's also a negative side." -- HST