Topic starter
19/02/2006 12:17 am
i was talking to my friend who i havent talked to in awhile and i told him that i bought a used amp. after i said that he couldnt believe that i bought something used, he said i wasted my money, and that the only way to go is to get brand new equipment. and i come to think of it, every single peice of gear i have is used, could it really be that much better to get all new stuff, but its always more expensive, so i was wondering what you guys prefer, and about how much of your gear is used
There's no law that says you have to buy new.
You can get some very nice gear and save a ton of dough with the right shopping experiences for used gear.
Actually right now, all my gear is used. Of course it's only been used by me but none the less.
If you are happy with what you have then there is no argument.
Sometimes budget considerations play big in buying decisions. Sometimes it's a perceived value.
It's all buyer interpretation.
Rock on!
Bish
"I play live as playing dead is harder than it sounds!"
Hopefully your friend is merely uninformed about real-world economics, as well as how instruments age and wear. I can afford new, but would always consider used, if available. For some instruments (e.g. better acoustic guitars), used is preferred. One of the few, obvious cases where buying new may be better would be for equipment incoporating rapidly progressing technologies -- e.g. digitally modelled guitars, FX and amps.
You are doing the right thing.
For amps in particular it doesnt matter in the slightest about them being used...Oh no slightly less shiney knobs! :roll: Whats a few marks n dings do to amp?
What's wrong with used gear? As long as you can try it out and make sure it is in good condition, it is fine.
I bought a used Marshall DSL401 for $400. These amps go for $1300 new. That's a big savings in my book. All tube amps ever really need is new tubes usually. Now, I did have a problem with this amp, it is in the shop right now. But this was not a problem caused by any owner. I have found my particular problem is common to this amp.
And really, that makes buying used even more practical. So what if I have to pay $100-150 to correct a problem? I am still $600-700 ahead.
I bought a used LP Studio for $600. That is about half price. I spent $40 for new saddles, it is like brand new now. That's a good deal in my book.
To me it is no different than buying cars. I would rather buy a used car in good condition than a brand new car. Yes, I might have to spend an extra $1000 to fix problems you get with a used car, but I am still getting a good performing car for $15,000 less than a new car.
I like new too, but sometimes buying used is smart, especially on expensive gear.
If you know something better than Rock and Roll, I'd like to hear it - Jerry Lee Lewis
Me thinks this world would be a far better place if we'd consider buying used a bit more often, with guitars and other stuff. Nothing wrong in getting a used amp *at all*.
All my gear is used (off of Craigslist). Usually the owners rarely played the stuff that they bought, so everything was virtually new. I probably saved 50% from getting the gear used, and it's all been perfect. I think buying used off of Ebay can be tricky, because you can't try out the item first, but buying used from local people is great, because you can check out the thing you're buying first.
In my opinion, if you can let someone pay the premium for you, then go for it.
Topic starter
19/02/2006 5:49 pm
nick, that is a really good article you wrote, i like how buying used can get equipment that is no longer in the market
new/used.
the guy who said only new is good hasnt lived enough years.
my best equipment is used. infact, my favorite guitar is older than I am.
and Im old.
and used.
oh so used.
take a look at my avatar over on the left.
both those guitars are from the late 30's and early 40's. the amp , which has killer tone is a 1958.
dogbite
What are those guitars and amp?
I have a 1958 amp too, a Premier Twin 8 I found in an antiques shop. Picked it up for $125. It is all original including the tubes, still plays great, I was playing it this morning. Has great tone and awesome tremelo. It has inputs labeled guitar, microphone, and accordian. :D
Premier was the poor man's Fender back in the 50's. Today these amps are sought out especially by Blues Harp players who many claim is the best Blues Harp amp bar none. It has a great full warm tone.
These amps were famous for their multi-colored knobs.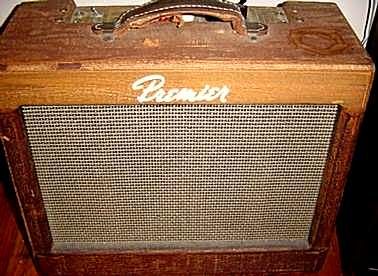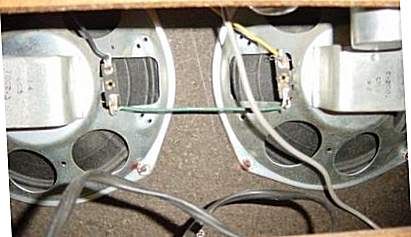 If you know something better than Rock and Roll, I'd like to hear it - Jerry Lee Lewis
Wes. nice amp!. those are real finds.
Ive been pestered by blues harp players for mine; guess they have that sound.
my amp is a 1958 Gibsonette. it's Gibson, but the nette part is strange.
perhaps because it has only two inputs and No tone controls. it's On/Off.
but tone to die for.
the original 10inch Jensen is why. I paid a little over two hundred.
those old amps have big speakers for the cabinet size. they are wired, Ive been told, for high output.
Wow Wes. That's a find worth of Antiques Roadshow.
"I use heavy strings, tune low, play hard and floor it. Floor it, that's a technical term." - SRV
Thanks cyranodb and dogbite
These photos are from a Blues Harp site, but my amp looks exactly the same only much better condition. I think it spent 40 years in someone's attic.
I would not exactly call it high output though. I am guessing, but I would say it's about 5 watts at most. Turned all the way up it is about as loud as your TV turned up real loud. I have used it at some open mics mic'd into a PA. With a distortion pedal this amp will scream. It can really handle lots of low end because of the dual 8" speakers. It sounds like a Marshall. :D
If you know something better than Rock and Roll, I'd like to hear it - Jerry Lee Lewis
Sometimes used is all you can get...i started with a used and beat up acousitc and just bought a electric about 3 months ago.
But i still play the acoustic.