Guitar Players Discussion
I picked up my guitar from the shop yesterday, where I had them install new pick-ups in my Gibson SG Special. I went for the Gibson ´57 Classic (Nickel "color") for both neck and bridge position... and man, what a sweet sound! :D
I only use small Orange 5W amp with a BOSS Distortion pedal for home practice, but that´s still plenty o sound for a small apartment living room :twisted: ! The tone range with this set-up stretches from very smooth, clean all-purpose bluesy tones right to the ol´80s Heavy Metal-sound á la AC/DC, KISS and sorts.
Love it! 8)
BTW; the pick-ups before the switch were stock Gibson T490/R490s, which were not bad... but the clarity and the edge in these ´57s are much more "sophisticated" and you don´t get that "muddy" sound that I thought the 490s had.
AAAFNRAA
- Electric Don Quixote -
Good show Staffan! You're very astute and I agree all the way, '57 Classics have a lot more character than what is the 490R and 498T configuration. I think those originals are sterile. I tried beefing them up on my son's SG with a Fender TBX of all things. That didn't exactly warm them up? Different people have different tastes, and some have asked me to put 60's Classic Ceramics in things like an Epi Sheraton? Holy cow... that's Psychobilly? :roll: http://en.wikipedia.org/wiki/Psychobilly
Anyhow, I applaud your choice and am just happy that you're happy, and that's what counts. :D
I haven't got all my stuff together right now, but am enjoying the '58 vintage pickups in my Hag; the same idea.
I talked with a sales dude, pro player today and he loves '57's, in his new Les Paul Traditional. I'm looking for P-90's now.
I've sold my last SG for now, but kept a Guild S-100 Polara and it has the SH-1 and SH-2 combination, which is the same as Seymour Duncan's '59 and JB. I guess thats like a PAF, and a PAF on steroids, or maybe even a Burstbucker? Odd that we still use the term PAF. I have a Flying V here, no ceramics in it! Patent granted long ago, so they are "Patent No." pickups, and I find them like yours, with the fancy name, but just the idea of anything connected to 1957 sounds sleek and sassy! :lol:
Like a bird on the wire,
like a drunk in a midnight choir
I have tried in my way to be free.
Lol, I don't have nearly as much stuff as most people here, but anyway:
Not my pics.
Ibanez ART300

Ibanez GSR200(got it a few days ago)

Line 6 15w guitar amp
Acoustic B10 10w bass amp
When we started the band, it was because we were waiting for a sound that never happened. We got tired of waiting, and we decided to just do it ourselves. - Mike Shinoda
We just added a Jay Turser A/E to the family. Amazing how far those guitars have come.
If any of you guys decide to move on from your (preferably relatively unmodified) 51's I'd appreciate it if you let me know. I want one :D
Ewan McGregor: I said, "Eve, I want you to look after my wedding ring while I'm away," and she started to cry and I said, "Eve. Eve, I can't wear my ring or I won't get laid on the trip!"
My Pedals
I got the Metal Zone 20 years ago. I hate it!
I'm not a big fan of the Tube Screamer. I thought I would be, but nope.
Here recently I've been having distortion WARFARE between the Big Muff, Rat and Fuzzface. I like them.
I don't understand compression. I like making things louder by hitting things harder. But I got a compression pedal.
I like my Loop Station.
I like the Wah.
I rarely use the others.
So yeah, I need to sale all but the Big Muff, Rat, Fuzzface, Loop Station, Wah. I won't though.
I have the same loop station. Fun pedal. What's the problem with the compression pedal?
Isn't the theory of compression to make everything sound the same so a low attack would get amplified and a hard attack would get suppressed slightly. Never really used it personally.
I did buy the RC-2 also but haven't used that much either.
My new toy is the ME-70 which I have just started to use in the past week. So many options to choose from I will need time to explore them all.
"It's all about stickin it to the man!"
It's a long way to the top if you want to rock n roll!
Yeah, that's what compression is for. The only way I got to try out these things are to buy them. I found out quickly I have no use for compression - maybe some day.
I have no interest in buying multi pedals and I know exactly why. I've been seeing (and wanting) most of the aforementioned pedals (and many more) in various catalogs since I was 14. I'm 34 now...
Nez I hear you on the multi effects pedals never really wanted one myself but my instructor bought one and him and his son which both have bands use it and swear by it so I took the plunge and bought the ME-70.
I never really liked the sound I got with my amp and the few pedals I had but I realized also the more pedals you start adding eventually you run into issues with the cables etc. and I didn't want to have to deal with that.
I've just started using the ME-70 to play with other musicians and so far so good. Haven't used much more than the distortions and some flanger/chorus effects but I think this should work fine for what I am doing.
"It's all about stickin it to the man!"
It's a long way to the top if you want to rock n roll!
That's a classic pedal assortment, I have the BBE Sonic Stomp, Tube Screamer(s), Dunlop Cry Baby and Dallas Arbiter Fuzz Face too. I have just bought a blue Land Mine Chorus which has a round shape too. I am separated from much of my gear.
I found a really neat 1981 Lead II here at my parents', 3 more Strats in a closet, a little of everything and 25 guitars so far.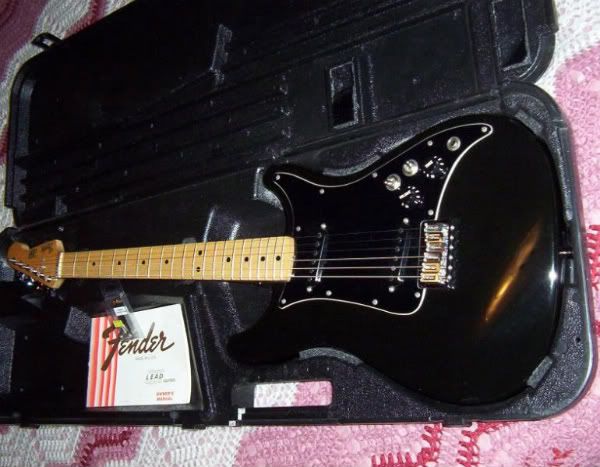 Sorry, if I mentioned the Lead II before in a tone comparison with a Tele, it holds it's own though it may not be ash. The X-1 pickups are just super, and so much fun to play, even out of phase. It's the match to my daughter's '81 red Bullet Deluxe.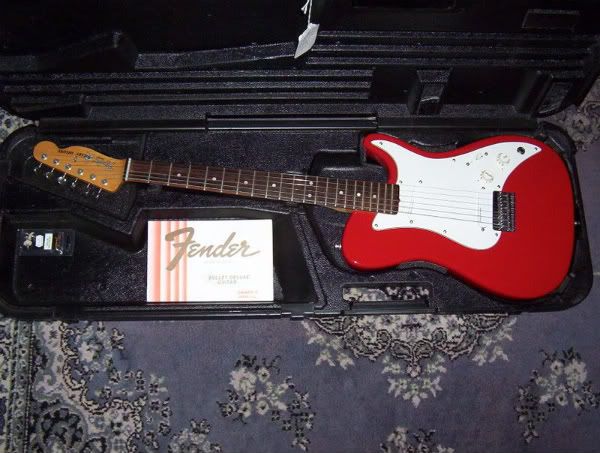 My main squeeze, not even in a case, just to pick up and enjoy is the Candy Cola Tele, built partly by Split Rock in Northern MN and finished here by me with monster LACE dually in it, and a Barden hot bridge. Ash Strat, I bought & sent to a friend.
I also bought 2 guitar playing chairs this week to match my Fender amps, and a house on the edge of town near a lake and forested recreation area with an addition on the back to use as a small coffee house, practice area to light with candles. :D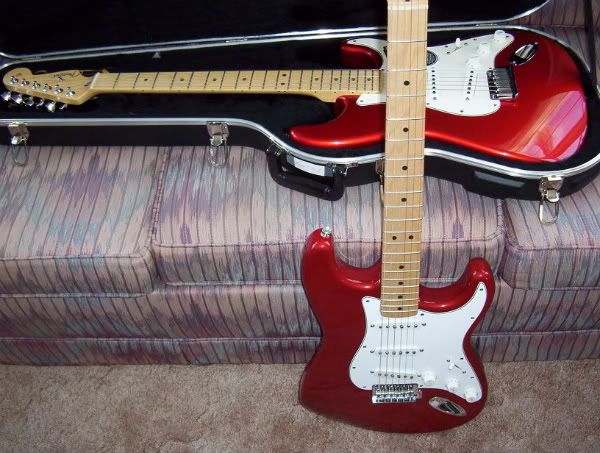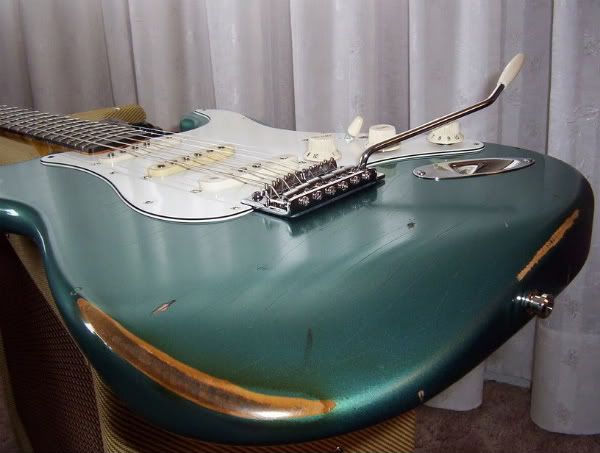 Like a bird on the wire,
like a drunk in a midnight choir
I have tried in my way to be free.
Just bought a real beaut! It´s a Les Paul Traditional, black with creme pickguard and a Bigsby Tremolo!
With Gibson ´57 Classic and a 57 Classic+ it´s got a really nice tone to it!
The biggest difference compared to other electrics I´ve played though, is actually the tone when you play it unplugged - it´s really "acoustic" and has great tone and sustain in the wood itself!
And the best thing - I bought it for [USD 1700], down from about [USD 2700] :D The store only had 3 of these and used it as an ad-drive to lure people into the shop. I was lucky enough to get my hands on the last one they had :D
I had to sell my previous Les Paul Std to afford it, but it was totally worth it - this one plays much nicer!
Pictures (I hope...):
Full: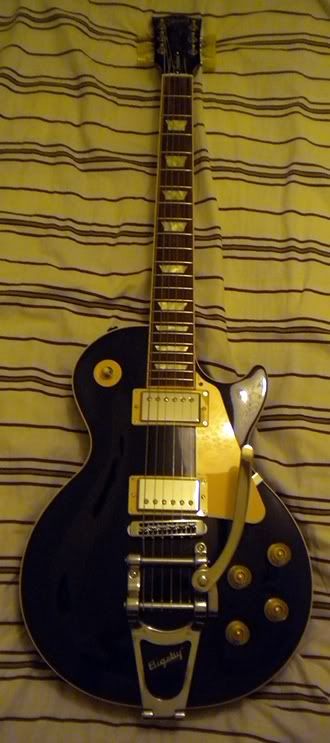 Body close-up:
(Sorry about the bad colors in the photos, but you get the idea)
This is without a doubt the nicest guitar I´ve ever played!
AAAFNRAA
- Electric Don Quixote -
Just bought a real beaut! It´s a Les Paul Traditional, black with creme pickguard and a Bigsby Tremolo!
Very nice, thanks for sharing. (And Blue Jay too, your pictures always do justice to some great guitars.)
That is a beautiful Les Paul Staffan. Way to go!
I like the colour and especially the '57 pickups, and the Bigsby too, similar to what I have on my Gretsch. Looks like fun! :wink:
Like a bird on the wire,
like a drunk in a midnight choir
I have tried in my way to be free.
Thanks BlueJay - it IS a lot of fun :D
Still, I´m impressed by your collection of fine instruments - they look like really nice guitars, and are well kept, which I appreciate!
/S
AAAFNRAA
- Electric Don Quixote -
My new gear. :D Sold off most of the old gear and upgraded and well, still upgrading.
Gibson Flying V Faded (only survivor of the upgrade), Gibson Les Paul Standard with '60s style neck, & pearl white Fender Strat (2011 model)

VoxAC15C1 & Fender Mustang II amps with Digitech Grunge & Stereo Flange, Boss DS-1 & MT-2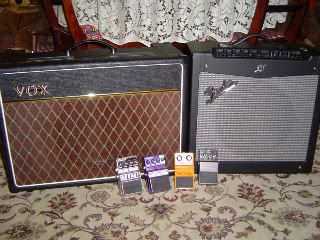 "If I had a time machine, I'd go back and tell me to practise that bloody guitar!" -Vic Lewis
Everything is 42..... again.