keeping my guitar scratch free?
Guitar Repair and Maintenance
Topic starter
15/11/2008 6:06 am
I have been thinking of ways from keeping my guitar as scratch free as possible. My biggest worry was buckle scratch(the scratches on the back from belts and bottons and things). I was thinking i could put the protective film that they sell for laptop screens on the back. would this work? would it adhere? would it cause the finish to fade (idk if its a poly or nitro finish(epiphone les paul-100 cherry sunburst lefty))? need some help here. also will this work for an acoustic guitar (ibanez ew20lasent)
the only way i know of keeping a guitar scratch free is to leave it in it's case. 8)
I used to worry about scratches. Drove myself nuts. I finally decided if I am going to enjoy playing I might as well play and forget about it.
Don't get me wrong, I am very careful with my guitars. I always wear a pullover shirt to cover my buckle etc. but I am no longer paranoid to the point of distraction. Most of them have a blemish or two but nothing major. Actually the blemish I am most proud of is a big shiny spot in the satin finish on the top of one of my acoustics caused by my pinky. I fingerpick and I plant my pinky so here is this silver dollar sized shiny spot just below the strings on this beautiful satin finish. I am kind of proud of that. :)
I know a guy who wears his belt backwards when he plays. (Buckles it behind him.)
I suppose this could help, and it sure is funny to watch. Bet it's a real pain when he has to pee.
Seriously, though- anything you use is going to show wear. I'd try to be a careful as possible with your axe- but having a pristine, mint-condition guitar years from now isn't the point. Having a really well "broken in" guitar that you can play the ever living heck out of years from now is the point.
Check out the guitars that SRV used to use. Not pretty, but wow. Or Malmsteen...
Some awful pretty sounds coming from some pretty awful looking instruments.
Best,
Ande
You can stop wearing the belt. That will cure the guitar scratches, but leave you vulnerable to the 'pant falling down' accident. :lol:
Good Luck !
(P.S. - My guitar has thousands of scratches and I don't think I worry about them much now. Just make sure not to crack the wood. That's something to worry about. What's a soldier without fight marks anyway !)
Yeah, and Waylon still left his shirt hanging out over his belt buckle.
A belly can do that just fine, of course.
"A cheerful heart is good medicine."
I wouldn't bother worrying about this. Take care of the guitar. Keep it in it's case when not being played. Wipe it down after playing it. Occasionally clean it. Don't ram it into a wall or mic stand. Don't play with a belt on. Use strap-locks to keep your strap on.
Any marks you get on it are battle scars, my friend.
-=- Steve
"If the moon were made of ribs, would you eat it?"
That thing looks like a wallet I made to earn a badge in Cub Scouts.................... :mrgreen:
All his Teles have worn a similar leather jacket since the late '60s
I wrapped a newspaper 'round my head
So I looked like I was deep
You can wear your belt buckle to the side instead of the middle. That helps.
They also have something called a "mechanic's belt" - google that. It is made so car mechanics don't scratch the fenders when bending over them to look at the engine.
I use the mechanic's belt, it has no buckle at all.
I replaced the brass buttons on my blazer to leather covered buttons.
I never remove the pickguard, as it protects the finish of the top side of the guitar.
While I do take care of my instruments, they are gigging instruments, not museum artifacts. They are simply going to get worn. While I take steps to minimize the wear and tear, I accept the fact that they will get worn. But during the life of a guitar, sax, wind synthesizer or any other instrument I play, they will earn me a living. They are the tools of my trade, and if I don't use the tools, I won't be able to pay the mortgage.
Here they are, aren't they beauties?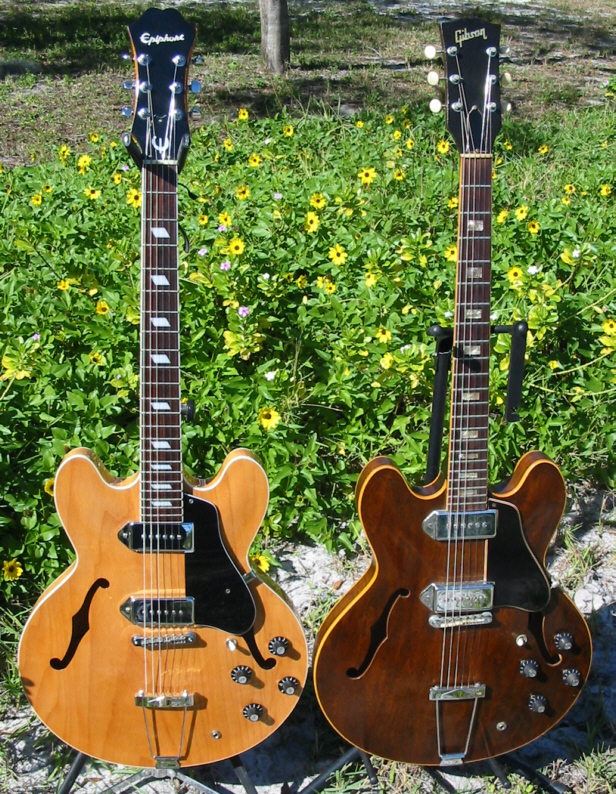 Insights and incites by Notes
Yeah, they look great!
I take care of my stuff, too. Never got the point of the fake "relics."
"A cheerful heart is good medicine."
<...>Never got the point of the fake "relics."
Neither do I. Now if I wear the guitar down myself, I suppose it'd be OK, but to actually distress the guitar isn't my cup of tea.
To each his/he own I guess.
Insights and incites by Notes