my seagull needs a neck reset
Topic starter
31/12/2008 5:22 pm
My Seagull needs a neck reset. The neck angle is off, raising action and actually causing the fingerboard to separate from the body slightly. Needless to say I'm kind of sad. I can't afford to pay for a neck reset right now.
So, I had an idea and I thought this might be a decent place to give my idea a try. I would like to offer my Seagull to a budding luthier/tech/repairman as a practice instrument. I thought maybe someone who's trying to build chops could use it to hone their skills and when it's all over I get my guitar back with a reset neck.
Of course, this could be the dumbest idea ever, and if it is please feel free to speak up and call me dumb :D . I'm ok with that. I reason that if I were a learning luthier, this is an oppurtunity I would jump at.
So if you are that person, PM me. or email me at [email protected] Or just give me advice.
this guitar cannot be old enough to need this under normal use and care. did you buy it new? if so, I'd talk with Seagull first -- no matter the age.
omg, that's the seagull of the dead. It is possible an upper brace came loose. It can't be part of the original break, it's been way too long. That was February of 2006. Though I suppose if I missed a crack on an upper brace the tension could be distorting the top over time. Take the strings off and let it set for a week. If the action returns to normal it is either a brace or the neck block, not a reset.
If you ship it to me I'll take a look. If I can fix it, which would be anything short of a neck reset, I'll do it for free.
A neck reset would be way too much to pay for that guitar. Talk to me though, I may have a guitar that will suit your fancy in your low/no budget price range.
ah-ha! I see Nick has a limited warranty on his work.
was this the crushed Seagull?
I do believe so. That's why I doubt it's a neck reset. Then again, anything is possible.
Speaking of neck resets, can anyone tell me some inexpensive models ($100 or less) htat have a traditional dovetail neck joint and hide glue. I need some practice and want to take on an inexpensive project. I would not however work on anyone selses guitar at this point. Odds of a tragedy are high.
For example, are the Chinese made Alvarez using dove tail and hide glue?
How about a Wechter MAple Lake?
others?
thanks!!
I doubt you're going to find dovetail joints and hide glue on any new cheap guitars. I'd suggest looking for used ones. More likely to actually need resetting anyway.
"A cheerful heart is good medicine."
Topic starter
02/01/2009 6:02 pm
Yes Nick, the Seagull of the Dead. I love that guitar. I'm glad you think it doesn't need a neck reset. Not too long ago I took it in to have a Fishman Neo-D hardwired. The action had been creeping up. Previous to that I had an acquiantance who builds guitars (Tom Sommerville Guitars) look at it and he lowered it a bit and stained the top a little because he couldn't stand the cracks. I kind of liked the cracks, but he did that part for free and figured he was doing me a favor. No big deal. So I took it to my regular guy to have the pickup installed and the action was back up again. He looked it over, saw the fingerboard popping up at the neck joint and told me I needed a neck reset. He told me this even after the history I gave him. I know it's not worth a neck reset but when I find an instrument I really like I'm willing to invest in it, even if it's a mid-level guitar. I'd prefer to keep the Seagull going than replace it.
So yes I will try your advice. About a month ago I loosened the strings considerably and I just took it out to take them off. And yes, with the lesser tension I am noticing the gap between body and fretboard has closed a little. I'll give it a week to see what happens and then I'll get back to you Nick. Thank you.
btw sorry I took so long to respond to this...family emergency. but I'm back.
Topic starter
10/01/2009 1:56 am
well it's been a week, and while I've noticed that the gap between the fretboard/body/neck has improved, it's still bad.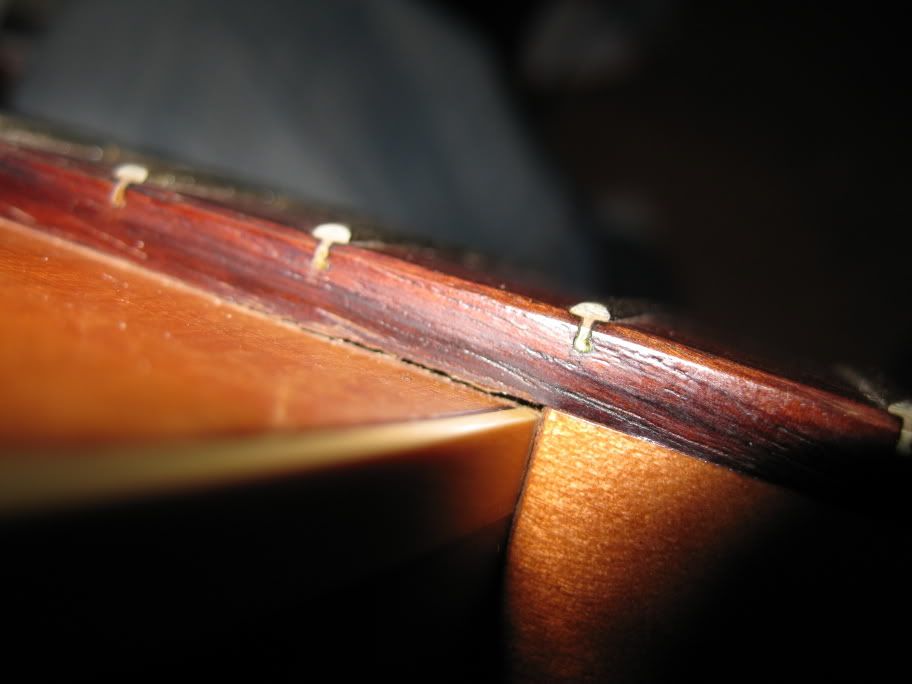 that's a pic. As you can see it's still separated, not flush, and it seems that the actual maple of the neck has risen above the cedar of the top. Seems like a neck reset is needed to me.
so, what do you all think? salvagable?
I don't think it's a neck reset. I think the neck block has come unglued. I could be wrong. Either way it probably isn't worth fixing....but.....I'm happy to give it a try if you want to ship it.
Topic starter
11/01/2009 1:05 pm
If you don't think it's worth it, I'll have to think about it. In that case I might be better auctioning it off on Ebay as a project.
What is involved in repairing it?