Topic starter
20/05/2008 11:40 am
This doesn't seem to come under any particular heading, so I'm putting it here.
I got fed up with switching between phones and speakers - in fact, I'd almost stopped using the speakers, because of it. So I built myself a switch, so that I could choose, without crawling under my desk to take one plug out and put another in.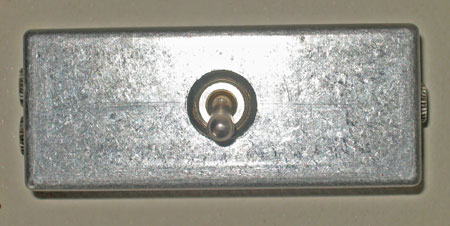 1 Alu box, 3 3.5mm sockets and a DPDT rocker switch - plus a bit of wire and time to solder it together. It works like a charm - no more sore knees and bruised skull for me. :D
I've been keeping empty Altoids tins in case I ever came up with a good, relatively simple project idea. This is something I might try. 8)
"Everybody got to elevate from the norm."
Those Altoids tins are just too cool to pitch.
"A cheerful heart is good medicine."
You could get yourself a creative live drive and card , they go quite cheaply now and brings all your input outputs to front of PC , makes a nice easy recording setup... the cards they attach too are decent quality as well 8)
Midis / optical / spdif / audio / 1/4" & volume controls for input & headphones all remte control too with a neat handset , picked up several of these at a local pc fair going dirt cheap as the seller didnt sem to know what they were for and obviously no use for the usual PC gamers etc
Dont give a shite about punctuation or spelling , I have to do that all day at work.
Free times for rocking !!