Pro co rat, how does it work
Topic starter
25/04/2012 2:30 pm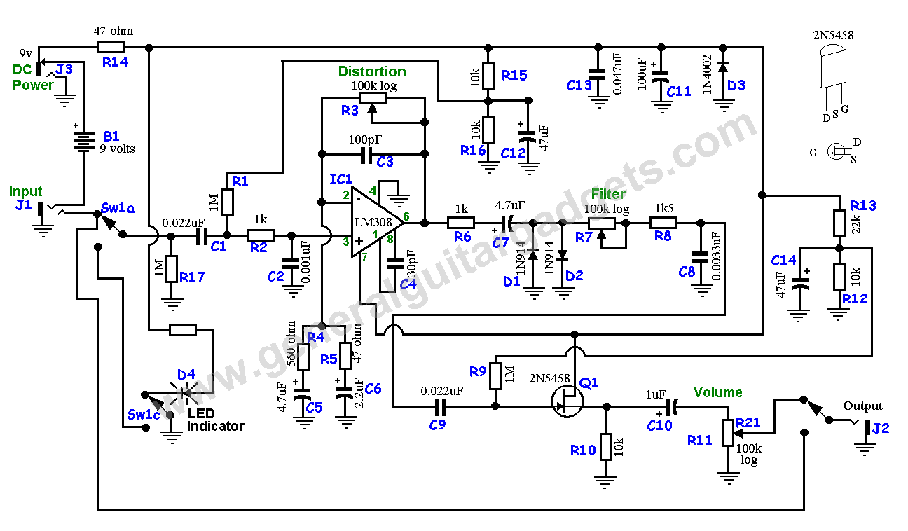 How does the distortion, volume and filter parts work. I have been thinking about buiding it but thought it would be practical to understand the basics of how it works. . Is it the capactitor that affects the distortion? The diodes that affect the filter? and is it as simple as the potentiometer being grounded that allows the volume to work? I have no clue about the transistor though, my electronics background is limited although i know how to convert this to veroboard. Any help would be appreciated.
I would run the whole scheme in a simulationprogram like PSpice to check all the voltages and currents. A basic knowledge in Bode-plots is needed also to understand how it works. Or if you know the basics of OP-amps you could sit with pen and paper and work it out. I would recommend a book in analog electronics.
Maybe if have time over, I'll work it out, but I think someone with more experience knows directly how it works and could explain it.
Actually, it is always a good idea to check a simualtion works before building a construction.
However, volume usually is controlled with a variable resistance and I think that's what the 100k log stands for even though havn't seen it explained like that before. They are controlled by the distorsion, filter and the volume knobs. Well, potentiometers would be the right name for it I guess.
By turning the potentiometers you adjust the resistance and you get more/less volume because you're changing the voltage. Distorsion usually makes the signal clip. So in a Bode-plot the Cosine-waves would be cut at the top. Does this make any sense to you?
"Talent is luck. The important thing in life is courage."
Topic starter
25/04/2012 6:50 pm
Thanks for replying
It works on multisim so i thought i would go ahead and build it
A very basic breakdown (because it's a while since I've had to look at one of these and never did electrical engineering), the op-amp stage is using adjustable negative feedback at the distortion pot to control gain, without working it out I'd guess the feedback is high gain which leads to distortion from the op-amp. There are a few components in the op-amp section I'm not sure exactly why they're there (e.g. C3 is really small, so not for tone, maybe just to damp high frequency ringing).
The filter pot is acting like the tone pot on a guitar, not the most obvious in the layout but the path between R7 in and earth the tone pot and C8 act as a voltage divider, as you change the pot the divsion for different frequencies changes. The diodes after the op-amp output will cause clipping and how that voltage divider interacts with them is going to affect exactly how. That's the portion I'd say I understand least well. That section also affects the output impedance of the op-amp section and may influence the op-amp gain.
The transitor is just acting to buffer and amplify the output signal, so the final pot R11 is just scaling between full volume out and nothing.
Good luck finding a triple throw switch (think a dpdt and the box were the most expensive components when I had a go at a pedal).
Topic starter
08/05/2012 11:15 am
Thanks for the information imalone. After a few weeks of building it i finally have it working. Well, by that i mean im getting the proper signals on an oscillator (i.e the clipped signal you mentioned) so hopefully once i get the switch connected, i can try it out with my guitar. As for the switch i got it for a couple of bucks on Ebay. The box was the most expensive thing. Again, thanks for taking the time to help me out imalone
You're welcome, good luck.
Kind of a slight spinoff from the question asked, but the pspice program mentioned, I was wondering if it was also capable of showing how the pcb should look upon completion, or if there is a program capable of doing this using a circuit diagram.
Grumps, I don't have the exact answer you're looking for, but I've been meaning to share this link...I was recently pointed at what has now become my favorite web site in the whole world: http://tagboardeffects.blogspot.com
All of the circuits are laid out on tagboard (or strip board, or vero board...it has a few names) and are ridiculously simple to make, as compared to interpreting a schematic and creating your own PCB for it.
They now have at least 300 *verified working* layouts on the site that correspond to various commercial and boutique pedals. I've got a couple of them in work but haven't completed anything just yet.