The Dazz live- 7/5/08
Topic starter
07/07/2008 8:46 pm
Well, my new band The Dazz (Burnfoot Dazzle) played our 2nd gig this Saturday. It was at Denise's (our bass player's girlfriend) house in Windsor Locks, Ct. only a few blocks from Bradley Field. Planes come in for a landing just a few hundred feet over your head.
The weather was horrible. It was raining on and off all day. We had a little gazebo, plus a little tent Denise had set up. But it was super crowded and wasn't sufficient to cover all our gear. So everybody pitched in and we used tarps everywhere. It looked like tent city! The other guys wanted to call it off, but a pretty big crowd had arrived and Denise had spent weeks preparing. She had tons of food and refreshments. So we went on, and we were able to keep safely dry, although it was really crammed. I will get some pics and post them this week.
I did bring along my Zoom HD8 and recorded a few songs. They did not come out too well because we had to mount the mics about 5 feet in front of the band. This is why the vocals will sound a little weak, the mics were picking up the instruments through their amps, but not getting much vocals from our front-of-house speakers which were actually further out front than the mics used to record.
Here are the songs on Soundclick, I simply numbered them 1-5 to avoid copyright problems (they are all covers)
http://www.soundclick.com/bands/default.cfm?bandID=853376
#1 Mustang Sally- Keith Michuad (drummer) on vocals, Mark Bombard (bass) background vocals
#2 The Breeze- Wes Inman (guitar) vocals, Mark Bombard- background vocals
#3 Comfortably Numb- Keith Michuad vocals
#4 You Really Got Me- Wes Inman vocals, Mark Bombard background vocals
#5 Evil Ways- Keith Michuad vocals, Mark Bombard background vocals.
I am pretty happy with these songs, it is obvious we need more work, especially on vocals. We messed up big time on Comfortably Numb, but everybody just smiled and kept playing, we recovered.
If you know something better than Rock and Roll, I'd like to hear it - Jerry Lee Lewis
Evil Ways is awsome! I love that song and you did it justice!
Topic starter
07/07/2008 10:06 pm
Thank you so much!
Just got a few pics from Mark our bassist. These photos were taken early (when it was almost dry). Lots more folks came after these were taken, plus lots more rain!
Mark Bombard- bass, Keith Michaud- drums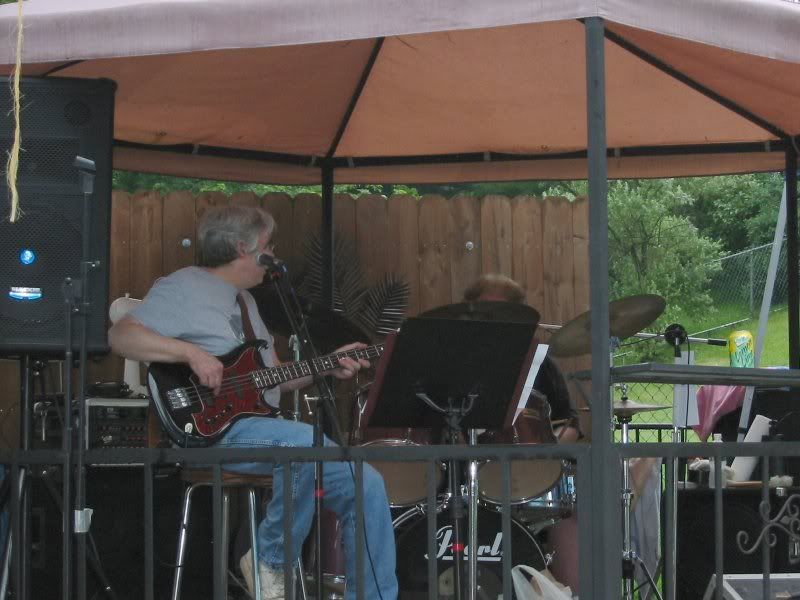 Dmitri Fedorjaczenko- keyboards, Wes Inman- guitar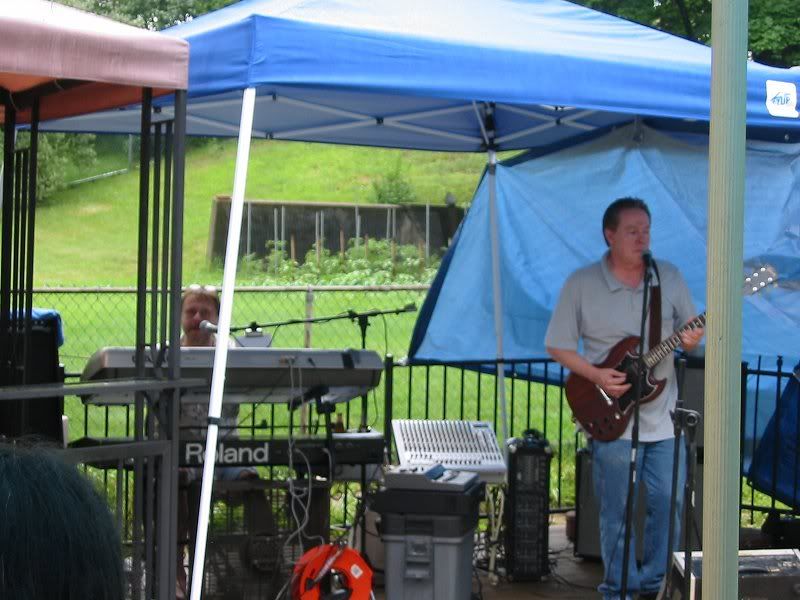 The crowd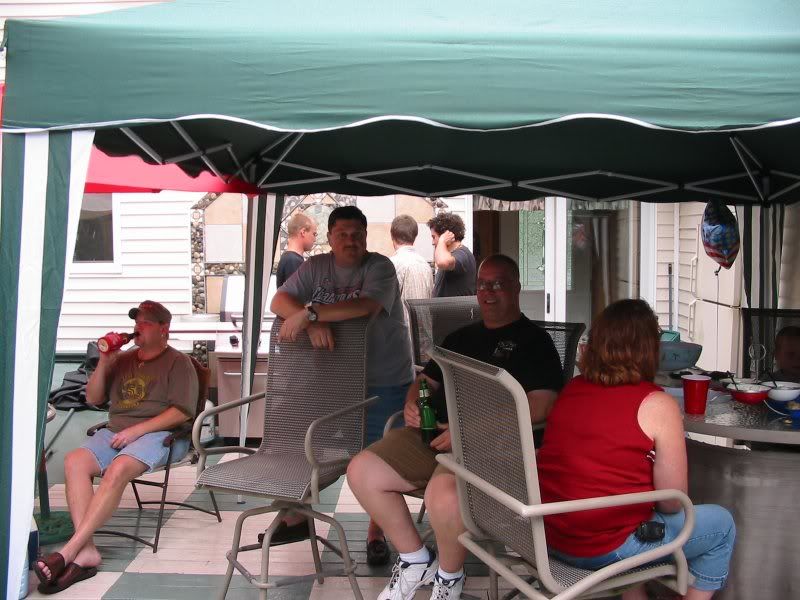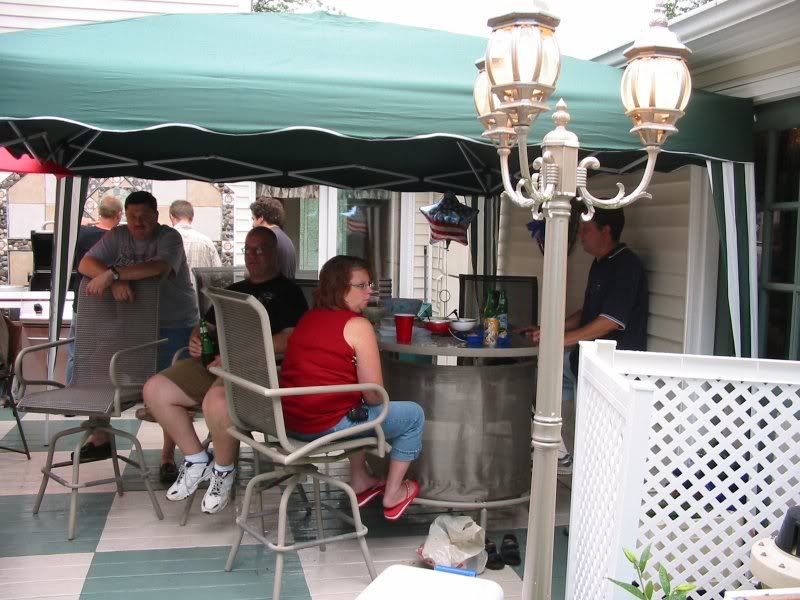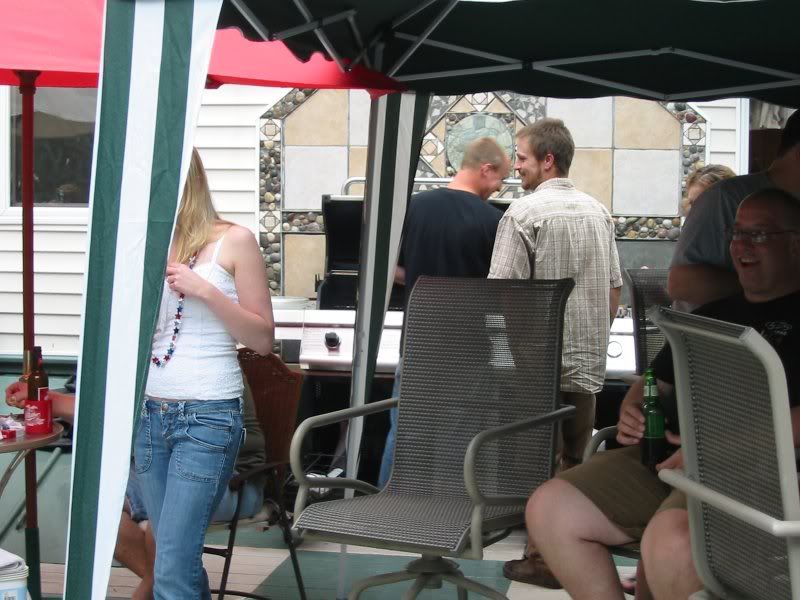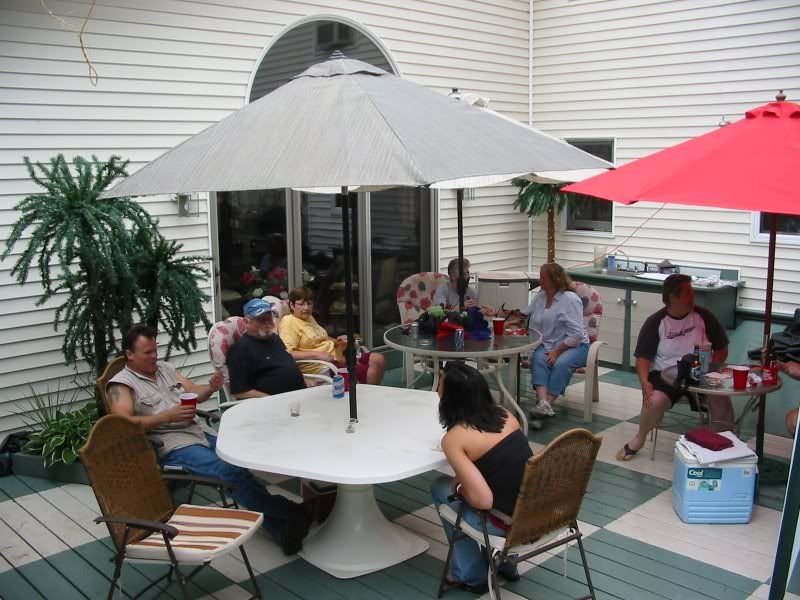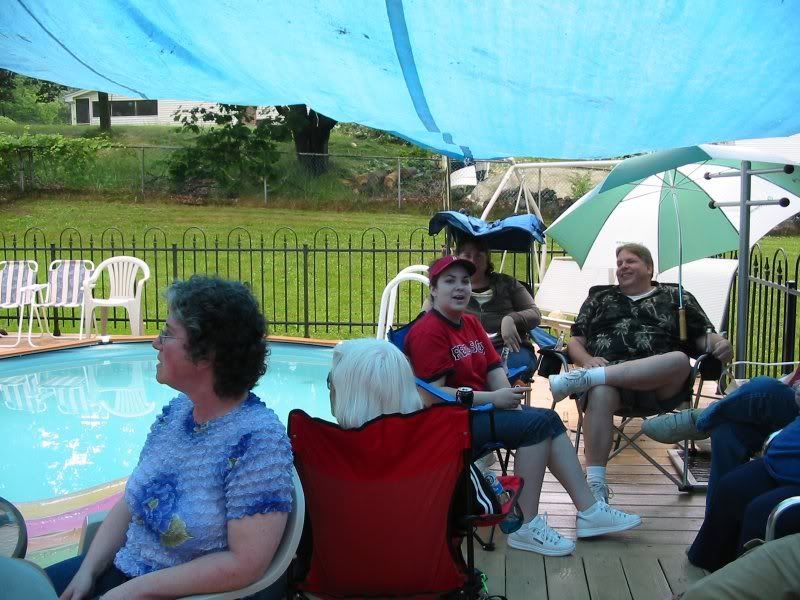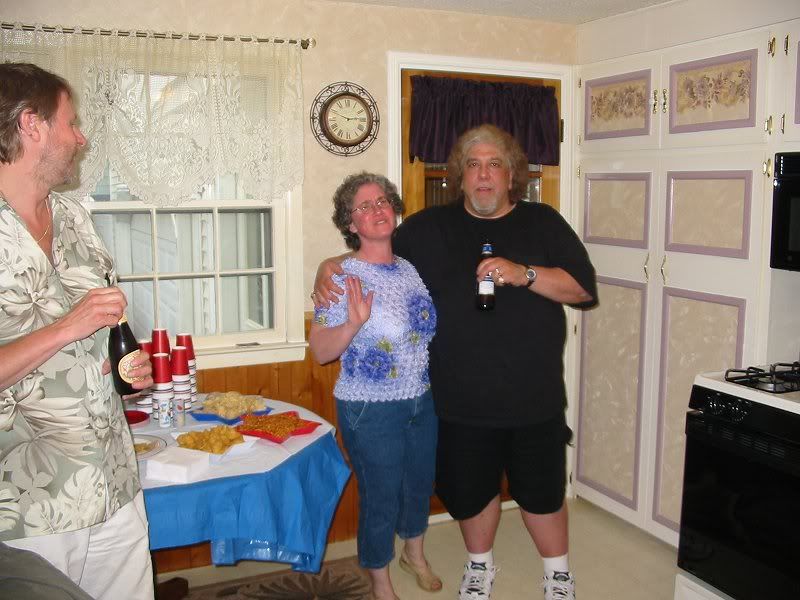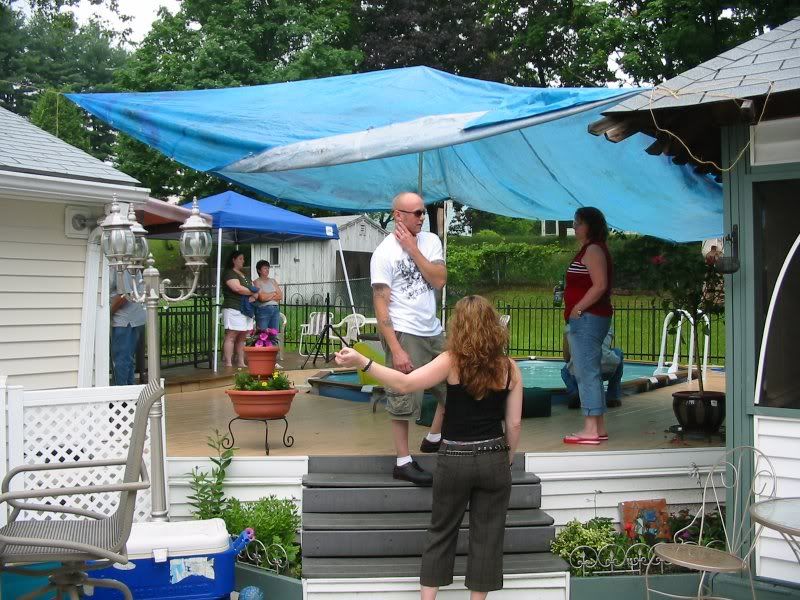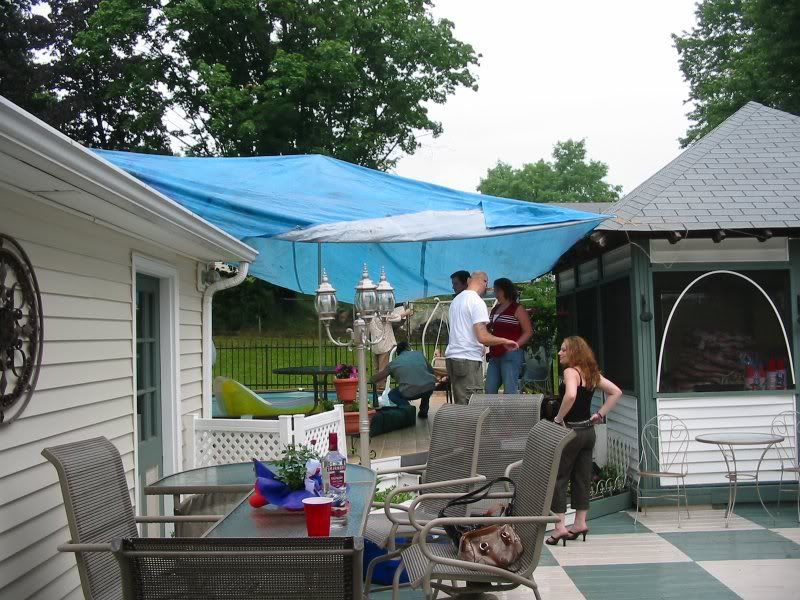 If you know something better than Rock and Roll, I'd like to hear it - Jerry Lee Lewis
Great stuff! Loved "Breeze." I thought you told me you guys need to practice?
For recording, would it work to hook up the Zoom to your mixer, rather than micing FOH?
"Everybody got to elevate from the norm."
Topic starter
08/07/2008 12:34 am
If all the instruments were running into the board, then I could have gotten some excellent recordings. But things were really too confused, we were supposed to be set up around 2:30 but didn't get started till after 4. So we set up quick, then it started raining and we had to get more tarps. These photos are nothing, they were taken just as we set up, it was pretty clear at that time. About an hour later it started really coming down, we had to get out 4 or 5 more large tarps. It was ridiculous, but things like that make a gig fun.
Dmitri had two condenser mics, but no stands, so I duct-taped them to a stand in a "V". But it was raining and the mics had to stay under the tent. We wanted to put them way out front.
And we need lots of practice. Man, we totally blew Comfortably Numb. My guitar was feeding back like crazy, and I didn't have it cranked, I think it was all the plastic! Everytime I hit a C or G chord my guitar howled. But I love feedback. :D
If you know something better than Rock and Roll, I'd like to hear it - Jerry Lee Lewis
Looks like it was a fun party, even with the bad weather.
I thought you guys did pretty good for a new group. Pretty tight for the most part, and just need to refine the vocals like you mentioned. I really liked your vocals on The Breeze, and your guitar tone was rockin' on all the songs! 8) I give anyone credit who will step up and sing, so good job Keith. With some more practice & singing songs in his range, (Mustang Sally wasn't that bad, Comfortably Numb on the other hand...), you guys will sound great.
Thanks for sharing Wes, and good luck with your new group. :D
Dan
"The only way I know that guarantees no mistakes is not to play and that's simply not an option". David Hodge
Pretty cool, man. I understand what you're saying about comfortably Numb. That's just a timing thing, right? Sounds like brave Keith just missed the queue by a few chords. It's funny that the only feedback was during the first couple notes of only those two solos. But, I've never played in a band and no notheeng about it.
The rest of was pretty tight for a new group. I dig the keyboards in your new band, too. I always thought they added a lot of sound.
That tone you get from your SG and toys is awesome. Did you use the Blues Jr and your standard array of pedals?
Roy
"I wonder if a composer ever intentionally composed a piece that was physically impossible to play and stuck it away to be found years later after his death, knowing it would forever drive perfectionist musicians crazy." - George Carlin
Topic starter
09/07/2008 7:12 pm
You guys totally rocked on your music but the vocals didn't sound like he brought anything to the table as far as the singing goes from what I've heard.
Oh I agree. But we set up late and didn't have time to do a sound check. We also played without monitors (we had them, but didn't hook them up), I don't know about the other guys, but I couldn't hear myself. I thought Dmitri EQd the mics too smokey, should have been a little brighter. On You Really Got Me, it had started raining hard and the young fellows who were helping pushed all my gear under the tarps, I actually could not get to my mic, had to lean way forward to just get near it. I don't think I sang it well at all, but the bad conditions didn't help either.
If you turn up Evil Ways real loud at the beginning before the song starts you can hear how hard the rain was coming down. :D
I thought you guys did pretty good for a new group. Pretty tight for the most part, and just need to refine the vocals like you mentioned.
Yeah, I thought we were pretty tight too, but the vocals were poor. I am glad I recorded it, recordings don't lie, everybody will see what they did poorly and we'll work on it.
That tone you get from your SG and toys is awesome. Did you use the Blues Jr and your standard array of pedals
No, I used my Hot Rod Deluxe with my Avatar cab with Vintage 30s. I used my pedalboard. On Mustang Sally I used the Behringer TO800 with the gain set low for the first solo. But for the second solo I just used the clean channel of my amp. I think it is easy to hear the difference, the TO800 made the tone much fuller and much greater sustain. I should have used it on both solos. I also used a very short delay on my Danelectro PJ & B delay to get a Country slapback effect.
For The Breeze I again used the Behringer but turned the gain up higher to get more breakup. On the solos I simply switched from the clean channel to the More Drive channel on my amp.
On Comfortably Numb I turned all my pedals on, that is probably why I got feedback. I used the Behringer pedal, my Marshall Guvnor, Behringer chorus, Danelectro Phase and Danelectro PB & J Delay (long delay). I like the tone I got on that song, very David Gilmore if you ask me. I had the volume fairly low, I really think the feedback was caused primarily by all the tarps. We had to add more tarps, maybe I'll get pics later and you will see how silly it was. It felt like I was playing inside a pup tent.
For You Really Got Me I used the Marshall Guvnor pedal. On the solo I simply switch from the clean channel to the More Drive channel of my HRD.
For Evil Ways I used the Behringer pedal with the gain up a little past half.
Thanks for the comments guys, I realize we've got a long way to go. But I like these guys and they are good musicians. We will tighten it all up and work hard on the vocals. For our 2nd gig it wasn't too horrible.
If you know something better than Rock and Roll, I'd like to hear it - Jerry Lee Lewis
hot solo during evil ways, wes. sounds really great, hope to hear more from you guys, especially if its recorded better :P
with the stage set you had AND playing without monitors.....you guys sounded really good. timing and dynamics were top notch.
you sound well rehearsed but not stiff. the JJ Cale cover was excellent.
Wes, you play well. I have no problems with the vocals.
great band, good job.
the crowd looked happy. especially the guy with the bottle stuck on his face.
I'm a little behind in commenting...
You guys sound great! I love Evil Ways and The Breeze. I thought your vocals on The Breeze were spot on and it's even more impressive that you were playing so well while singing. You guys should try sharing the vocals on Comfortably Numb like Waters and Gilmour did (you should do Gilmore's part, "There is no pain...").
Looks like a helluva good time, this is exactly what my son and I are trying to put a band together to do. I have no dreams of playing Madison Square Garden, but I'd love to play somebody's back deck. 8)
Ok Wes buddy here's my honest opinion. The solo in Evil Ways sounded good and your singing on The Breeze sounded good.
The rest of the singing was mediocre at best. You guys need a real singer it detracts from the music, I didn't think any of the other songs were song particularly well.
Please don't take it personally cuz ya know I still love you!
"It's all about stickin it to the man!"
It's a long way to the top if you want to rock n roll!
On the singing, I wonder if it would help if you guys change the key you play the songs in to match the singer better. Like I said you nailed The Breeze, but didn't sound right on Really Got Me. Same w/ the drummer, he sounded pretty bad on Mustang Sally and Comfortably Numb, but sounded pretty good on Evil Ways.
This is coming from someone who can't sing a lick, so who am I to talk?
Topic starter
14/07/2008 7:58 pm
Thanks everyone, I actually appreciate the constructive criticism. I completely agree, the vocals were weak. We do sound good on some vocals, we do a cover of It Don't Come Easy by Ringo Starr and get some real nice harmonies. That was the first set, I didn't start recording until the second set.
Changing keys should work. I have been trying You Really Got Me in different keys all week. The way we play it now is F to G, then it goes up to G to A, then C to D. The lead is in G, so I guess that is the key of the song. After trying many various keys I think I sing it MUCH better in C ( Bb to C, then C to D, then F to G). We also rushed that song (my fault, I started the song). It's funny how a key change can make such a difference in the dynamics of your voice. Sometimes you can hit all the right notes, but it still sounds flat. You have to find that place were your vocals sound energized. Plus, I hit the notes much better and with more power in C. So I'm gonna ask the guys to change keys on that one.
And though I sang this song very poorly, personally this solo is my favorite.
Another song we do that I sing is Can't Get Enough of Your Love by Bad Company. We play that in C like the original recording. Again, I can hit the notes but it sounds flat. Of course, it's pretty impossible to sound like Paul Rodgers, they didn't call him "The Voice" for nothing.
I've been trying that in A and sound much more dynamic.
Anyway, thanks for the criticism, I knew the recordings weren't that great, but hey, that's how they came out. It's only my second gig with these guys, I promise you we will improve, we are pretty serious about our music. Give us a few more months and it's gonna sound much better.
Wes
If you know something better than Rock and Roll, I'd like to hear it - Jerry Lee Lewis
just catching up on a lot of the links in this forum (im a teacher so i now have 6 weeks off to do it. HOORAY!!!)
Anyway, sounds great. Mustang sally is a personal favourite of mine and one we just started doing, i cant say ours is as good as your version though, that rocked. nice one.
"I like to play that guitar. I have to stare at it while I'm playing it because I'm not very good at playing it."
Noel Gallagher (who took the words right out of my mouth)