5W tube amp suggestions
Topic starter
20/12/2009 3:01 pm
I'm looking to get a small tube amp for around the house so I don't have to move my blues jr. around when I play in other rooms. I also like the idea of being able to hopefully crank it up and get a nice breakup without harrassing the neighbors
Anyways....lookin on GC,s website, I see the Epi valve jr., the fender champ 600, a vox, and bugera v5 that are all under 200 which is the price range I wanna stay in. Whatcha guys think? This bugera has more controls(namely reverb) than the others, but I've never heard of that brand. Is it a junk brand? I'm a fan of fender stuff, but I'll buy whatever sounds good for the price
I'm looking to get a small tube amp for around the house so I don't have to move my blues jr. around when I play in other rooms. I also like the idea of being able to hopefully crank it up and get a nice breakup without harrassing the neighbors
5 watts is too loud for that I do it with my Epi Valve Jr. but I use an attenuator. If you're seriously looking for a bedroom amp you can crank, I'd look at these:
Blackheart Killer Ant Half Stack
Playing guitar and never playing for others is like studying medicine and never working in a clinic.
I recommend the Epi Valve Jr. I have the stack and also use an attenuator.
"The only way I know that guarantees no mistakes is not to play and that's simply not an option". David Hodge
I like the Valve Junior precisely because of its minimalist, one knob design. It's a very retro copy of an old small lap steel amp, but with excessive gain on the volume knob if you keep cranking it. Yeah, if you want to run it up into output distortion it's LOUD! I don't run mine with an attenuator, but have used an overdrive pedal for "preamp" distortion at lower volumes. Sounds good to me. Usually I just turn the volume where I want it, and the tone is what it is.
"A cheerful heart is good medicine."
I have a Fender Champ, I like the tone but the Epi sounds good to me as well.
I had to change an amp because it broke. No problems with the second amp.
I have the champ 600 and i'd say it's a pretty good choice. you can crank it and then just mess with the volume on your guitar to keep it at bedroom levels. Has an amazing clean tone aswell
I have a Vox DA5, but it's not tube.
This little baby works for me with 6 watts, and if you reeeeaaaalllly like Fender, then the new Champ, 40 years after.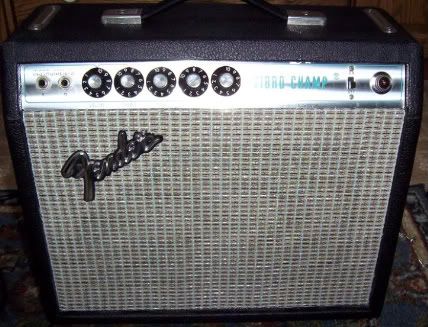 However, the Epi Valve Jr. is a screamer, has a die-hard following, Bunch O' Hot Rodders and a forum too, I would guess.
Either one, set up right, and I'm pretty sure I'd agree with the attenuator, or a supermod of some type, are GRRRRREAT!
Like a bird on the wire,
like a drunk in a midnight choir
I have tried in my way to be free.
Topic starter
24/12/2009 12:04 am
I wound up going with the fender champ 600(at least for a 30 day trial). was an early christmas present. I really like the pure tube tone it has and its not too loud at all(the whole point since I have a blues jr in the house as my main amp) BUT, as I have noticed, the speaker seems to be questionable, and I have seen some you tubes of speaker and also tube upgrades that had good results. Whatcha guys think....doesn't seem to cost much to mod the amp. I would like to bump it up a little if possible.
Like a bird on the wire,
like a drunk in a midnight choir
I have tried in my way to be free.
I was on the Firebottle forum for years, was greatly outclassed but learned from the engineers, industry people and pros.
Same here! The Music Electronics Forum is supposed to be its successor, but it's never seemed the same and I'm not on there so regularly now.
"A cheerful heart is good medicine."