Topic starter
09/10/2006 10:41 am
With so many people here owning a Epi VJ(H) I thought it would be fun to see how each of us uses it, plus how that sounds. Should be fun. :D
Here's mine:
http://www.soundclick.com/bands/songInfo.cfm?bandID=361288&songID=4531527
rhythm guitar was recorded direct:
Ibby Jazzbox->TO100->Epi VJH->attenuator->Volume pedal->cab sim->mixer
Lead guitar was mic'ed:
Ibby RG550->TO100->CS100->EQ700->Epi VJH->Attenuator->volume pedal->reverb->compressor->GMX212->mic->mixer
Just to show the the 'gainier' side of the amp.
Great idea Arjen.
Very nice tones on the rhythm & lead guitars, but then again, you're using the EVJ, so that's a given! :wink: 8)
I'll try to post something using mine too.
Dan
"The only way I know that guarantees no mistakes is not to play and that's simply not an option". David Hodge
Arjen, that was pretty cool. Very nice tone on the rhythm and lead guitars. I bet you are beginning to prefer the overdriven tube amp tone to solid state. :D
I like your experimental music a lot.
Keep up the good work.
I really don't have any recording equipment at home to record mine. I think I will invest in a fairly inexpensive recorder soon.
What effects if any were you using in this recording? What effect was on the drums?
If you know something better than Rock and Roll, I'd like to hear it - Jerry Lee Lewis
Topic starter
10/10/2006 10:22 pm
Dan: Thanks! Looking forward to your recording.
Wes: Thanks man. :) Yeah, I'm slowly starting to understand how to get different sounds out of it. And while dialing in a sound is way easier for me on a digital unit (and while fighting the noise of a heavily driven tube amp is tough!) I can now safely say that some of the sounds I've found so far are nowhere to be found in the V-amp. :D
As for recording, depending on what music you like you really don't need to spend a whole lot. IIRC the only effects used here are compressor and reverb (on every track + master) and delay on the lead track. The lead track was mic'ed with a E9,- Behringer microphone in a basic Behringer mixer. If you have a pc near the amp you can set a digital recording setup together using only free software or else a basic Tascam taperecorder or such would do the trick. As long as you don't want to do a whole lot of processing both would do well.
The drums were done using Groove Agent by the way. In retrospect I overcompressed it too much as they sound a tad flat now but it's a great program for adding a drumtrack. The entire drum track in this 'song' took me roughly two minutes to make, including all the fills and stuff. Check it out if you're thinking about recording your own songs away from the band.
Looking forward to hear your recording. :D
I'm looking for a new amp, so I'm definately interested in hearing other people using this. That sounded great Arjen!
I love this little amp. You have to experiment with it a bit to get the sound you want but its worth it. I generally use a Danelectro EQ, arion Tubulator, and a digital reverb. I have a old clapped out Peavy combo amp that I use the speaker from and sometimes us my home made attenuator between the amp and the speaker. Here is a sound clip i did with a backing track. I did the lead on the left and rhythm on the right.I used a shure SM 57 for the mic :D
Arjen, that was very cool 8) I also like your experimental stuff, very original.--the dog
http://www.soundclick.com/bands/songInfo.cfm?bandID=284421&songID=4134198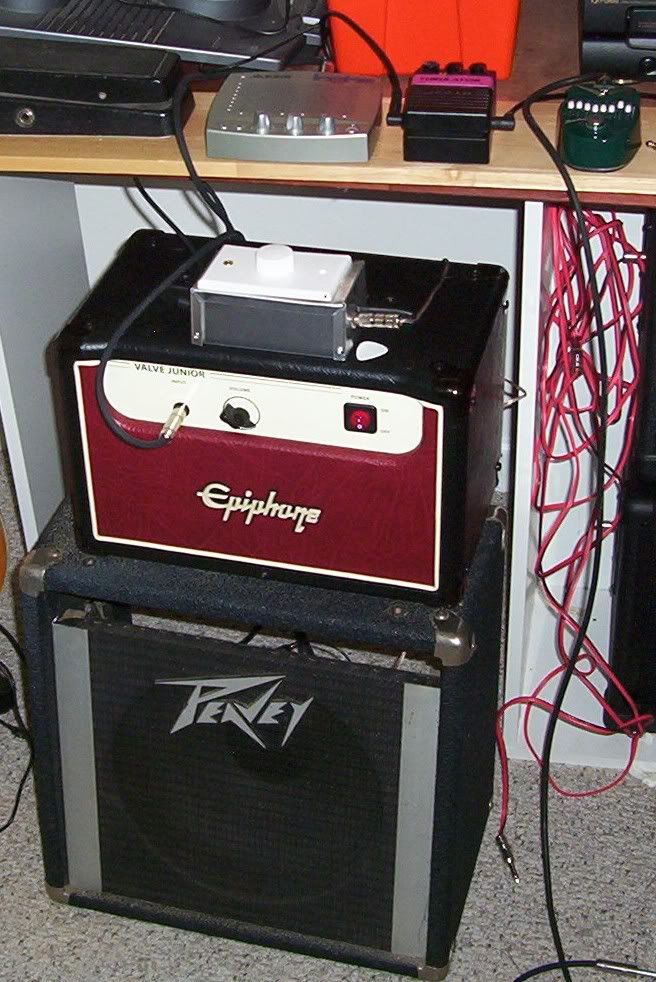 Good job guys!!! The tone is great on both of your recordings.
It is a small world for metal fanatics. I welcome you fellow musicians, especially the metalheads!
I havn't found my tone yet, and I have no mojo....but I'm working on it :)
Wow smokindog i love the sound of that clip. Just by hearing these i definitely think this is gonna ge my new amp. The lack of controls turned me away at first, but forget all that! I think im gonna get the combo as i dont have a cab. How did all you guys record these, just mic them? Also could this amp keep up with a drummer? i dont play any gigs with him or anything but we jam in his room every so-often. Thanks, Mike
"This is a public service announcement....with guitars!"
I hooked my EVH to a 12" speaker and had a jam session with another guitar player and a drummer and no problem. I only had the volume at 4 O'clock. You might check out the Valve special, it has reverb, effects, and EQ built into it. This would save you from having to buy the pedals.--the dog
Here is a little soundclip of my Epi VR Head I put together this afternoon:
http://www.soundclick.com/bands/songInfo.cfm?bandID=484876&songID=4555350
The rhythm part is: Epi VR (H) set at 9 o'clock - into 12" Fender speaker - Fender Strat - Ibanez Digital Delay for reverb effect - Ibanez Chorus pedal.
The lead part is the same as above, accept I took out the Chorus pedal and added my Arion Tubulator set to: 5, 3, & 5 1/2.
Dan
"The only way I know that guarantees no mistakes is not to play and that's simply not an option". David Hodge