Just discovered the site, thought I'd drop by and say hello. I've played since I was 8 (currently 35), starting on classical and eventually playing about everything. This is my current stable: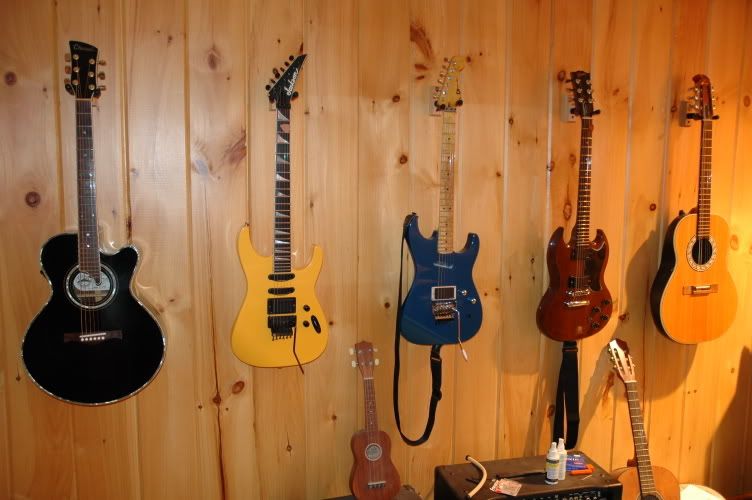 Left to right:
Early 90s Charvel 625C
'87 Jackson SL1- Custom toggle, EMG 85/SA/SA
Parts mutt- Musikraft neck, Charvel body, EMG 81, OFR
'82 SG Firebrand- Bought new, currently has EMG 58/H but will shortly be returning to stock
'78 Ovation 1624- Nylon string, 1 7/8 neck
Glad to be here!
Posted : 02/09/2006 11:21 pm
I am relatively new, but I figured I'd give you a warm welcome anyway.
Welcome!
Neat collection!
"Music can be like perfume, it's almost a scent, you know, where the right smell changes an environment and makes life more bearable." ~ Imogen Heap
Posted : 02/09/2006 11:41 pm
Welcoem aboard Mr. Poonski. Very nice collection you've got. 8)
Dan
"The only way I know that guarantees no mistakes is not to play and that's simply not an option". David Hodge
Posted : 03/09/2006 12:10 am
Sweet guitars, Welcome!
"Failure is the key to success" Lee Wen; Champ vs Champ
Posted : 05/09/2006 11:07 am
Welcome to GN. Nice lookin guitars you got there
Jim
"The hardest thing in life is to know which bridge to cross and which to burn" - David Russell (Scottish classical Guitarist. b.1942)
Posted : 05/09/2006 11:21 am
Welcome!
Quite a nice collection of guitars you have there particularly compaired to my Squier and trashed Yamaha classical acoustic.
Drugs are a waste of time. They destroy your memory and your self-respect and everything that goes along with with your self esteem. Kurt Cobain
Have you seen the roses? There's a whole lot of colours. Syd Barret
Posted : 05/09/2006 11:33 am
Welcome, Mr. Poonski. It is a great and friendly site here. There are a lot of genres, styles, and musical tastes represented here and the people have a pretty open mind. It is my favorite forum and I've been around here for a while. I have not found another site that is remotely as cool as this one. Have fun here and let us know what type of music you are into. I'm guessing you are a bit of a rocker with those electrics.
It is a small world for metal fanatics. I welcome you fellow musicians, especially the metalheads!
Posted : 05/09/2006 11:46 am
Thanks guys- great to be here. I'm into lots of music- huge Eric Johnson fan, Van Halen, 80s metal, Vince Gill, Chet Atkins, Mark Knophler, Larry Carlton, etc. I like a lot of different stuff. My collection sort of reflect my tastes, I think- a guitar for every occasion.
Posted : 06/09/2006 1:13 am