Gig Report - Dewey Memorial Hall - 4 October, 2008
It's just over twenty-four hours after the fact and I still have some of the participants here at my home, but since I've a few moments, I figured I'd report on the gig we had last night at Dewey Memorial Hall in neighboring Sheffield, Massachusetts.
Dewey Hall is an old-style auditorium, old as in mid 1800's. There's a good sized small room and a stage. Kind of looked like this: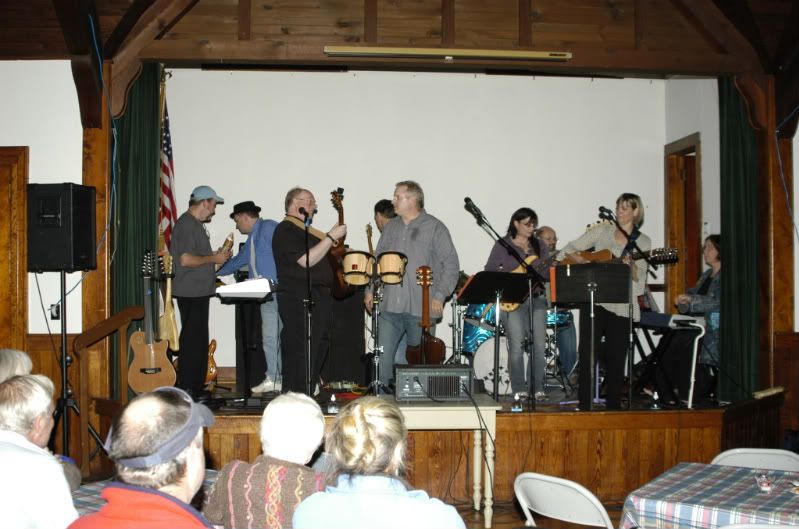 We were billed as "David Hodge and the Players to be Named Later." If you'd like to see the poster for the show, you'll find it up at my blog, http://www.davidhodge.com
The "Players to be Named Later" turned out to be:
Karen Berger - keyboards
Helena Bouchez - bass guitar
Jeff Brownstein - guitar, percussion, keyboards
Greg Nease - guitar, percussion
Kathy Reichert - guitar, vocals
John Roche - guitar, vocals, percussion
Kyle Roth - drums
Joel Schick - harmonica, percussion
Nick Torres - guitar, vocals, percussion
Originally, we were going to open the show with the Moody Blues' The Story in Your Eyes, but after playing it close to what seemed like nineteen times during the soundcheck, we ditched it and went with the following:
Suspicious Minds - Elvis
Love is the Drug - Roxy Music
In the Sun - Joseph Arthur
Dancing With the Stars - Kathy Reichert
One by One - Nick Torres / David Hodge
Hey Eugene - Pink Martini
Eurotrash Girl - Cracker
Do You Remember - John Roche
Jack McKenzie - Kathy Reichert
Rosie - David Hodge
Time Bomb - Rancid
INTERMISSION
Alison - (the other) Elvis
Monday Morning - Kathy Reichert
Lost Summer Days - Nick Torres
Piano Through the Ceiling - Kathy Reichert
Orange and Cinnamon - David Hodge
Man in the Moon - R.E.M.
Sultans of Swing - Dire Straits
No Reflection on You - Kathy Reichert
I'll Be Around - Spinners
Evil Ways - Santana
We had a moderate and enthusiastic crowd and I hope they had as much fun as we did. The entire show was filmed by John's wonderful wife, Karen, and with a little luck (and a bit of time as I know they've a number of other projects going on) we'll have both video and still photos (courtesy of John Reichert) available for your entertainment. In the meantime, here's one he let me use: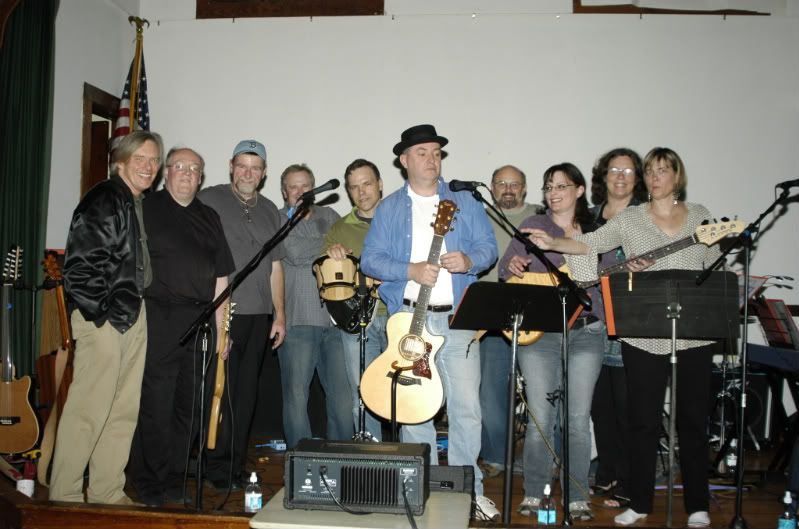 I'd like to thank both musicians and the audience for making this a very fun weekend. Being able to have the "world premiere" of Nick's Lost Summer Days, as well as Kathy's Jack McKenzie was inspiring. I'm honored to have such talented and terrific (and patient!) friends.
Sorry about the sizing of these photos - you can see them for real here:
http://s307.photobucket.com/albums/nn285/guitarnoisescw/
Will keep you all updated as materials make themselves available.
Peace
Posted : 06/10/2008 1:54 am
Very nice David! I really like the setlist, and Timebomb was a nice choice since you had the keyboards there.
Posted : 06/10/2008 3:49 am
Thanks David,
A great time was had by all.
I did manage to get all the tapes downloaded and one video posted on youtube.
Please excuse my self indulgence :D
I'll try to get some pictures up later today.
John
Posted : 06/10/2008 8:25 am
My that was a small stage! The song sounded great. Sometimes, live videos dont have a good sound quality but this one did. So that must mean that you had a good mix! For instance, I was able to hear the tambourine just fine. Looks like it was a great time. Wish I could have been there!!!!
Teamwork- A few harmless flakes working together can unleash an avalanche of destruction.
Posted : 06/10/2008 12:38 pm
I look forward to seeing more video. I hope you can hear the crowd singing along to Eurotrash Girl and Man on the Moon.
It was a great time as always.
Posted : 06/10/2008 1:50 pm
More Pics
http://s306.photobucket.com/albums/nn244/jprguotar/Dewey%20Hall/
Enjoy
John
Posted : 06/10/2008 7:16 pm
I really like the curtain call picture.
Posted : 07/10/2008 12:23 am
I really like the curtain call picture.
It's my new desktop background.
Posted : 07/10/2008 12:37 am
Cool pics. John, "Do You Remember" sounds great given the full band treatment - one to be proud of!
I'm surprised at the set-list though - with all of you together on that stage, I'd have thought someone would have suggested playing "The In Crowd" or even "It's Getting Mighty Crowded!"
:D :D :D
Vic
"Sometimes the beauty of music can help us all find strength to deal with all the curves life can throw us." (D. Hodge.)
Posted : 07/10/2008 12:39 am
Thats very cool 8) Looks like you guys had fun.
Posted : 07/10/2008 5:15 am
Posted : 07/10/2008 11:11 am
Such as small ensemble. I would have thought you would invite at least 3 more musicians. I mean...there's enough room up there!! :lol:
Teamwork- A few harmless flakes working together can unleash an avalanche of destruction.
Posted : 07/10/2008 4:31 pm
I don't think we had a number with all of us up there at the same time
Posted : 07/10/2008 4:40 pm
We tried! Anne was supposed to join us on percussion but couldn't make it and a viola player was also scheduled to be part of the group.
Peace
Posted : 08/10/2008 12:38 am
Its good to see you guys having a great time at the stage. 8)
Posted : 08/10/2008 7:18 pm