Gig report-Lawhorn Gospel Blues
I know that my reports tend to cause all the others to pale by comparison but here goes.
We spent the month of June with family stuff. On the 6th we had our first grandchild then on the 16th we had our daughter's wedding. Music related, we did play a song at the wedding. Give that a try sometime. About 120 people, your baby girl and "Still Be Loving You" by Restless Heart. No pressure.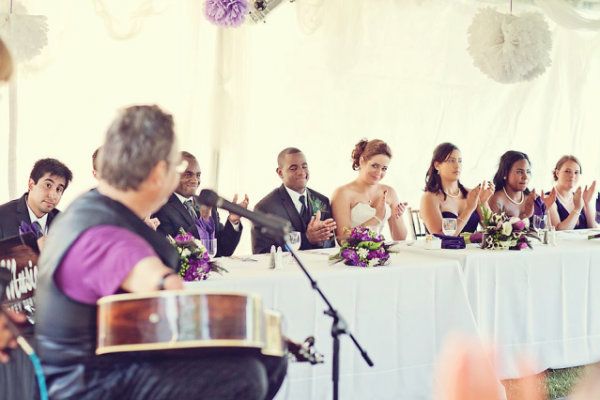 Since the end of June and July were so hot here we didn't play much. We were starting to feel the need to get out somewhere and do something but never got far from the house.
August 3rd the temperature only got to the upper 90's here so we spent an hour on Mass Street in downtown Lawrence Kansas. Buskers are very common on Mass Street, everything from small bands to people that shake maracas for an hour at a time. We had a good number of people pass by and a few that stayed and listened…and applauded even, a few that forced money on us even though we tried to stop them. One young man that stayed for a while commented on our great harmonies.
Sunday the 5th we went to a Church service at a Melvern Lake campground and played a few songs during their snack time after the service.
Last night, the 6th we played our hour set at a community fund raiser that is put on by the local Pride committee (think community boosters). This was a hometown deal and was kind of a local debut for us. It went OK but the sound system needed to be set and there was no one to run sound. The hall is not very good acoustically but we went ahead and did our best. I only messed up the intro to our opening song "People Get Ready", I had been warming up on a different song and failed to reset the capo. I didn't feel at all embarrassed to stop and reset and restart and I don't think anyone there cared either. Talked to a lot of people afterwards that didn't know that we performed music ,so I guess they do now.
Not sure what our next stop will be but I imagine that we will try Topeka and KC again soon.
Here is a pic of the sign that is along the road into town.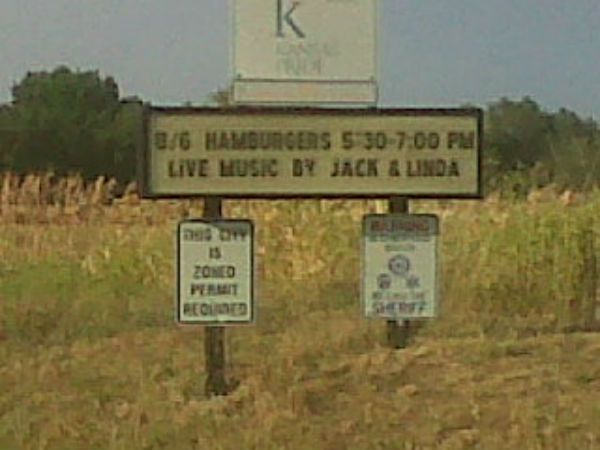 Our son said that you can tell you are from a small town when you are performing and they don't bother to put your last name on the sign.
We have a name now, after a huge focus group survey we went with our last name and what we play. Lawhorn Gospel Blues. We set up a FB page, didn't want to but it is the law you know. Lawhorn Gospel Blues.
There isn't anything on there but we tried.
Maybe we will see you on the street some day. Till then.
Jack
Posted : 07/08/2012 5:44 pm
Posted : 07/08/2012 7:37 pm
That is such a great picture from your daughter's wedding. The facial expressions, especially by the bride, say it all. Wow. Judging by the reactions captured in the photo, you nailed that song and it must of felt great.
Posted : 08/08/2012 1:44 am
Sweet
"It's all about stickin it to the man!"
It's a long way to the top if you want to rock n roll!
Posted : 08/08/2012 11:30 am
That shot was the only time I looked at her. I couldn't have gotten through it otherwise. Linda was singing also, that is her hand with the blue cord in it at the far side next to me, she was holding my LR Baggs Gigpro pre amp. The photographer framed it that way.
I had tuned up and we set levels with the DJ prior to the reception starting, then we had to do some parent things, then sat down to play and the low E was way out of tune. I just brought it up to what sounded close and we went through the song. When I set the guitar back on it's stand and sat back at my table I noticed the 3 year old ringbearer start playing with the tuning keys. I guess we know why it was out of tune.
Jack
Posted : 08/08/2012 12:28 pm