Slejhamer
Love that middle photo of your son. Man, he looks serious. You've got you the next Stevie Ray Vaughan there! :D
If you know something better than Rock and Roll, I'd like to hear it - Jerry Lee Lewis
Funny thing with a couple of my grandkids - they like hearing me play guitar for a few minutes, but then their attention tends to wander. If I get a slide out and start playing up and down the fretboard, though, they absolutely love it! I've managed to get them to sit down and put a guitar on their laps, given them a slide and said, "make some noise!" They both seemed to pick up the knack of sliding up and down the strings without being too heavy handed - I haven't tried to actually teach them anything yet, at their ages (one of them's five, the other's not yet two!) it's all about having a bit of fun. I'm thinking of buying the five-year old a half-size guitar for Christmas - now I'm thinking, ukulele.
Here's a pic taken a couple of years ago of one of them - he was about three then. Look at the concentration!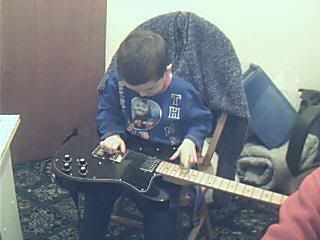 He also likes the keyboard........
If you make it fun for them, at a young age, they'll probably take it more seriously when they get a little older. That's my theory, anyway, for what it's worth.
:D :D :D
Vic
"Sometimes the beauty of music can help us all find strength to deal with all the curves life can throw us." (D. Hodge.)
Cool pics by the way Slej, are you a photographer of sorts?
"Of sorts," yeah; enough to do some bartering now and then, and I've had a couple things published. Fun hobby. Thanks. 8)
Slejhamer
Love that middle photo of your son. Man, he looks serious. You've got you the next Stevie Ray Vaughan there! :D
Thanks Wes; he's a hoot to watch playing air guitar too! :)
"Everybody got to elevate from the norm."
Love the middle pic slej.
I used to say that I especially like children sautéd in a garlic sauce. But now I've got three boys...19,almost 17 and almost 15...al musicians. I've never felt so proud as when I jam with the fellas! Worth all the diaper changing, I guess... :?
Cat
"Feel what you play...play what you feel!"
I got my first instrument at about that age. It was a little ukelele and my parents say I loved it and could even play a few simple melodies on it. I moved to the piano a few years later. I think the ukelele is a good idea.