Do all good guitarists think they're crap?
Yup I talked about Hendrix off the top of my head but he is probably the only one I could do that with....... the Hendrix tone is......simple you get a good guitar (my 70s guitar isn't even a proper one just a mexican replica) and a nice amp (has to be valve, preferably KT66 valves because it's creamier though I can make nice Hendrix tones with my old EL34s just prefer my new amp) and play the licks! Voila! I really think nothing of it.
Edit; just relooked at the pic I am guessing your both rightys like me..... even though I write left handed (go figure!)
Yes, but I love your 70's Classic Strat, it's a MIM Deluxe (MIM = Made in Mexico, GAS = Guitar/Gear Acquisition Syndrome, but it could be better said, with the way you used "Addict's") Good story on your valves, which are tubes in America, and Hendrixology is the best I've heard yet. Too bad he died in London? Oh well, I just heard that the Stray Cats had to leave Long Is, NY, USA with their rockabilly and colourful, high greaser fashion go there to make it big too. You Brits have Mojo!
Thank you for the comments on our personal Hendrix Strat; we play right handed and we write lefty also, it's an artis't thing I believe, but you're born with it, the fine motor on the left and probable/possible strength/dominance on the right. I think?
If you can stand a few more pictures, all repeats, but re-sized for the forum... first I have a handful of favourite Strats, but still don't show them all, how's about a top 3... the closest thing I have to Eric Johnson (besides Eric Clapton which doesn't compare - sad big V neck and midboost that doesn't shut off completely, at least not if it is left stock/unmodified) is this Aztec Gold '57 VRI; the V standing for Vintage and signifying American instead of plain RI re-issue. It has the Alder body too, and I'm pretty sure it is nitro all the way, it got endowed with additional gold hardware and strings, but has a nice smoother V neck or a big D actually, large sustain block of course, '57 string depth inside that. Beefy-ish pickups, almost.
Here's the Vai "Green Meanie", a true greeeeeen machine, but we sold it after my son built his own ideal Strat to play all.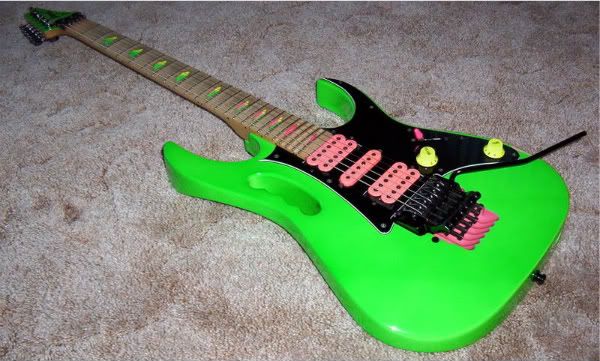 My little daughter plays with "Blondie", our tribute to David Gilmour, and with her other toys about 5 years ago. I still have the guitar, 18 years old, but not the girl, now 13. Sadly, we've separated - she knew a few chords and some lead twangin'.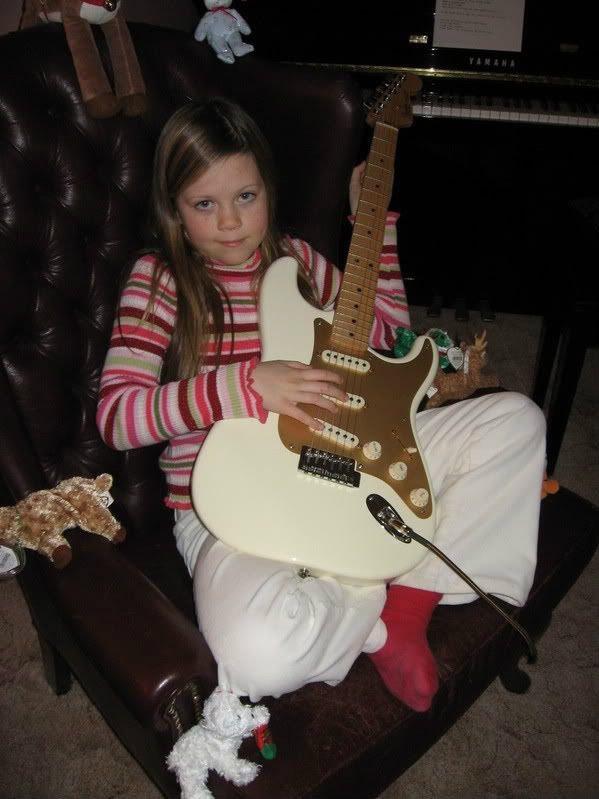 If there's ever proof that we must continue, our hearts will go on, I adore my "New American" Strat, 10 years old, named Angel, a dual name for the Hendrix song that I play on her, and the girl she's named after, poor little Ally, 2001-2005, RIP.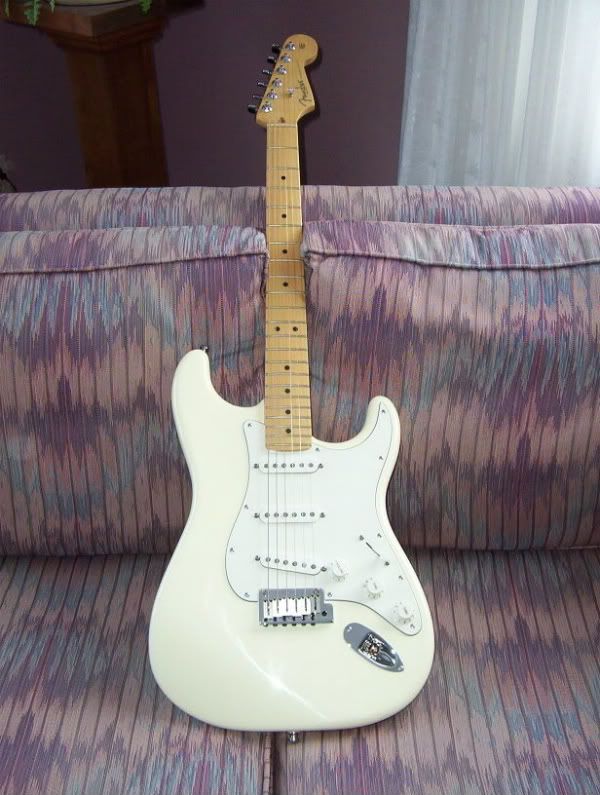 So another fave is my 1980 "The Strat", it's Hendrixy too, but finished it's build in 1983, prolly sold in 1984 just as Fullerton was closing and the first owner dropped the E to a D in time for Eddie Van Halen's 1984 and she hasn't been played for about 25 years or the gold plating wears off. All Nitro too, a real nitro circus/showpiece and overkill with gold sustain block over Brassmaster bridge too, special knobs with diamond grips in the metal, a super sustain ridge and X-1 pickup with 9 sounds.
Like a bird on the wire,
like a drunk in a midnight choir
I have tried in my way to be free.
I wouldn't know what a good guitarist or vocalist thinks, because I'm crap at both. :D
Topic starter
09/08/2011 5:43 am
Bluejay! I could look at guitars all day! Especially stratocasters!!! You are so lucky to have acquired all these beautiful guitars and they all seem to have 70s headstocks, am I right? What does your wife think about all the guitars? :lol:
together we stand, divided we fall..........
Bluejay! I could look at guitars all day! Especially stratocasters!!! You are so lucky to have acquired all these beautiful guitars and they all seem to have 70s headstocks, am I right? What does your wife think about all the guitars? :lol:
Thank you again. Well this is getting a little personal now, but I always feel obligated to finish a story and am not too discrete either about details and disseminating or maybe sharing information.
I can tell you exactly what my wife thought. She threw me out, but after I bought a new Mustang (car) on top of everything else. So, it wasn't just the guitars - I think that we could have survived.
For a start, I got nothing except the meagre things I was wearing, not even a watch, then a suitcase, then another, then 5 or 6 guitars, which she thought was all I needed. I moved 600 miles and asked for more, and she was quick to rhetort "How many guitars does he need?" - okay, I wasn't talking to her, still am not, and I get that all the time: "You can only play one at a time!" Right, those people are non-guitar lovers. My eldest daughter made a list of all the guitars that they had in and around the household, including storage which they paid dearly for, and they decided to release exactly 15 more guitars. I went "home" all of 600 miles, stayed in hotels etc., it was costly and so was the lawyer, but I decided to go away with nothing because her lawyer had not seen the list or approved it, and I didn't want to be on my own property without some form of official permission and an independent 3rd party; certainly not one of her friends, but one of mine.
When I was leaving the city after such a long trip with nothing (that's 1200 plus miles all around, and hundreds of dollars, plus the risks of the road) my wife couldn't believe it and asked my son to intervene. Intervention wasn't necessary - I needed those conditions to be fulfilled so that I was not charged with trespass, or theft with far worse consequences than you may think, and digging myself a waaaay deeper hole than I was already in. Anyhow, to make it convenient for my son, we met for coffee so close to my former house, and he brought the list of guitars, that I could almost "feel" them, and wanted them, but not the trouble with the law. But I said to my son, something like it's good to be cautious and cognitive, but a real man would do what's hardest, and be tough. So I went and got the guitars. I didn't tell them that I had bought maybe 10 new guitars, and was replacing the collection already, but you can't replace old loved ones or a 40 year collection.
My wife held the rest, and continued to pay for storage and security, until we agreed on a value for them, and now she wants me to take them all... no, I just asked for 10 more, random, her choice. I'm taking only small steps or measures, cautiously and have been trying to move on with my life.
Also, I said I am not taking any guitars (out of her way and her expense to maintain them) until I get my car, so I am having an Auto Transport Company bring the car - now I'll have my car in a week, and next month will go and get the lesser number of guitars, which still leaves them with quite a few, and what to do? I had been giving some away, I know that my wife didn't like that, so I am not doing that at the moment. There are a large number, they have insurance, so do I, but my insurance company has given me a hard time, I've had appraisals, got a true state of the art alarm system (I bought a house maybe 2 months ago for just me and it's lonely) and I can't fool the alarm; so at least I can leave the house or stay, armed, I even set it off myself and it is monitored.
I'm ready to get the guitars, in stages, or quicker if necessary, but long story short (how???): I DO have over 30 Strats. :D Some trusted people have asked, including the appraiser, but no Strats are for sale, actually no Fenders for sale - I guess, I'm still FAST after 40 years when I got my first Telecaster - I made that one up = Fender Acquisition Syndrome,Terminal!
FWIW, the most valuable may be the one that I built as a "just pre-CBS transitional relic" with parts from Fender, Bill Nash and very largely my daughter's help, when she was 4. I thought she was 5 and that the Les Paul was her first, but I found pictures at my parents/her grandparents, old 35 mm. on paper which place her at age 4 with the body of the guitar alone, and ready to go and build with a look of sheer glee on her face, and anticipation. I've said before on the forum, she was an accomplished tech at age 5, which isn't that hard, because I tuned foreign cars and attempted to test them when I was that age. Not that it matters, but we do things early in life, so her music lessons started at 18 months, I can't remember exactly she took up 1/8 size violin, and figure skating was at 3 years of age, with an awkward hockey helmet, then they shed that at age 5 and look like true butterflies. She went through being EMO when we had our troubles, and has quit everything for now, except school, which she no longer enjoys and is often absent, some attitude?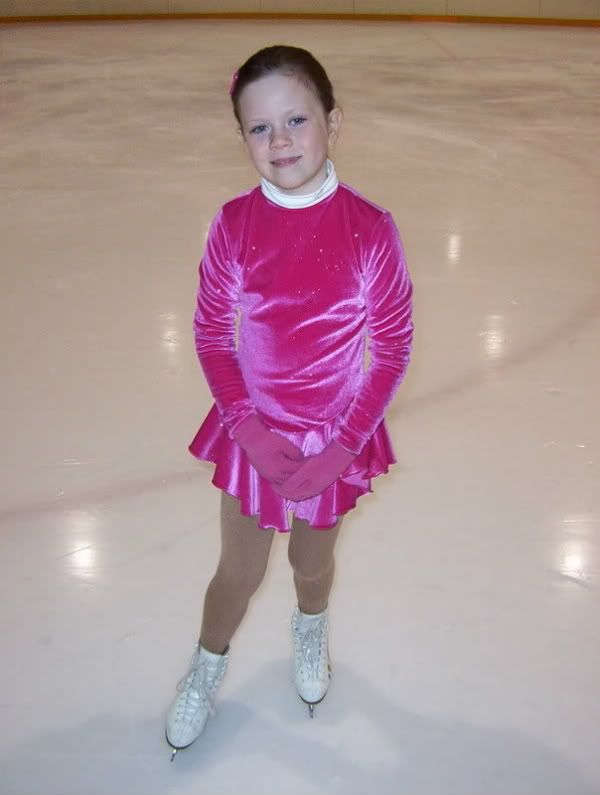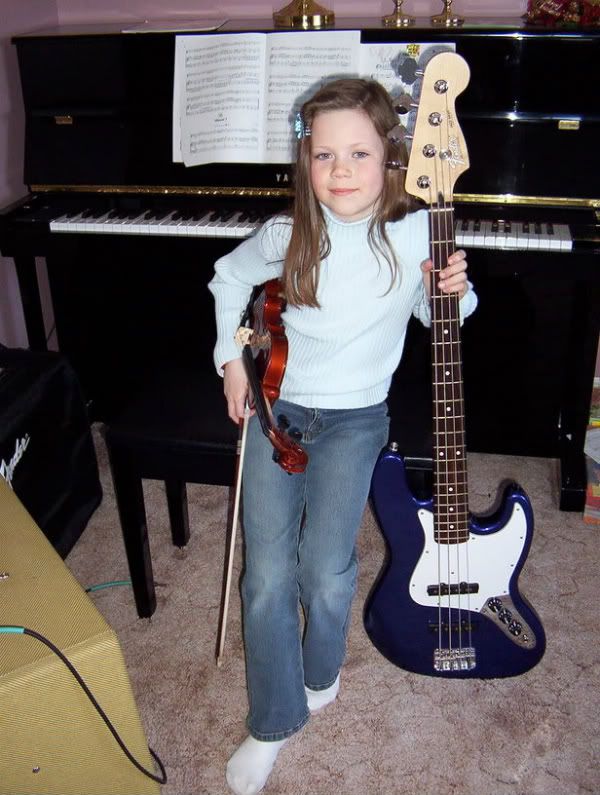 A few more pics including Nashguitars first and only Custom, and one only properly named Strat, serial no. 0001 painted by Leo Fender's premiere painter at G & L who virtually re-invented and re-popularized sparkle, for awhile? Leo was all bent on outdoing his old company, yeah the Fender which he started in 1946, of course. G & L had sparkle! But mine's Nash Custom.
My daughter's one and only guitar that her mother hasn't forced her to give back is the 1981 USA Bullet Deluxe. I feel terrible about having her Teles and her Burgundy Mist Strat named Misty - has '69 CS pups BTW, and they are girly due to the fact that they were hand made and always signed by Abigail Ybarra, and also Hendrixy you might say.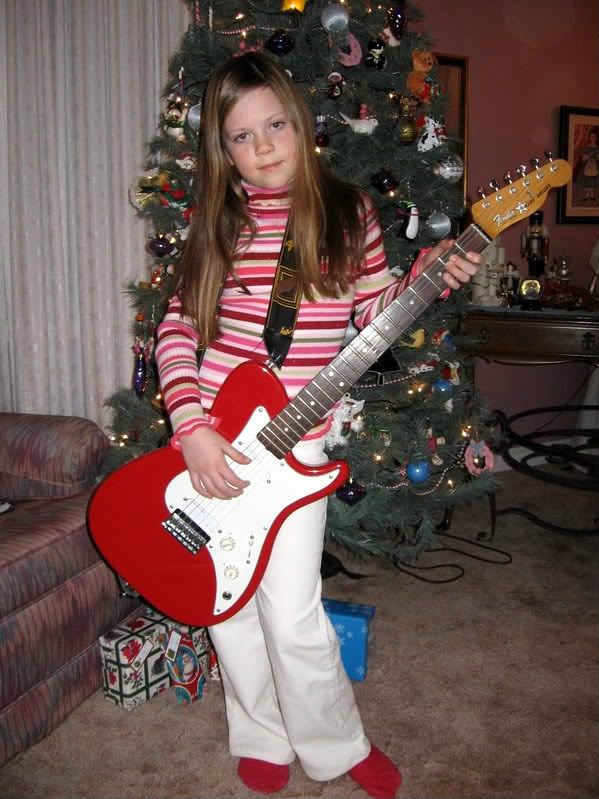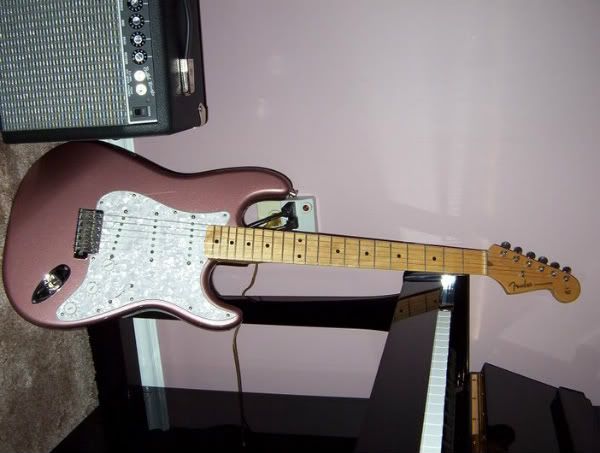 The family gave her Teles to me as some kind of statement, and I'll be curator until she comes around... maybe it will take 5 years again? More Strat pics.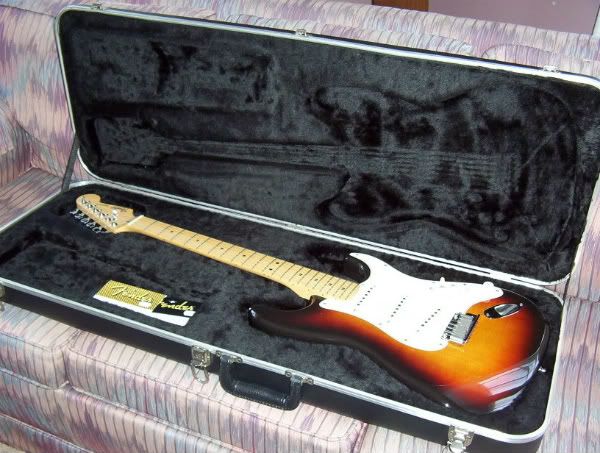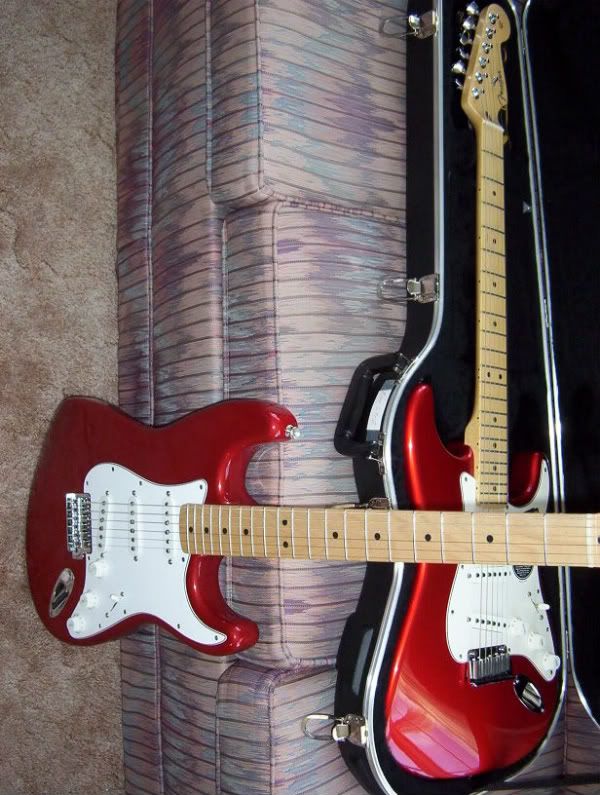 Like a bird on the wire,
like a drunk in a midnight choir
I have tried in my way to be free.
Topic starter
12/08/2011 6:11 am
Sorry to hear about you and your wife, I kinda feel like I pryed to much now! Thanks for sharing though, very brave. I have a wife in another country and son too, she wanted me to sell my vintage modern half stack :evil: I was so depressed I even agreed but luckily we didn't get round to it so I still have that beauty. Women just don't understand (no offense women, I am sure some of you do).
It is so great you have kids who play guitar! I hope that my kid will play guitar and I can buy him his first one!
together we stand, divided we fall..........
Women just don't understand ....they do, but unless they care about music, they don't care. I've lost count of the number of guitars I've had to pawn to pay bills, on the understanding that I'd get it back next month....and never did. I've learned my lesson though, I will never, ever, EVER pawn a guitar again!
:D :D :D
Vic
"Sometimes the beauty of music can help us all find strength to deal with all the curves life can throw us." (D. Hodge.)
I admitted yesterday at the guitar store I'm total crap even if I'm getting a Jackson Rhodes & a Mexi Strat in coming weeks. Several of the teachers seemed rather modest about their playing. The 'I didn't make it big so I became a teacher' bit. Has anyone else had this happen besides me? Really surprising and seeing this thread is too. :shock: Also told as long as I love playing guitar that's all that matters. Hope that wasn't a sales pitch.
"If I had a time machine, I'd go back and tell me to practise that bloody guitar!" -Vic Lewis
Everything is 42..... again.