Topic starter
16/06/2008 10:18 pm
Mine are Stagg .96mm. Perfect for me.
What do other use? Why do you use those?
Jack
I'm hovering in the .75-1.25 range right now. Still undecided. Gimme another 20 years to figure out.....
Roy
"I wonder if a composer ever intentionally composed a piece that was physically impossible to play and stuck it away to be found years later after his death, knowing it would forever drive perfectionist musicians crazy." - George Carlin
I started out using heavy picks but found I'd drop them all the time and get stuck in the strings so I moved to very light ones. Once I got comfortable with holding a pick I switched back to the 1 mm picks and used those exclusively for a year or two, until one of the guitarists I jam with left some .73 mm picks and I started using those and right now they are my pick of choice. They are thick enough for lead but have a bit of give so they are good when i have to strum too.
"It's all about stickin it to the man!"
It's a long way to the top if you want to rock n roll!
Current conventional fave: Snarling Dogs Brain Pick in heavy (Orange) -- exc grip, good wear, no use deformation and moderately stiff;
http://www.snarlingdogs.com/products/brain.html
Runner up: Coolpick's stiff, tough, translucent, little white pick that has a black elliptical grippy patch printed on it (wears off) and says "Cool". good grip, v good wear, no deformation and v stiff. Strangely enough, the Coolpick website doesn't show the heavist pick, which looks like the white and blue, but in white and black:
http://www.coolpickscanada.com/english%20index.htm and http://www.coolpickscanada.com/juratex.htm
Big dissappointment: bought a bulk tin of Heavy Cactus Picks (blue). v good grip, but wear and deform with use like old tortoiseshell (is that supposed to be an advantage?).
Dunlop jazz III 2mm for electric/leads
Dunlop Tortex .63mm/.88 for accoustic/rhythm
Currently using .71mm pink delrin (Dunlop) for strumming acoustic, and the same pick using the rounded edges for mandolin. .
Fender 551JZ for electric guitar. It's like a Jazz III shape but in celluloid. I use medium mostly, but heavy for noodling with heavy distortion. The pointy tips do wear down quickly.
2mm Dunlop Gators for those rare times I use a pick for bass, though I also like the Dunlop Tortex Jazz III for a snappier tone
"Everybody got to elevate from the norm."
I'm using the Dunlop Gator Grip in 0.96mm - the purple ones. I like them because of the nice grippy texture. I used to use the 1.14mm (blue ones). That's for the electric.
On the acoustic it's Fender medium.
A related question is how long do you use your pick? How many hours of playing?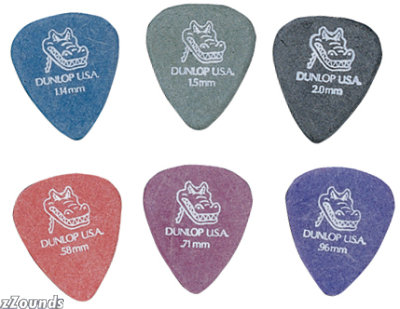 Pop music is about stealing pocket money from children. - Ian Anderson
I like the Fender thins.
Me, too.
..· ´¨¨)) -:¦:-
¸.·´ .·´¨¨))
((¸¸.·´ .·´
-:¦:- ((¸¸.·´ -:¦:- Elecktrablue -:¦:-
"Don't wanna ride no shootin' star. Just wanna play on the rhythm guitar." Emmylou Harris, "Rhythm Guitar" from "The Ballad of Sally Rose"
I don't generally use picks a lot, although I'm having to at the moment - index fingernail broke, really low down. I HATE it when that happens, especially when it's just got to the perfect length!
However, I do have a GN pick - Dan dropped some off when he was visiting England! - and I do have a couple of picks that I bought for no other reason than they were on sale at the Cavern in Liverpool, and bear the name of the club. They're all pretty heavy, which is fine by me as I tend to attack the strings quite hard.
I did try those snarling dog picks once, and though the one I had was a bit light for me, the grip is absolutely brilliant. You're never going to drop one of those!
:D :D :D
Vic
"Sometimes the beauty of music can help us all find strength to deal with all the curves life can throw us." (D. Hodge.)
i just stick with the dunlop 'usa nylon .73mm' generic...works great for me :)
though iv been playing with the idea of buying a wholesale packet (big one they deliver to shops) and not worrying about buying any more buy the handful for a few years :P
If it bends in any way, shape or form: I hate it... so Dunlop Big Stubby 3.0mm Bass pick for guitar, and fingers for the bass (using a pick on a bass is heresy ;))
A related question is how long do you use your pick? How many hours of playing?
Huh :shock:
I always thought picks self-disintegrated after being used once.
That's about how long I have mine before they are gone :lol: - especially the ones I like. I have a huge collection of "tried, but didn't like" picks