Topic starter
23/06/2007 5:08 am
OK- I was thinking that it would be cool to get an idea of the average age group and high level profile for all members.
So if you would be kind enough, please provide:
- Your age group
- Your location
- What you play (guitar and amp)
- How long have you been playing
I just turned 44.
I'm in NJ- USA
I play a Custom Les Paul Cherry Sunburst thrugh a Marshall DSL 401
I've been playing for 10 months
Teamwork- A few harmless flakes working together can unleash an avalanche of destruction.
I think you forgot the over 50 options. :wink:
I took the liberty of adding the last two and changed the poll so you couldn't vote yourself into two categories.
Alexandria, Va
Many, many, many acoustics the latest a Parker, but also a Collings, Taylor, Breedlove, Fylde, Grammer, Mermer, Washburn. Martin and Ovation
Multiple electrics a Strat, SG, two Schecters, a Brian Moore iGuitar
Play mostly through a Fender Acoustisonic or a PA
..and not long enough today
Your age group - 58
Your location - NSW Australia
What you play (guitar and amp)* -Mainly Fender Strat & Vox AD30VT
How long have you been playing - Just an absolute beginner
* I did have a major GAS attack when I started learning guitar for the first time in 2004 (I did have a lesson or two when I was 13 but I don't count those). I spent so much that it actually turned me off learning to play until last week. Consequently I have seven guitars and four amps but usually don't admit it because it embarrasses me as I cannot play any of them - YET. Thankfully, at least in this case, I'm now retired and the only GAS I can afford is from baked beans. :P
Your age group - 48
Your location - Sydney -NSW Australia
What you play (guitar and amp)* -Fender Strat MIM, Squier51 and Acoustic
How long have you been playing - about 3 years and now I can make a "F" chord :wink:
Keith
I know a little bit about a lot of things, but not a lot about anything...
Looking for people to jam with in Sydney Oz.......
Age group: 31 - 40. Just. Refusing to grow old!!!
Location: A little village just outside Southampton, England.
How long playng: Around 20 Months.
What am I playing: Gibson Les Paul Standard, Yamaha Pacifica, Tanglewood acoustic, Marshall AVT20 (soon to be replaced).
Enjoy.
8)
I've had a lot of sobering thoughts in my time.
It was them that turned me to drink.
Age group - just turned 50.
Location - half-way between Liverpool and Manchester.
Gear - Squier Tele, SPT & Encore acoustics, Freshman Bass, 10W Park amp, 30W Cube bass amp.
Been playing - 30+ years, on and off - it's a long, boring story. Been playing seriously - since I joined GN.
:D :D :D
Vic
"Sometimes the beauty of music can help us all find strength to deal with all the curves life can throw us." (D. Hodge.)
I'm 22, live in the netherlands, have been playing for four years. Guitar gear:
[guitars]
-Dean Avalanche H, double-fat strat
-Dean Edge 09, electrische bas
-Ibanez RG550, superstrat
-Ibanez PF60 (blue finish), staalsnarige gitaar
-Ortega R180, klassieke gitaar
-Ibanez AFS75BS, jazzbox
-Guyatone 60s strat-clone, 75%size.
-Caliber strat
-Yamaha G55A
[amps/modeling]
-Behringer GMX212 versterker
-Epiphone Valve Junior topje
-Vox AD30VT versterker
-Behringer V-amp 2
-Amplitube 2
-NI GuitarRig2
[FX]
-Behringer COM800 9.5" compressor
-Behringer TO100 overdrive/booster
-Behringer EQ700 7-band EQ
-Behringer CS100 compressor
-Behringer OD100 Overdrive/distortion
-Behringer Hellbabe wah
-Boss GX700 19" Multi-effect
-George Dennis Wah
[Overigen]
-Weber Mini-Mass 50W attenuator
Sleutelbos.....a question.........
Sure I read elsewhere you live virtually in one room - with all that gear, how the hell do you actually get into it? You must be stacking floor-to-ceiling, six deep!
:D :D :D
Vic
"Sometimes the beauty of music can help us all find strength to deal with all the curves life can throw us." (D. Hodge.)
Im 22, 23 next month, Ive had guitar about 3 years, but only started playing serious about the last 6 months when I found this website...
I live near Manchester
Still using my first guitar which is a Fender Squier Strat
My amp appears to be a Spider 122 Line 6
Cant wait till I get a job and can buy a new guitar!
Oh man, it's so fucked up you wouldn't believe. Apart from that stuff I've got my desk with the computer, a couch, a bunch of furniture for the tv/clothes/books/etc and then the piano, two master keybords and a regular keybord. It's really stretching the laws of physics...
51
Bristol, Tennessee, USA, as noted at left
When playing electric, my favorite setup is my Agile AS-820 semihollowbody with P-90s into an Electar Tube 10 (with a Jensen MOD speaker.) I rather like the Valve Junior combo, Pignose G40V (also with a Jensen MOD and modded to fix the excessive tube heater voltage from its power transformer made to work on 100V Japanese line power) and like to tinker with homebuilt amps and old tube gear.
When not plugged in, I play with my Johnson a lot: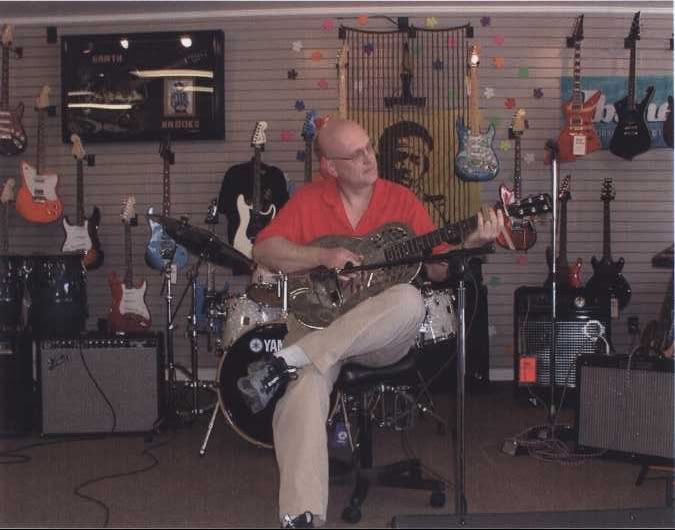 "A cheerful heart is good medicine."
One more chance for Ric to mention his beloved Johnson.
Age:
52
Location:
Pittsfield Ma.
Gear:
1973 Fender Stratocaster
2003 Gibson SG
1974 Martin D18
1980's Sigma D1
2001 Fender Princeton 65 Amp
How Long:
I not sure I can remember that long ago.
About 38 years give or take
John
" It's easier than waiting around to die" Townes Van Zandt
31-40
Northern Virginia a.k.a. the outskirts of Washington DC
Bass:
BIRDSONG CORTOBASS #105 (on order)
EBMM Bongo bass
Eden NC210 bass combo amp
Eden N28s bass combo amp
Gallien Krueger 400RB-IV bass head
Avatar 210 cabinet
Fender Bassman combo amp
Acoustics:
Breedlove Atlas AC25/SM
Seagull Folk
Electrics:
Ibanez Artcore semi-hollow (small, LP-styled body; modded with Dimarzio PAF Joe and Breed pickups)
'51 Bel Air (highly modded Squier '51, with GFS Mean 90 and alnico strat pups)
Digitech GNX3000
Ampless and free! (well, I run the GNX into one of the bass amps)
"Everybody got to elevate from the norm."
One more chance for Ric to mention his beloved Johnson.And show a picture of it!
Forgot the "how long" part. (Playing, not the Johnson.) 6 years.
"A cheerful heart is good medicine."