Gretsch Guitar question
Topic starter
18/01/2009 9:51 pm
hey, i ve been thinking of upgrading from my epiphone les paul to a Gretsch Guitars G5120 Electromatic Hollowbody Electric Guitar that i found online.
they are about 600quid more or less depending on the site.
any recommendations?
i have two problems with my les paul. 1 i find the guitar a little light, i understand that my epiphone is the lowest grade of the les paul available, but it is still too light for my taset.
my other problem is that i find it too thin. i could never play a strat, i cant even find that thing its so small which is funny cos i ve been playing a small violin forever,but this is pretty small for me.
i was thinking of the gretsch because it does look bigger, does anyone know if this model is bigger then a les paul? and also how heavy it is.
i d go out to the shops and strap one on but unfortunately we cant get gretsch guitars here in ireland, there is two falcons in the shop in town alright but you cant try before you buy one of those..
the falcons are pretty big? are the G5120 close in size? i would like that...
many thanks if anyone can answer..
Hi, if Im correct, thats the single cutaway? From what I remember from my last trip to the guitar shop, I picked one up, and fiddled around with it. Its a lot larger than the shops goldtop, but it weighs about the same as an archtop acoustic. So it was quite light. Which honestly surprised me, because its a bulky guitar.
Im sorry, Ive never heard of a Falcon guitar, so I have no help there.
If youre unhappy with your current guitar, Id say find one that makes you happy. But thats comming from a 15 year old. Good luck in your decision.
I play the guitar, I taught myself how to play the guitar, which was a bad decision... because I didn't know how to play it, so I was a sh***y teacher. I would never have went to me. -Mitch Hedberg
Hey N'berries :D
The 5120 is bigger than a Les Paul body....
Not quite as big as a White Falcon (or the Black or Silver Falcon's for that matter )
It is a Hollowbody, so it is quite light.... much lighter than a Les Paul.
They don't come much heavier than a Les Paul!
Ken
"The man who has begun to live more seriously within
begins to live more simply without"
-Ernest Hemingway
"A genuine individual is an outright nuisance in a factory"
-Orson Welles
Topic starter
19/01/2009 1:12 am
thanks for the replies
as a falcon guitar i referred to the white/black/silver falcon that gretsch produce, it would be their flagship guitar if i m not mistaken, unless its the chet atkins,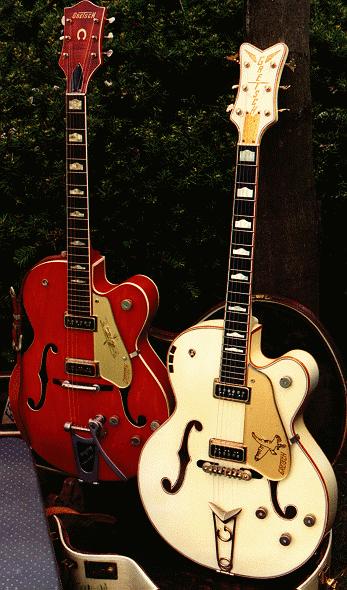 i think i ll get over the weight to be honest size is the main thing. my les paul is very small on me..i need bulk especially when i do alot of finger work and picking, i just find i need to reach to get at the lp, same with a strat, which is even smaller to me in size.
the gretsch guitars at least have a bit of size, close to an acoustic..
plus all my heros played on them, townsand,neil young,steven stills, harrison..
the list goes on..
I want a White Falcon when I grow up.
A :-)
"Be good at what you can do" - Fingerbanger"
I have always felt that it is better to do what is beautiful than what is 'right'" - Eliot Fisk
Wedding music and guitar lessons in Essex. Listen at: http://www.rollmopmusic.co.uk
I have had the pleasure of playing a few Gretchs. they are bigger than my solid body guitars. they are big guitars. feel great. and they are not heavy like those Gibson LesPauls. the frets and neck were a treat. lots of room.
If you want a heavy guitar, an LP is the way to go! I have an Agile LP2500 goldtop with 3 P-90s (from Rondo Music) that is heavier than my 9+ lb. brass bodied tricone resonator! (Would've been shorter to just say "My Johnson," but I felt it necessary to explain.) Bet the Agile LP's a 10 pounder!
"A cheerful heart is good medicine."
Topic starter
19/01/2009 6:23 pm
i think alot of my problem may be because i go from my acoustic to my electric, but you know once ou start playing whether it feels right.
i was playing a G6128 Duo Jet today they cost about 3000 euro at least. amazing guitar.
i think i ll go try some gibson les pauls over the next few weeks if i can get my hands on them.
but after the gretsch today i think thats how i m set.
on a side note i got my acoustic today, a Takamine EG440 SC not the best but i love it its amazing.. to have a nice guitar acoustic finally is a real nice treat.
it was a long wait 2 months trying to get a good acoustic. so much hassle..
Gibson now hides hollow chambers inside their Les Paul bodies to lighten them.
"A cheerful heart is good medicine."