Topic starter
21/08/2010 4:01 pm
Hello, i'm new to the forum. I'm a beginner and i'm just learning chords and riffs at the moment. I have an Ibanez GRG270B.
I'm looking at buying a guitar which is more suited to rock as mine is more a metal guitar. Can anyone point me in the right direction?
I'm willing to spend about £100-£150 on one. Thank you for your time.
@12.jpg">
@12.jpg">
Welcome to the forum. I hope that some of the UK people can steer you better, with their intricate knowledge of what is available there, across the pond. It's another world in terms of music products and selection to me. THEY know gear. :lol:
So, there's your guitar, unless yours is coloured purple, and sure it's a shredder's instrument, but I don't see why it can't be used for rock. Still, it's a good question, and I immediately think of SG, one of the Epiphones, or an Agile or Ibanez Les Paul design and also some of the better quality SquierTele's which are not entry level, but copies of USA classics. 8)
I think you'll need to spend a little more, see Peavey, and Squier Tele's http://www.guitarbitz.com/electric_guitars.htm
Tokai's and Tanglewood are exceptional, and will serve you well. This catches me! http://www.guitarbitz.com/1212.htm
Like a bird on the wire,
like a drunk in a midnight choir
I have tried in my way to be free.
WOW, I looked further down in that top link, with the full page of electric guitars. While Tokai and Tanglewood will hold their value (I have one of each), and have excellent fit & finish, and Squiers are always sought after (I have a few of them), I'm amazed by the Vintage Guitars Company offerings from 169 - 199 pounds shipped. They are the VS6 SG @ 169, and awesome, beautiful vintage Tele replicas V52 or V62 and a Les Paul clone at 199. There's my recommendations.
Like a bird on the wire,
like a drunk in a midnight choir
I have tried in my way to be free.
Going for the trifecta, three posts in a row? :shock: Like my favorite racer Kyle Bush! :roll: (Swept 3 NASCAR races this week). Then I promise I'll disappear for awhile. :lol: Yes I'll go get lost in the Great White North. But I leave you in good hands. 8)
As I've recommended, and have experienced, and will stand by or testify, whatever, here's my 1984 Tokai 1958 LP clone: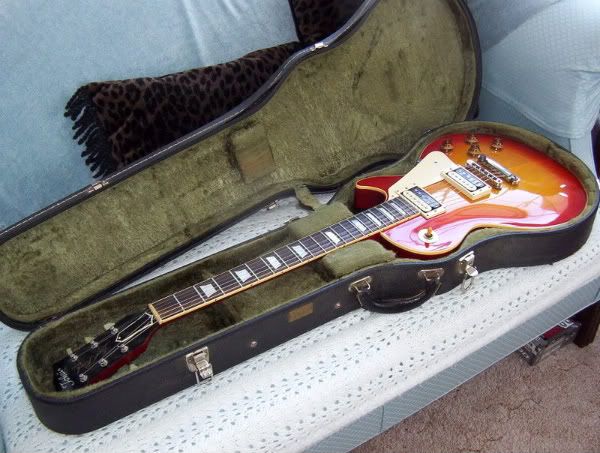 So that one's 26 years old and still workin', I'll never let 'er go, and here's a 1994 Peavey Reactor/Tele owned by my eldest daughter, then son, then me, and I flogged the living daylights out of it, before selling it in good shape to a professional.
Like a bird on the wire,
like a drunk in a midnight choir
I have tried in my way to be free.
For £100-150, I'd look at the Squier range from Fender. Epiphones will generally be £200+ but also worth a gander. If you have a friend who plays guitar, or know what you're looking for enough to spot a good guitar, I'd also look at the smaller brands or unbranded instruments in some stores as these can be just as good quality, sometimes better. The alternative would be to save up some more cash and get a Made in Mexico Fender or an Epiphone.
Ra Er Ga.
Ninjazz have SuperChops.
Your current guitar is a good guitar and you can play rock and other many music styles. Perhaps you could wait some time, so you could afford a better (and more expensive) guitar.
Topic starter
23/08/2010 10:15 am
Thanks for all the replies. Blue Jay, mine is the black guitar in your picture.
I really haven't got a clue what is a good guitar or not so the posts have been a big help. I think i'm going to keep with my current guitar for a while and "get to know it better". It's clear to me from the replies that I don't really know my own guitar all too well!
I'll come back to the suggestions in this thread when I do decide to buy a new guitar. Christmas is just around the corner after all!
Thanks again.