My Pandora Stations
Topic starter
04/08/2008 10:55 pm
I've been listening a lot lately to Pandora (I'm a code wrangler so I spend a fair bit of my days in front of computer in an office with a door) and sometimes letting the stations wander a bit before "thwapping" them to correct them. I think if you don't say "no" to a song then it takes that song as a new point in it's search algorithm and it looks for other music similar to it. This can be kind of interesting to let it do for a while. I've come across a lot of interesting things that way and got to hear some stuff that I wouldn't otherwise hear.
One of my stations started with "Ça plane pour moi" (Plastic Bertrand) and I've now wandered into a whole bunch of Nick Cave music. Nick Cave is awesome - I knew of him and I remember hearing a couple of his songs back in the 80's but holy smokes, his stuff is just awesome and he's got such a range of styles.
I've also stumbled across PJ Harvey, The Undertones, Cat Power, The Human Value, plus been re-acquainted with a lot of stuff that I hadn't heard in a long time. That's all from one station. I've got a few others for when I'm in a different mood ("Guitar Wank", "Punk / Ska", "Country Blues", "Chicago Blues", etc.). It's pretty amazing what it has available.
Pop music is about stealing pocket money from children. - Ian Anderson
Met up with any of these yet?: My Morning Jacket, Gomez, Regina Spektor, Ween, Yo Le Tango
Ween and Yo Le Tango I know of.
I sometimes have to 'discipline' a Pandora.com station. most times, I am like you, I let it go and discover new groups.
Pandora is killer. I started a guitar instrumental station. Input the Ventures, Joe Satch, Vai, and then a bunch of instrumental tunes like La Villa Strangiato, Cliffs of Dover, Orion, etc... Some crazy guitar instrumentals out there!
How can we find each other's stations? I thought we could search for users/stations and others could listen to your station?
-=- Steve
"If the moon were made of ribs, would you eat it?"
I LUV Pandora. I've been turned on to so many artists, it's amazing. Yes, you can share your stations or search for someone else's. You just need to know the name of the station. For instance, you can search for "Matt's Folk Radio" for singer/songwriter stuff or "Passion and Warfare Radio" for guitar slinger stuff. They are two of mine. You can also send your stations to another, just need their email adds. :D
Teamwork- A few harmless flakes working together can unleash an avalanche of destruction.
hey blueline....I didn't know that about Pandora. does the radio station have a URL? or something...like a tag that can be typed then sent to someone?
so if I am on Pandora and type in one of your radio station names does it pop up??
that's be cool. I have several stations exploring different genres.
Apache radio is for pedal steel guitar and guitar instruments, like Apache, Sleep walk, Wipeout, etc.
Muddy Waters radio has old blues. old blues, raw stuff, not fancy newer blues...no BB King allowed.
Yes sir. You can search for a station if you know the name or user. For instance Go to Share/Find A Shared Station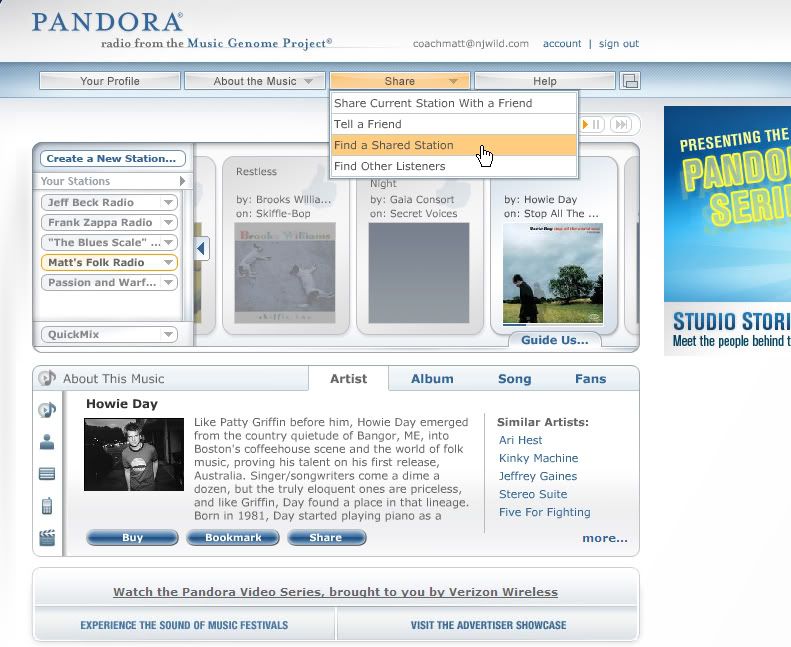 Then Type in the name...you'll need to look through the results...

...but if you know the user's name..should be easy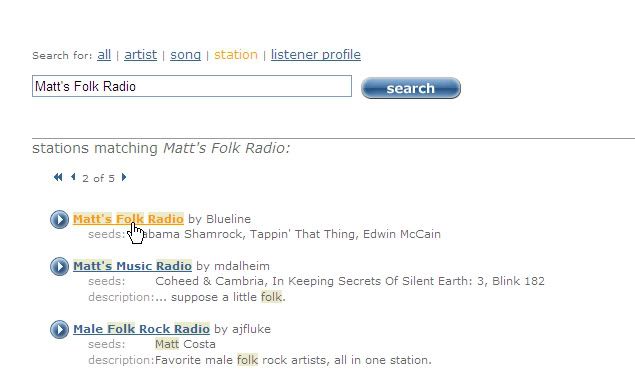 Happy searching!! :D
BTW...let me know some of your station names or your user name...I'd like to hear some of your stations!!!
Teamwork- A few harmless flakes working together can unleash an avalanche of destruction.
what a great graphic reply. I know my sttions have names, but I am unsure what name I put on them...aka dogbuite's radio???doubtful, maybe, it has been a long while. I'll look and find out when I get honme from work.
That is COOL!
Dog, your station names will show up on the left side - see Matt's on his image?
I believe one of mine is "Dali's Rock Review" - I can't access from work, so I'll check at home. I also have an "80's Metal Mix" and "Chill Out Tunes"... I'll report back with the exact names.
That is SOOO COOL.
-=- Steve
"If the moon were made of ribs, would you eat it?"
I have a pandora and I used to listen to it all the time, but since i've found slacker radio, i've totally left it
"The Beauty of Music is my Sanity. Without it, I would simply lose my gravity, and blow away with the breeze." - Ness K(Aka Matt Harris)
Dear Pandora Visitor,
We are deeply, deeply sorry to say that due to licensing constraints, we can no longer allow access to Pandora for listeners located outside of the U.S. We will continue to work diligently to realize the vision of a truly global Pandora, but for the time being we are required to restrict its use. We are very sad to have to do this, but there is no other alternative.
*sigh*
Yeah, that sucks Arjen. Pandora has opened so many doors to new artists for me. I think it's one of he best radio stations out there. I read an article recently that they are working hard to get outside of the US but licensing issues are insane. There's other stations though. I've heard LAst FM was good. Another one I use is RadioIO.com. Another station that has turned me on to many new artists. I used to listen to the Jam Bands station alot.
That station actually has alot to offer. Check it out!
Teamwork- A few harmless flakes working together can unleash an avalanche of destruction.
sigh indeed. it is not available outside the states. I wonder if there is something similar in Euroland.?
here are three of my stations:
dogbite's Muddy Waters Radio...early blues, rough and with a beat. no new fancy blues stuff here.
dogbite's Apache radio...all steel guitar, from surf to country instrumentals, Wipeout to Sleepwalk.
dogbite's MC5 Radio...it's rock time. hard and in your face garage. sometimes you need turn it to 11.