Name that guitar! (again)
Topic starter
30/06/2008 2:54 am
Hi everyone,
I have yet another guitar that looks really cool, but have never seen before. Here's the link. Its a video of Beck (not Jeff) playing recently, and its his lead guitarist' (female, on left) git that I'm trying to ID.
Thank you in advance!
Topic starter
30/06/2008 2:58 am
" It's easier than waiting around to die" Townes Van Zandt
Harmony is a good bet the H49 Jupiter Stratotone was also market
under the Silvertone name but still made by Harmony.
http://www.vintagesilvertones.com/forsale_silvrtn-jupitr06b.html
Either way the same guitar and most likely a modern version.
Interesting. Other than color, the biggest differences I spot are angle of marque on the headstock, control plate's detailed shape and pup rings. Given variations in early production, these are trivial.
Topic starter
30/06/2008 12:28 pm
Its interesting because Beck is playing an old dano silvertone too. They must be chasing the 60's sound...
yep -- both are hollow/semi-hollow
I did a little more research on this and the guitar is definitely a Silvertone
and the Guitarist is Jessica Dobson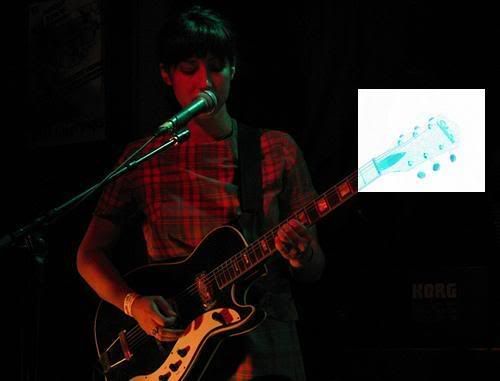 " It's easier than waiting around to die" Townes Van Zandt
Hi,
I have a no frills version of this guitar; The single pup version of this one:
http://www.vintagesilvertones.com/forsale_silvrtn-1420strato.html
It's a great sounding guitar, especially for slide.
Back in the early 90's I blew my amp up twice with mine....
I just couldn't get a clean enough sound on the 'clean' channel with it,
so I plugged it into one of the other jacks (other than the guitar imputs).
Got the cleanest sound possible.... ended up blowing something in the process.
SO, it's got a real nice sound without any coloration; nice for the blues.
The neck doesn't have a truss rod, and it rarely stays in tune long.... horrid with weather changes :evil:
The pup seems to be just a magnet - no windings.
Perhaps Greg could elaborate on that.
Completely hollow body, flat top.
Nice guitar though.... I've had mine for about 30 years now.
Ken
Me and the Harmony guitar:

The Harmony H303 amp that came with it:

"The man who has begun to live more seriously within
begins to live more simply without"
-Ernest Hemingway
"A genuine individual is an outright nuisance in a factory"
-Orson Welles
If there's a magnet, there's going to be something like a coil somewhere. Why do you think the pup is just a magnet?
BTW, a lot of slide players like the old [email protected] pups from Teiscos, Silvertones and similar. Probably because most of these are wound on short, wide bobbins and have pretty strong magnets. That would be a lot like a P90.