Topic starter
19/05/2009 1:55 pm
I've been browsing thomann.de looking at interfaces for recording. I get bored with this easily (or frustrated, as I invariably want things that are out of my price range), so I spent a few minutes looking for the plecs I mostly use (Dunlop tortex 0.88's, and Big Stubbys), to check prices for bulk packs (I might order some as part of my purchase, if and when I ever choose an interface and/or get paid by the government), and I found some weird plecs.
They had some Dunlop stainless steel plecs. But they also had plecs made from stone, ebony, rosewood, and (wait for it).....
Felt!
Yup, they sell felt plecs. :roll:
Has anyone used these more esoteric plectra materials? Any thoughts on them? Do they affect tone significantly? Do they last well? I'm a little bit tempted to get one or two to try out, just for curiosity's sake.
felt works well on nylon, gut (as if!) and bass. David actually uses a felt pick once in a while.
I've got various stone and metal and godknowswhat picks floating around. but my attention span is not long enough to put up with any of these long enough to get the advantages or nuance. always end up back with fingers, nail, stiff-plastic/nylon/delrin and occasionally fingerpicks.
and if one more poseur tells me about the organic tone from exotic wood picks ...
I've tried a stone plec . . . this one . . . it's called a flaming agate . . .
But I don't use it. I bought it because it's pretty and I wanted something thicker to hold.
It has a glass on steel sound that is kind of irritating . . . and this one has veins in it . . .
which can catch on the strings when strumming.
I wouldn't mind trying wood plecs though . . . I never thought about wood picks.
It's the rock that gives the stream its music . . . and the stream that gives the rock its roll.
Felt!
Yup, they sell felt plecs. :roll:

Sometimes felt picks are used by banjo and uke players when strumming. I see them recommended for bass as they can give a very soft attack ... but I find I get better results by varying my finger technique.
and if one more poseur tells me about the organic tone from exotic wood picks ...
Man, I'm glad I saw this. I was about to go cut down a neighbor's Japanese Maple and start a batch of pics. :mrgreen:
KR2, that sure is a pretty pic. I understand why you wouldn't play it for the reasons given.
Nothing exotic material wise, but I poured out my pic jar and came across one of these. http://accessories.musiciansfriend.com/product/Snarling-Dogs-Tin-Box-Brain-Picks?sku=110010 Snarling Dog Brain Pics, a grey 1mm. No clue how it got there either. It's got kind of a gritty feel that makes it stay in place very well. Almost too good, actually.
Nothing beats a good old Ethiopian White Oakberry Maple, bat's toe nail stained, smoked over Austian Oat Grass & Peruvian Llama fur fire logs and hand carved by the last remaing Aztecs using New Hampshire granite cutting devices carved straight from the fallen Man On The Mountain ruble<sniff>.
Roy
"I wonder if a composer ever intentionally composed a piece that was physically impossible to play and stuck it away to be found years later after his death, knowing it would forever drive perfectionist musicians crazy." - George Carlin
Topic starter
19/05/2009 4:09 pm
My bad, I figured a felt plec would quickly crumble. I didn't realise they were so, well, common. :oops: :oops: :oops:
Here's the ebony plec I mentioned - http://www.thomann.de/gb/john_pearse_ebenholz_plektrum.htm And the same company make rosewood plecs. I may get a couple to mess with, and I have to say those Snarling Dogs plecs look like they're worth a try, too (I like the idea of having more grip on the plec).
the Snarling Dogs Brain Pick is one of my current faves -- heaviest (orange)
I very rarely use a plec, unless it's a song like House Of The Rising Sun, with those rapid arpeggios played near the bridge, and I need plenty of attack.
I got fed up years and years ago of never being able to lay my hands on one when I needed one, and of course when I did manage to find one I'd be playing for about three seconds and off it'd fly, usually down the soundhole. So I managed to do without.
Since then, I've read more than once that "the tone's in your fingers..." - if this is true, and it certainly appears so to me, then why introduce another variable into the equation?
About a year back, I was given a couple of stone plecs to try - I wrote a review of them for GN. Yes, they're nice, and they don't make a lot of noise, unlike plastic plecs - but I soon slipped back into the old habit of using my fingers. Sara, I showed you the stone plecs Sunday - didn't you get a chance to try them? If not, I'll bring them along next time.
:D :D :D
Vic
"Sometimes the beauty of music can help us all find strength to deal with all the curves life can throw us." (D. Hodge.)
My bad, I figured a felt plec would quickly crumble.
Oh, they don't last long, at least not with steel strings, which makes them leave felt dust all over your instrument, too. On nylon strings, or tapewound bass strings, probably not so much.
Don't some famous guitarists use coins? Brian May? Billy Gibbons?
I know The Edge from U2 uses the grippy side of nylon picks to get his unique tone. Those Snarling Dogs would probably be similar if you turn 'em sideways.
Yep, felt picks work fine. I've got a couple of them. They're often used for ukes, but they give a nice tone on guitars too.
You can also buy wire picks - some are just a fairly standard looking grip with a loop of wire at the point. I tried making my own, using copper wire and was happy with the results.
You can also get ones that are a little more....exotic...
Yes, it really is for playing guitar. I wasn't tempted though... :)
I prefer my fingers though. Rarely ever use a pick.
Chers,
Chris
Topic starter
20/05/2009 12:21 am
:shock: :shock: :shock: :shock:
I think the oddest pick I have used was a quarter when i couldn't find anything else - it actually worked quite well...a nice heavy sound. Usually I use heavy dunolp gels though...
It's true Scrybe, the Jellifish has its own website.
The guy that invented it claims inspiration from fiddling around with the brushes used on drum-kits.
However, looking at that picture brought back memories from some years back, when my son came home from Primary School with nits (head lice) which spread like wildfire through schools every so often. We had to buy a special comb that could comb the eggs out, as well as the wee beasties.
It looked like this: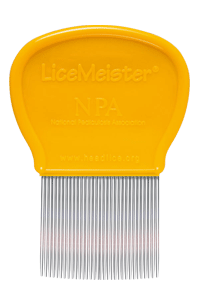 Looks spookily similar...
I just checked the bathroom cabinet and, sure enough, we've still got it. So I'm now one of the few people who can claim to have successfully played the guitar with a lice comb. It was perfectly usable, but not something I'd like to build career around... However, I am tempted to tell Gnease how organic it was...
It could also be useful to have handy when people start nit-picking my technique..... :|
Cheers,
Chris
Hey, why are you all scratching your heads now??...... 8)
...I just checked the bathroom cabinet and, sure enough, we've still got it....
Hey, why are you all scratching your heads now??...... 8)
You made me go and check our bathroom too and sure enough: two aging combs soon to be used as picks. :P Ahhh ... those missing joys now the kids have grown up! :D
god, I am so lame. I have two slides. one glass and one chrome. it's all I found I needed.
plecs. I get the four for a dollar on the guitar store counter. the ones in the jar. the yellow ones.
they work for me. nothing fancy, exotic. I want not.
I have been this way for years and years. I must not know better.
what a lamo. :cry: