Slide and Alternate tunings
Topic starter
10/04/2009 5:15 am
I have to tell you the whole story, so here it is;
There is a music store down the road from my house called Rowe's. The owner, an 88 year old WW2 pilot, was a great guy to go hang out and talk to. I spent a few fine hours with Mr. Rowe (it seemed improper to ask his first name, as he always responded to Mister Rowe). He was always handy with a story, both of his war experience and his 40+ years in music retail. At about the first of the year his store stopped opening, and I feared he had been ill; as it turns out the news was even worse. His daughter was there today, helplessly trying to go through his instruments to sell them off and close the store. I volunteered to help her catalog the items, and made a few calls to store owners that might want to buy bulk amounts of the stock. There was an old guitar there that he had hanging on the wall that was marked "Ro-Co". It was new old stock from the late 60's that he kept around as a curiosity, made by an Italian organ company called Welson. I had fallen in love with it purely as decoration and his daughter offered it to me as compensation for helping her out. The neck is bowed pretty badly, so it is a slider for sure. Here it is;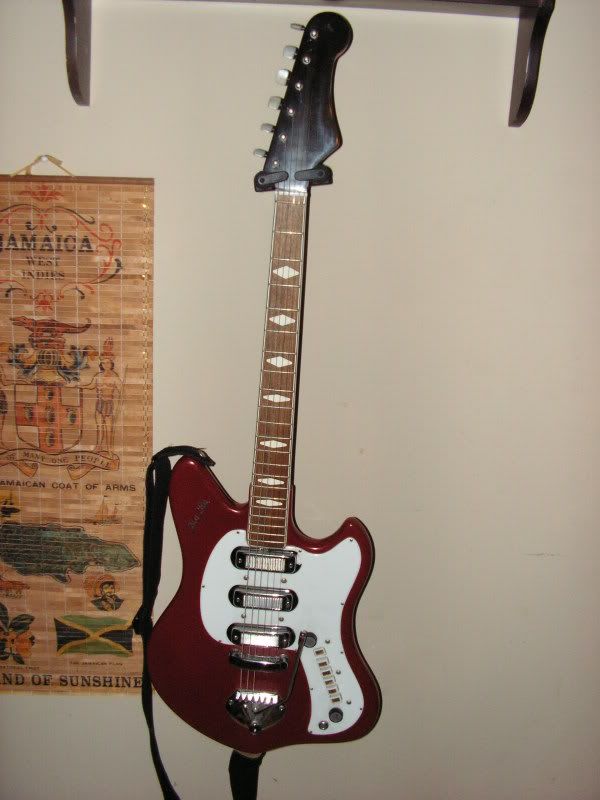 It sounds great, though the bridge pickup is currently unresponsive. I figure the switch is bad, but I'll have to poke around a bit to find out.
Thought you all might get a kick out of it.
same here;. what a classic beauty. it looks so much like those Italian Tedescos with all the switches.
That really is a lovely looking guitar. Lot of switches, to be sure! I'm thinking, six switches, three pickups - are they used for coil-splitting, perhaps?
Hope you get a lot of pleasure from your new acquisition!
:D :D :D
Vic
"Sometimes the beauty of music can help us all find strength to deal with all the curves life can throw us." (D. Hodge.)
Topic starter
13/04/2009 4:47 pm
The switches are different combinations and one is "OFF".
Topic starter
14/04/2009 4:57 am
In a case of spontaneous repair, the dead pickup is now fine; I think the switch just needed a bit of action to feel like it was part of the tribe. Now if only the neck would spontaneously straighten...
Looks like a nice guitar, sorry to hear about Mr. Rowe, it's cool to talk to those guys that have all that experience in and out of the music industry.
In Space, no one can hear me sing!
That's a really cool looking guitar!
"A cheerful heart is good medicine."
Topic starter
20/04/2009 10:15 pm
Well, Werner, I am not real sure. It's new old stock and I can find no example of one with these pickups or color anywhere on the internet. I assume around $500, but not sure.