a new geetar on a good weekend
Topic starter
09/09/2007 7:30 pm
So I had a good weekend.
First, I won 2nd place in the Black&White Category in a photo contest. I think I should have won the whole thing, but that's neither here nor there.
Secondly, I totally pulled off an awesome trade. I traded my Seymour Duncan TweakFuzz, which is a great versatile pedal, but I could never make it work for me. My Big Muff suited me better. So I traded it, straight up, for an orange Ibanez Jet King JTK1. There was a catch. The guy I got it from tried to install a kill switch, so he had removed both the tone and volume pots. So I got a deal. I took it home, looked at the stock-wired tone and volume he had taken out, and got so confused that I wanted to just take it to my repair man and be done with it. But! I decided to be different.
I put the volume and tone pots back in the guitr, but I didnt wire them in. I wired the 3-way switch DIRECTLY to the output jack, made some grounds and presto! it worked. I gave it a good setup and it's playing like a dream. It has 2 buckers that you can split with little flip switches. I never use my tone and volume knobs anyway, keeping them all maxed out at all times, so why bother with them. It sounds pretty neat, trebly at times, but I tweaked it away on my amp knobs. Plays like a dream. All for a Fuzz pedal!
PICS!!!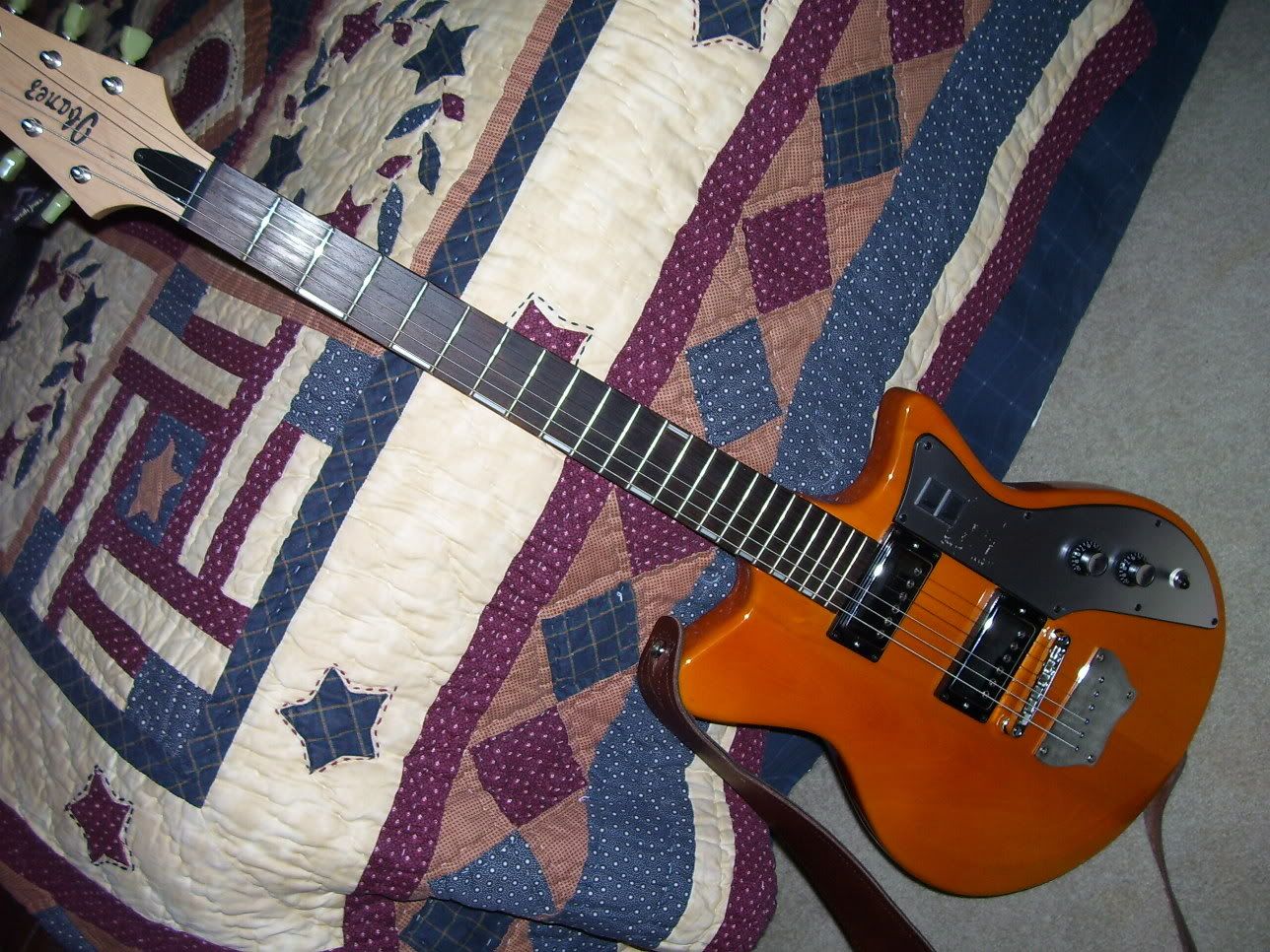 they're big, hence the external links.
Very cool, like that color! Sounds like you got the better end of the deal!
Jim-Bone
ETD - Formerly "10141748 - Reincarnate"
That's a really cool guitar, it almost reminds me of a Fender Jaguar but it's definitely original.
Awesome trade indeed, I couldn't have put it better myself! Congrats on the new acquisition!
:D :D :D
Vic
"Sometimes the beauty of music can help us all find strength to deal with all the curves life can throw us." (D. Hodge.)
Very cool! What year is it? It looks like a vintage! And congrats on the contest win as well! :)
Love and Peace or Else,
CC
Topic starter
09/09/2007 10:53 pm
it's a 2005.
musica...Love And Peace Or Else...intended as a U2 reference?
Yes, a U2 reference, but also a message I wish to convey! I also have it lasered into my rear license plate holder. To me it means that I love music and I'm always hoping for "Love and Peace" or I think we'll all find out what "or else" means way too soon! :shock:
Love and Peace or Else,
CC
"The only way I know that guarantees no mistakes is not to play and that's simply not an option". David Hodge
I'm gonna find me a FUZZ pedal.
My dad would always talk about retirement, and allude to the pot of gold at the end of the rainbow. And I say all you've got at the end of the rainbow is death. You're riding the rainbow right now. - Mark Borchardt
Looks nice! I wish I could find someone as stupi ..... uhhh ...willing to trade a nice guitar like that for a pedal. :P
"Work hard, rock hard, eat hard, sleep hard,
grow big, wear glasses if you need 'em."
-- The Webb Wilder Credo --
The guy who tried to make kill switch is dumb... They're easy as crap...
Nice trade. Now I have some stocks I'd like to talk to you about...
Teamwork- A few harmless flakes working together can unleash an avalanche of destruction.
Very nice, great trade
Jack