Bought a '59 Jimmy Page Les Paul...
Topic starter
26/10/2012 8:43 pm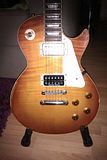 .html?sort=3&o=0 (for full-size pictures, weren't able to get them in the post)
But not being a millionaire it's not a Gibson, but an Edwards. Edwards are a part of ESP in Japan and their guitars are designed to emulate Gibson Les Pauls as close as possible. Of course Gibson doesn't allow this, so they are only sold in Japan where different copyright laws apply (like non-existing it seems?).
I've been longing for a Les Paul for a while now to get that woody, throaty tone. I realized all the music I love is played on Gibson Les Paul, so it's no wonder I've been wanting one.
My first thought on entering the guitarshop was to try a Hagström which has come out with a couple of models made in Europe which seem to be great value for the money, but I didn't like them at all. So the salesman turned med on to a used Edwards instead and it's perfect in every single way. Ok, maybe the Seymour Duncan JB in the bridge is a bit to hot and trebly, but that's an easy fix. They were able to sell the guitar because it's used.
What about the Gibsons? All of the ones I tried could have been set up poorly, but they had awful playability. And then it looses my interest.
And to be fair Hagström, I did buy their hardcase for my Les Paul .
"Talent is luck. The important thing in life is courage."
AWESOME GUITAR! That is good looking - those JB's are menacing though! Try a 250K pot before switching out that pickup though, could be a cheap fix - either way you'll get a good price or even trade for a replacement, people love the JB myself included. AWESOME GUITAR DUDE.
Topic starter
27/10/2012 6:04 am
Yes, I read about the 250 kohm pot fix, but I'm going to play around with the guitar a bit more before deciding what to do. It's really responsive to the EQ-settings on the amp so it doesn't matter to much.
The dents and scratches are meant to be there because it's relic'd. Was a bit hesitant about it first, but realized it just makes it feel like a guitar that is meant to played and not a museum piece. I'm not going to be afraid to use this on gigs and rehearsals.
"Talent is luck. The important thing in life is courage."
Very nice guitar, Niklas. Enjoy!
I had to come back to this because of my envy at the moment. If you don't mind me asking, what did you pay for it and what is the serial #. If you paid a price near what a new ultra swede would go for you didn't just get a deal, you robbed them! The new edwards/ navigators with the duncans go for Gibson standard money here in the states. Some of the 70's and 80's examples (by most accounts better than the Norlin gibsons) are going way higher. Again, AWESOME guitar!
Topic starter
27/10/2012 5:41 pm
I payed about the same price as for what a new Gibson Les Paul Studio would go for here in Sweden, which is about 10.000 SEK (1487,17 USD). We pay quite a lot of tax here in Sweden (25 %), so the prices in general are much higher than in the states. The Hagström i tried was the Northern Series which costs much more than the Korean made guitars.
The serial number is ED0701613 and is the Jimmy Page relic's model. No idea when it was made.
So, it wasn't the super deal you thought, but I'm satisfied. A bit much for a second-hand copy some people might think, but then again, they havn't played or heard it.
"Talent is luck. The important thing in life is courage."
Wow! That is some serious change for a copy. More of a custom made then I suppose. You don't want to know what my Agile cost. About the price of a pair of Duncan pickups. Enjoy that thing. On a side note guys on the Agile guitar forum buy ones with the finish like mine and self relic them into Jimmy Page guitars.
"Work hard, rock hard, eat hard, sleep hard,
grow big, wear glasses if you need 'em."
-- The Webb Wilder Credo --
Topic starter
27/10/2012 9:01 pm
Wow! That is some serious change for a copy. More of a custom made then I suppose. You don't want to know what my Agile cost. About the price of a pair of Duncan pickups. Enjoy that thing. On a side note guys on the Agile guitar forum buy ones with the finish like mine and self relic them into Jimmy Page guitars.
Not really, you have to take into account that a guitar costs double the amount here than what the do on the other side of the Atlantic. So it's still half the price of a Gibson Standard Les Paul, and has all the same woods used in it.
It's supposed to be close to the ESP Eclipse in terms of quality and materials, but just made to mimic a Gibson.
Starting to like the JB a bit more, just had to dial down the tone on the amp. It's very suitable for old-school metal and 80's rock. And the '59 in the neck excels at blues and 70's rock tones like Zeppelin.
"Talent is luck. The important thing in life is courage."
I thought I read that you got this for the price of a epiphone les paul - you had actually written Les Paul studio. Okay, not the robbery I though you committed but still a good deal on a rare item. They go for about 12K SEK or $1800 here in some instances. Plus this guitar will only increase in value unlike a swede or a studio, and it will age better for that matter too. Anyway you look at it you went in to buy a pretty run of the mill guitar and came out with something very special, a great deal in my book.
TR - this is really closer to a replica or a reissue than a copy. The measurements and woods are pretty much spot on down to the construction and neck shape, routes and neck tennon. Plus you'll see one piece mahogany bodies and ebony fret boards you can't get on $6000 reissue Les Paul's today. And they're nitro finished. I haven't played an Edwards but I've played many of the lawsuit guitars and you can see why fender and gibson were scared to death of these things jumping the pond - the craftsmanship is outstanding and they were much much better than what Gibson and Fender were turning out in the 70's and 80's. Probably better than what they put out now as well.
By the way your guitar is an '07 second week of February and the 13th guitar finished that week I believe. I'm 99% right on the year and month. I like knowing where and when my guitars were made, call me weird. But my wife found me an old Epiphone flat top a few years ago - an old MIJ blue label - turns out the guitar and I both "left the factory" the same week!
Topic starter
28/10/2012 6:38 am
I like to know when a guitar is made too, so I'm really grateful you did the job for me. How did you get that information? Google didn't help me very much, but I havn't got any experience searching serial numbers.
The owner before me was one of the salesmen in the guitarshop and he had owned for two years. He only sold it to afford a vintage Telecaster and didn't use Humbucker guitars any more. He had owned two Gibson Les Paul before the Edwards but much preferred the Edwards. I really like the neck on this guitar. It's just the right thickness. But the best part is the weight of it. It's below 4 kg! It's not a carved out body like in the new standards, but a lighter mahogany.
I don't care much for the sound of the new Gibson Standard Les Paul, a bit too modern to me, and the Traditional is just too heavy to be able to play a full gig with. So this is like the best of two worlds. It really has that vintage tone and I love it!
I must say you're a great source for information, Ezra!
EDIT: Just realized out how you found out the year from the serial number, it's in the serial number, 07... It was a bit too obvious...
"Talent is luck. The important thing in life is courage."
I have some blue books but nobody had edwards guitars, I found on an import fan website that the Edwards serial #'s use the same code as ESP guitars which is model-year-week-batch-production #.
I used to do a lot of repair work and I always tried to get an idea of the value and following for guitars, mostly off market guitars. In cases where you might be de-valuiing a collector piece its good to let the owner know first. I also had an instance where I was refurbishing a guitar back original. It originally had a brass vintage type trem with keyhole saddles. The part from an original were going for $150 dollars. I found the same bridge was used on entry level Ibanez guitars and bought the entire guitar for $80 at a pawnshop. I always laugh when I see those bridges selling on Ebay for $250 now. I get a little obsessive about research and history. I'm the same way about cars and stereo components.
Topic starter
02/11/2012 2:13 pm
Found a review of the guitar which actually contains a lot information I was wondering about. http://pickroar.com/504/edwards-e-lp-98lts-review/
I thought the part about the long neck tenon was very interesting as an example. I just found this because I was searching for a better bridge humbucker for this particular guitar. I don't seem to be the only one that swaps this one out in this guitar. Almost every forum thread I've found about these there are people are writing about switching the bridge pickup.
The thing is, even if I change the volume pot to 250 kohm, it will only reduce the treble and not increase the bass anything. I actually think it would work in my Schecter, so I'll keep it for that if I ever change from active pickups in that one.
The Seymour Duncan soundclips are quite helpful, because I noticed the sound was very similar in my guitar to the recording the have. I want something with a fuller sound, the JB is a bit thin and harsh-sounding in this guitar. In what kind of guitar(s) are you using the JB, Ezra?
I'm deciding between the Pearly Gates, or more likely, the Custom 5.
"Talent is luck. The important thing in life is courage."
I had a JB in a Paul - But, funny enough I just bought one for a super strat I'm putting together with 250k no-load dimarzio pot 1meg LT tone w/ .01uf cap. But I am going for the harsher and vocal mid range tones you're trying to get rid of I'm pretty sure.
I think the JB will sound better with alder than mahogany for my tastes. I haven't played the pearly gates in a long long time but if billy like it, it must be good. Have you thought about the Alnico II? (whatever the hell they're calling it - The antiquity II if someone beats it up for you - the slash signature if you feel like paying even more) The II's are smooth and chewy (?) more like what a vintage PAF tone should be to my ears.
What are you playing through BTW? That is probably more of a reasonable question. The SD forum I'm sure would inundate you with more suggestions than you'd ever wish to hear - just tell them you want something that sounds as good as a 70's dimarzio PAF distortion - That'll get their attention!