What does this musical notation mean
Topic starter
30/04/2009 7:58 pm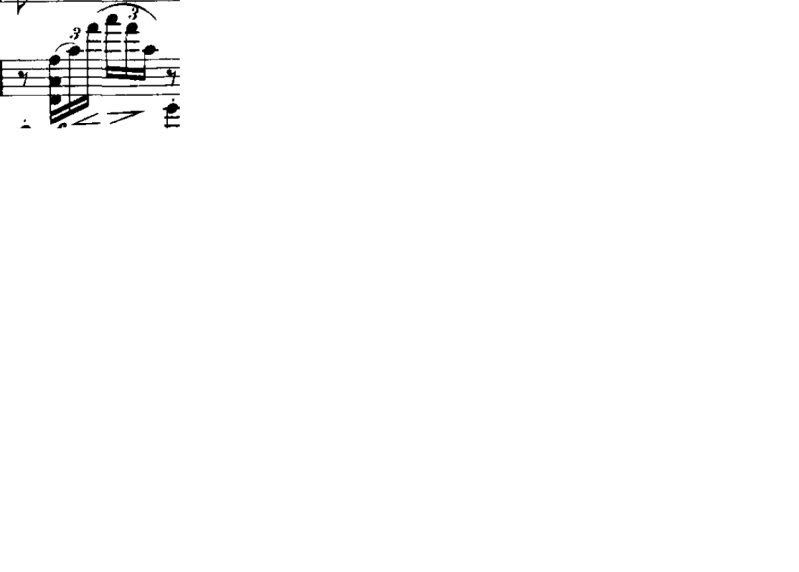 What do the number threes mean?
Also, this should be in 2/4, but aren't there 2.5 beats in this measure?
Thanks
edit: okay, I found out what the threes mean, but I'm still reading 2.5 beats when its supposed to be 2/4.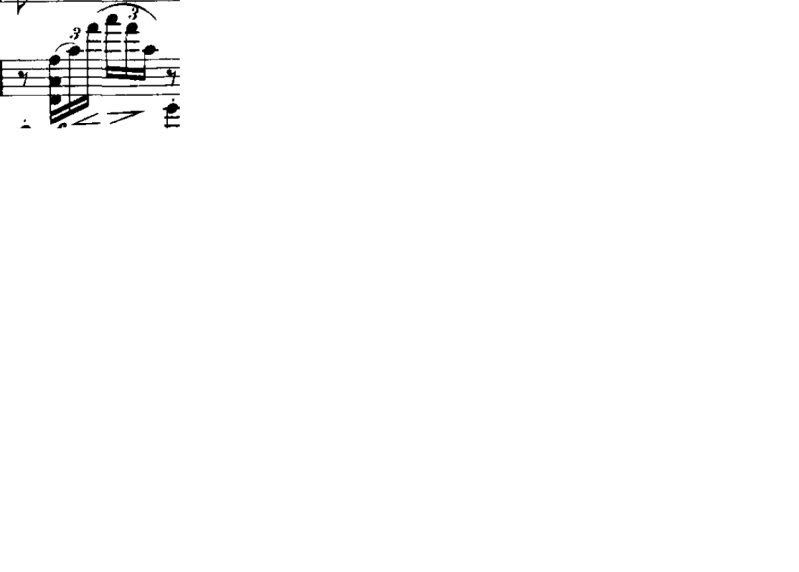 What do the number threes mean?
Also, this should be in 2/4, but aren't there 2.5 beats in this measure?
Thanks
edit: okay, I found out what the threes mean, but I'm still reading 2.5 beats when its supposed to be 2/4.
They're 16th note triplets, Taso. each group of three should be played in 1/2 beat. So you have an eighth rest (1/2 beat) two sets of 16th note triplets (1 beat) and another eighth rest (1/2 beat). 1/2 + 1 + 1/2 = 2
Playing guitar and never playing for others is like studying medicine and never working in a clinic.
Topic starter
30/04/2009 8:28 pm
Each group of three should be played in 1/2 a beat.
Doh, I'm such a noob. Thank you. And it turns out GP5 understands what a triplet is, and so it all works out :)
Thanks.
Topic starter
01/05/2009 11:23 pm
Okay, another notation question: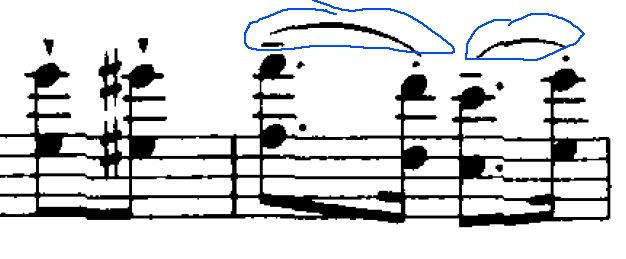 There's lots of different symbols here. I figured out, I think, that the wedges above the notes in the first measure are "staccatissimo", part of the staccato family, so that's cool. The dots on the right side of the eighth notes are also clear, and then the dots above the sixteenth notes are staccato.
What are the lines above the notes, circled in blue? I thought they might be ties, but that doesn't work out. I feel like they may be 'hammer on' type lines.
Thanks
They're "slurs." And you're right - for the guitarist, it means you pick the first note (or first pair in this case) and then get next note by means of either a hammer-on, pull-off, bend or slide.
Since these particular notes are octaves, I think you're going to have to go with slides.
Assuming none of the notes in question are flats or sharps, it would be like this:
E - 13 10 - 8 /12 - - - - - - - - - - - - - - - - - - - -
B - - - - - - - - - - - - - - - - - - - - - - - - - - - -
G - 10 7 - 5 / 9 - - - - - - - - - - - - - - - - - - - -
D - - - - - - - - - - - - - - - - - - - - - - - - - - - -
A - - - - - - - - - - - - - - - - - - - - - - - - - - - -
E - - - - - - - - - - - - - - - - - - - - - - - - - - - -
Hope that helps.
Peace
Topic starter
02/05/2009 12:29 am
Thanks David - I guess a violinist would play them as slides as well?
Here's another question:

What is that, an 8? Or an infinity symbol? lol
I'd have to see the score, and Tom (Noteboat) would be a better person to ask, but usually there would be two violinists reading the same part and one would take the high note and one would take the low note. I'm sure they could pull it off as a slide, but I strongly suspect they'd have to be very good to do so.
The thing in your last question is short for "8va" and it means that all the notes under that dotted line are played one octave higher than written. Using the "8va" symbol saves a musician from freaking out over the number of ledger lines he or she would be seeing otherwise :wink: !
Good to see you around again, by the way. Hope things are well.
Peace
Topic starter
02/05/2009 1:07 am
Things are going well, David. Thanks for the help.
I've decided to attempt to teach myself to play the violin. The pictures I'm showing are actually all played by one soloist, it's Brahms' Violin Concerto. Uhhh, I'm not trying to learn it, just tabbing it out on guitar pro, which is tedious, but I enjoy it and it's making me better at reading notation, and I did a lot of searching and can't seem to find a tab of it. I imagine that I'll probably never be good enough at the violin to play this music, starting too late perhaps. But, I digress, yeah, I haven't bought one yet anyways, but I'm pretty excited about this. My goal is to be able to play chamber music from Boccherini and Haydn (their quartets and quintets, pretty much).
It may be easier than I'm making it out to be. Some compete idiot totally forgot that violins are tuned in fifths and not fourths (like the guitar)(not counting the G to B interval, of course). :wink:
Good luck with this. It sounds challenging.
Peace
Hi Taso,
I often see slurs of much longer length in scores, and it seems that they can mean slightly different things, depending on what instrument you're playing - although the concept is much the same. Here's the first part of the definition from Grove's Concise Dictionary of Music:
Slur:
A curved line extending over a number of notes to indicate their grouping; the term is also applied to the effect thus obtained. With string instruments, it signifies that the notes should be taken with one stroke of the bow; with wind instruments that they should should be played with one breath without separate articulation; and with keyboard instruments, a legato touch (not releasing one note until the next is sounded) is called for.
So I often see very long slurs on piano scores that would be impossible on a violin.
All the best with your violin. I bought one a few weeks ago and my only ambition was to make it to Twinkle Twinkle Little Star before the enthuiasm ran out.... :oops: I did make it, so maybe I need to up the next goal a bit.. :mrgreen:
Cheers,
Chris
+1 with Chris on bow direction. Violin slurs are done with a single bow stroke.
But the "long slurs" Chris talked about aren't really slurs - they're legato markings. The notation is the same, but a legato mark encompasses more than two notes... if you look at the first notation example (with the triplets) you'll see that the first two notes of the first triplet group are slurred; the next four notes are to be played legato - as smoothly as possible. Since you'd be changing strings between the F and the A, it's not practical to actually slur them... but the four notes should be heard as being connected.
You'll sometimes see both - for example, you might have slur lines connecting four notes under a larger legato line. In that case, the legato line is telling you it's a phrase, to be pulled off as smoothly as possible, and the slur lines are a guide for how to transition from one note to the next.
Some instruments (like the guitar or trumpet) can actually do slurs; others (like the piano or marimba) can't. Each one has its own capabilities - but with just a few exceptions, standard notation is, well, standard - we do the best we can to execute what's on the page, even though that will vary from one instrument to the next. When you get right down to it, music notation tells you some things that are absolute (pitch and relative duration of the sounds), and some things that are to be interpreted by the performer (dynamics, tempo terms, and expression markings). You have to look at the expressive things in relative terms for a piece; if you can't do a slur for technical reasons, you just play it more connected than the stuff that isn't slurred. It'll only be "wrong" if it ends up less connected than the things that aren't marked legato or slur.
Guitar teacher offering lessons in Plainfield IL
It is also important to note that a violinist would not interpret a slur as a "slide" (incorporating the notes in between while moving from one note to the next.) They would sound as two distinct pitches, but without the "attack" of a bow change. They sound more connected. There are other notations for slides called "portamentos" or "glissandos" and the notation looks something like this, connecting the two notes with either a straight line or a more "squiggly" one:
I am where my mind put me.
Topic starter
03/05/2009 5:31 am
great, thanks for the info all of you.
chris, noteboat, good to see you two posting as usual :)
Topic starter
15/05/2009 6:53 am

Okay - what about this one - this is from Mozart's Violin Concerto No. 3, the Allegretto. Whats up with that staff in between the second and third (the, what I think is french horn, and the solo violin?).
I think there are supposed to be two horn parts, and I'm thinking that might be the second one's part? Is that possible? Or, insert what it actually is (here).
Thanks.
It's a cue.
Cues are often printed in individual parts to show the performers what the main melody is doing. They're transposed to the player's clef and signature - so a violin will see notes in concert pitch, a Bb clarinet will see them transposed, etc. - so cues are printed without clefs or key signatures. Sometimes you'll see cues directly on your staff, printed in tiny notes.
In a conductor's score, a cue is used either for a solo instrument, or for an instrument that's only used for rehearsal (some pieces have a piano score for rehearsal only, so you can rehearse a section without having to bring in the whole ensemble). Since this is a violin concerto, it's the solo violin part - the soloist isn't playing the same melody as the rest of the violin section.
Guitar teacher offering lessons in Plainfield IL