Topic starter
28/07/2008 8:48 pm
Hi everybody-
For work related reasons, I may be spending a few months in Korea, either late this year, or early next.
Contacts there tell me that, within the country, I can probably pick up Korean made guitars of the big manufacturers for a fraction of the western price. So what are the best guitars made in Korea? (Preferably, being made there right now!)
I've been looking at the lite ash strat, or some of the midrange corts...
What do you play that was made in Korea, that really rocks.
Best,
Ande
From what I've heard (fact? urban legend? I don't really know) Samick manufactures many guitars that are sold under better known names, such as Fender. Samick, I believe, does most of its manufacturing in Korea. I think many of today's guitars are in fact made in Korea. Wikipedia article on Samick.
Well we all shine on--like the moon and the stars and the sun.
-- John Lennon
Several years ago I did some Googling on Korean guitar manufacturers and found something like 8 companies, none of which had names recognizable as guitar brands. I believe Samick, etc. most likely contract with the primary manufacturers. Bet they're never marketed under the names of the actual builders.
I have a Korean made (Samick) Epiphone Blues Master that's a wonderful little 12 fret parlor guitar. (No longer made.) And I love my Agile semihollowbody and the 3 P-90 LP clone I bought my boy. Those Agile guitars seem to be very similar to the Korean made Tokai "Love Rocks" line of guitars; who actually makes them in Korea, I don't know.
"A cheerful heart is good medicine."
It's likely that a lot of the good deals on guitars in Korea are going to be from a brand that you or I or most on this forum have never heard of. As Ricochet says, there are quite a few manufacturers there who are mostly making guitars to order for the more well known US, Japanese, and European brands. Those manufacturers will almost for sure have Korean only brands of their own.
You'll probably have to hit a couple of big Korean music stores and play a bunch. Be sure to take a lot of photos and report back to us.
Pop music is about stealing pocket money from children. - Ian Anderson
Topic starter
29/07/2008 11:36 pm
I'm looking forward to the music store scene- I've heard it's a very high tech country, so I'm not ruling out coming back with a toy I'd never heard of. I'm also studying up to be able to talk to the guy in the shop, but it's gonna be a lot of arm waving and picture drawing, I'm sure.
I do hope to have an idea what's out there before arrival, though, and an idea about prices, to be able to negotiate. Browsing what's made in Korea, I came across an Agile AL3000 in "Rootbeer color," and it looks delicious. (I can't stand rootbeer, but the guitar is gorgeous.) How's your Agile play, Ricochet? The AL3000 seems to get better reviews than the Epi Standard, and to cost less money. COuld be my next thing...
Turns out the Samick factory, or one of them, is near where I'll be staying, so there's gotta be good stuff around.
Best,
Ande
I have a natural flame maple top Agile 2000AL and it is totally sweet looking. It plays great too. My ESP "LTD" version of the George Lynch Super V was made in Korea, so ESP probably has their other "LTD" stuff made there. I'm sure you'll find some great stuff there and brand name does not matter always, it's how the guitar plays. Good Luck!!!!!
It is a small world for metal fanatics. I welcome you fellow musicians, especially the metalheads!
My Agile AS-820 is a wonderful guitar! I love the feel of its neck, its frets are well done, it's generally well made and finished, and it sounds killer with the Gotoh P-90s. I don't play my boy's AL2500 goldtop with the 3 P-90s a lot, but it's a very nice one, too! It's a heavy sucker, but that's just an LP thing.
I think you'll find English widely spoken there. My boy's over there now. Pictures and info he's been sounding back are mighty nice! Have fun!
"A cheerful heart is good medicine."
The Fender Lite Ash Tele is made in Korea. A very good guitar -- S-Duncan pups rock, finishing (body, hardware, frets) is very good, quality is wonderful. And it spanks like a real Tele should. Don't know if Fender allows it to be sold direct in Korea.
My ESP "LTD" version of the George Lynch Super V was made in Korea, so ESP probably has their other "LTD" stuff made there.
Yeah, my reading is that the ESP "LTD" line is made in Korea. There's also the ESP "Grassroots" line of guitars that are made in Korea. Another possibility is that being that close to Japan that one might be able to get some of the Japanese brands / models that aren't available in the Americas (North or South) normally. Some of these aren't made in Korea but with Japan so close maybe they get them too? Stuff like ESP's "Edwards" line (really good guitars - on par with Gibson models) and ESP's super high end "Navigator" line (on par with Gibson custom shop guitars). And then on to other Japanese brands like Greco, Burny, etc. These will cost more than the Korean made guitars but still probably cheaper than you can get them here.
Pop music is about stealing pocket money from children. - Ian Anderson
prs se's are made in korea. g&l tributes are mik. there's a large building in seoul that has a couple dozen guitar and instrument stores inside. i believe in namdaemun, but i'm not sure.
I've got a 2001 MIK Epiphone Casino manufactured in the Peerless factory. It is every bit as well made as my 1970 MIK (Kalamazoo) Gibson ES-330.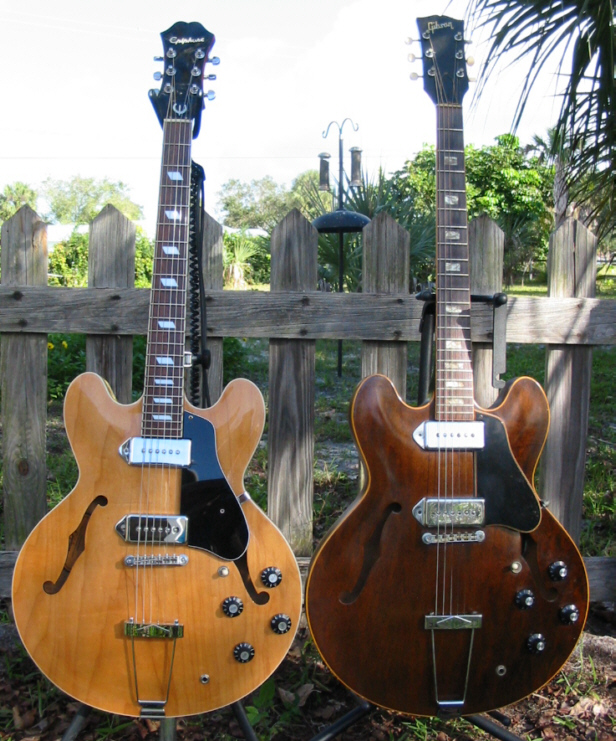 Main differences:
Epi has a poly finish 330 has a nitro finish
330 has higher fret access
330 sounds better unplugged (I suspect because of it's age, better wood, better finish and nylon saddles)
Both sound very close to each other plugged in
Epi has a slightly wider neck (perhaps the difference between metric and US measurements)
330 has real MOP inlays in the neck - Epi has plastic
After all that, one must take into consideration that I bought the guitar used, and the previous owner replaced the tuners with Grovers (not necessary, I find no fault with the factory Klusons), and also replaced the switch and pots with US parts. He may have also replaced the pups, but I'm not going to take the guitar apart to tell, I'd rather play it ;)
Insights and incites by Notes
both of my Tak EG series guitars are Korean made and i highly recommend them both.
Eg523SC & EG523SC-12
Breedlove's Atlas series guitars are Korean Made. Love mine....
My ESP LTD EC400VF is made in Korea. It's fantastic.
When you wanna rock hard children, lean on F sharp