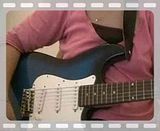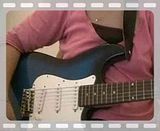 House of the Rising Sun - Isabelle feat. guest star Little 'ma ma maaaaahh' Marc.
I started 'playing' about 11 weeks ago (okay I did have lessons when I was a child - all I could remember was the name of the strings and the E phrygian scale, in fact I think that's all we did for the whole of the year, we never learned any chords or anything) and I've been getting one or two hours practice every day - except for two weeks when I was on holidays in sunny Corsica 8)
Watching DylanBarrett's videos made me realise we're all on the same boat. It seems like we're all having the same problems, the same questions and the same frustrations.
So go on... share a vid with us on this topic, relax, enjoy, and have a laugh :twisted:

Posted : 06/10/2007 4:33 pm
That's great! :D
"A cheerful heart is good medicine."
Posted : 06/10/2007 5:18 pm
Guitar,$$$
Video camera,$$$$$
Computer,$$$$$$$$
Marc, PRICELESS! :D :D
This one is good for blackmail when he gets older and has a girlfriend......
(Actually, his timing is better than mine!)
Thanks for the video, it made my day! :D
When I die, I want to go peacefully in my sleep like my grandfather, not screaming......
like the passengers in his car.
Posted : 06/10/2007 5:37 pm
Man, this is the greatest trend to hit the Beginner's Forum since the daily 'How Do I Use a Capo?' question stopped (j/k).
Please keep 'em coming, folks. I promise to watch every one.
Congrats, Isabelle: budding guitarist and great Mom!
:)
Posted : 06/10/2007 5:56 pm
Awesome idea, I saw DylanBarrett's video yesterday - and realized that if he has the nerve to post himself up on YouTube mangling Horse With No Name for the umpteenth time - no offence! LOL I know you're a beginner - then I really had no excuse.
OK I've been playing 11 months more or less, 15 min - 2 hours daily, usually more like 1/2 hour with interruptions. The children are all sleeping during this video which is why I get up extra early to practice. This is also why I look so serious, I'm still half asleep myself :roll:
This was a great exercise BTW, you think the song is dead easy til you go to record yourself and then it's "hey where did all the butterflies come from?" so I will definitely try to record some more.
http://uk.youtube.com/watch?v=ksOgwmScfeE&v3
Posted : 06/10/2007 6:14 pm
Posted : 06/10/2007 8:00 pm
Way to go Izzy and Stella.
I think Dylan has started something.
So we'll know who to blame. LOL
Iz, I admire your patience with the little one. (it looks like you and I have the same guitar)
It's the rock that gives the stream its music . . . and the stream that gives the rock its roll.
Posted : 06/10/2007 9:30 pm
Glad I don't have a video camera! :wink:
Posted : 07/10/2007 12:30 am
Good vids both of you! 8)
Keep practicing, you're both doing great. :D
Little Marc is wonderful too! :wink: :D
Dan
"The only way I know that guarantees no mistakes is not to play and that's simply not an option". David Hodge
Posted : 07/10/2007 1:03 am
Isabelle! You GO! The joys of having to fit everything into one take before the little interruptions show up, eh?
BUT big improvement in that we can see your smile! I am trying to remember to smile LOL - it comes tough first thing in the morning ROFLMAO
I put up a new video too and I promise to quit hijacking your thread - soon- :twisted: but here it is:
http://www.youtube.com/watch?v=QO5DGyc2lng
...but the whole point of this song - Natural Mystic- is that I posted the chords in Easy Songs and I thought it might be helpful to listen to one interpretation and then youtube gives the links to a couple of renditions by the great Bob himself - wish I'd found those sooner :| !! -
... anyway I have been working on this song for about 7 or 8 months, started a few months into learning guitar - I do have the Bob Marley songbook and this was the easiest one!
Oh yeah, haven't tried 'Dust in the Wind' yet but definitely mangled my share of ''House of Rising Sun'!! Oh .. and it was a good thing that first Horse was Nameless! :lol:
Posted : 07/10/2007 3:01 pm
Isabelle - yes, the glasses look cool, but you may need a bit more practice before you can pull that off! :wink: :lol: 8) Keep working on those changes. I remember when I first learned that song, it took me ahwile to finally get the changes down smoothly.
stellabloo - I can't remember hearing the original, but I liked what you played. Chord changes flowed nicely & you kept up a good rhythym. 8)
Once agian good job to you both! :D
Dan
"The only way I know that guarantees no mistakes is not to play and that's simply not an option". David Hodge
Posted : 07/10/2007 3:42 pm
Hats off to the women on here, Isabelle u must have the patience of a saint to be able to practise with such distractions :lol: and Stellabloo, to get up b4 the kids just to practise, thats dedication! :P sounds really sweet too!
ok so heres my contribution, just to boost all your egos and make u feel better about yourselves, its so bad its unreal, and i've been practising all day :lol: I dunno the words either so end up kinda humming.. hmm needs a bit more work methinks! :oops:
Posted : 07/10/2007 7:30 pm