Does Cost = Quality aka You get what you pay for?
Hey Brian :D
Yeah, don't get me wrong....
I say my 88 Strat MIA is a piece of junk and you have to realize that they were much different guitars then.
1988 was the first year that the 'new' Fender offered a USA made guitar (some say 87).
Basically, the employees at Fender got together and made an offer to CBS to buy the rights to the name Fender
and everything that goes with it.
They pretty much picked it up for a song, as CBS was happy to get out from under it.
They had no production facillities though, so for about 3 years they continued production in Japan.
Some really nice RI's came out of Japan for Fender, for the most part though the Fender name was tarnished by the inferior copy-Strat like guitars that came out of Japan bearing their name at that time.
They seemed to have rushed into production at the newly built Corona plant, and came out with their first US guitars in 3 years....
That's what I have.
Also, to make matters worse, NOBODY at that time wanted anything to do with Fender guitars (or Gibson for that matter).
Hairmetal ruled in those dark days before the Seattle crew saved R&R.
So, the wizkids at Fender decided that the best thing to do was to burn the candle at both ends -
They made Fender MIA Standard Strats that tried to maintain the Look of the Archtype, while making concessions to the metal heads in the hopes that at least ONE of them might buy a Fender.
So, they put a bridge on that de-twanged it.... tuners that robbed it of it's wonderful transparency....
A finish that would choke a horse (My finish is awful by the way.... as are the wood pieces very visible),
they got rid of the usual body routing - opting instead for a 'swimmingpool cut-out' and then loaded it with miserable SC pups.... they did these last two with the reasoning that, by chance a metalhead bought one, they would rip the SC's out without hesitation on the way home and toss the whole set-up out the window into the woods so they could load it up with EMG active HB's when they got home!
No Kidding! That was how they thought.
So, the guitar I have is FAR from being what I consider a real Stratocaster.
In addition to the body wood/finish and pups being crap.... the neck is awful as well.
The finish detail is horrid.... The fret job is terrible (with glue on the fretboard in places), the nut has always needed work (though, sadly, that seems to be the only thing that gives it any character), and the neck pocket is way off!
I've seen the new MIA Standards, and they have come quite a long way from 1988 versions.
Of course with the Corona plant being finished, also came the first MIM Fenders.
A very good friend of mine had one back then - It was no better than those $100.00 copy-strats with a Fender name on the neck - Not even kidding.
(Some of you may remember those - we called them crapwood bodies.... they were like laminated pressboard or something.... Feather light, and way too much high end, with all the cheapest parts you could get on it)
So, the MIMs have also come a long way since then.
Pesonally, I think that new Fenders have way better QC than new Gibbos - Though, I have seen quite a few Fenders out there that I put right back on the hook after picking it up, too.
Ken
ps - have a great time at the U2 concert! 8)
"The man who has begun to live more seriously within
begins to live more simply without"
-Ernest Hemingway
"A genuine individual is an outright nuisance in a factory"
-Orson Welles
i had read about the troubles after and even during the CBS years. I was merely detailing my own thoughts on price v. quality, considering my mim and mia are relatively close in year manufactured, so it's a pretty decent sample of what Fender is doing now at various price points. One is an 08, the other an 06, so they're pretty much from the same era. It's not really fair to compare the quality of say, your american standard to mine, as they were made at completely different times of the company's life. To make an accurate price v. quality argument you need to compare instruments from the same time period, i.e. right now. And arguably, Fender is producing some of its best instruments ever, so it's perfect to talk about the modern fenders.
and thank you, i will definitely enjoy the show.. it's too far away :):) i can't wait 6 months
To go back to the original question - I personally believe that in most instances, cost = quality. I grew up in an environment in which I never got the good stuff, only ever cheap imitations that lasted a very short time. It was a very disappointing and frustrating experience. As soon as I started earning my own money, I only bought brand names - not necessarily the top model but the top 3 brands. And I couldn't have been happier. Occasionally I made some rash purchases because I thought that I needed something immediately, and boy were those decisions bad. In the end I had to buy the same stuff twice.
I'd agree that in these days, even some of the cheaper imitations are of acceptable if not good quality. Squier and Epiphones make great guitars (imitations), and so do countless Japanese and Koreans vendors. Still, if I can afford it, I will buy Fender or Gibson due to the brand and the quality, support, network, dealers, community, prestige. And I am not opposed to spending $1500 or more for a guitar that will last me a lifetime, as opposed to spending $500 and then having to fall it apart after a couple of years.
It's the same for cars, a cheap Toyota is a perfectly acceptable car with excellent features, decent build quality, good safety features. It's not for me though, I believe that a similar style German car is way above that Toyota in every respect and am happy to pay the price for it.
In the end, many things come down to what you can afford and what you are prepared to spend. And if you do your research well, you can find excellent quality and bargains at every level.
...It's the same for cars, a cheap Toyota is a perfectly acceptable car with excellent features, decent build quality, good safety features. It's not for me though, I believe that a similar style German car is way above that Toyota in every respect and am happy to pay the price for it...
I've owned more than 60 cars and motorcycles since I got my driver's license in the early 60s. The cars include Holden, Ford, Mercedes, BMW, Jaguar (oh, I wish I still had my E-Type!), Range Rover, MG, Triumph, Toyotas etc etc. Motorcycles - Harley, Honda, Suzuki, Triumph, BMW etc. etc.
The ONLY vehicles I've never had to make a warranty claim on were Toyotas and Honda motorcycles. The Toyotas also had the best resale/trade in values, the worst in this area were Mercedes, BMW and the English cars.
Oddly, the only lemon I ever had was a Toyota. My BMW is still running strong at 175k miles. My Subaru was another champ. You never can tell.
The law of diminishing returns usually apply, and also there is a brand recognition factor that either adds or subtracts to the cost.
I have a 2001 Epiphone Casino and a 1970 Gibson - virtually the same guitar.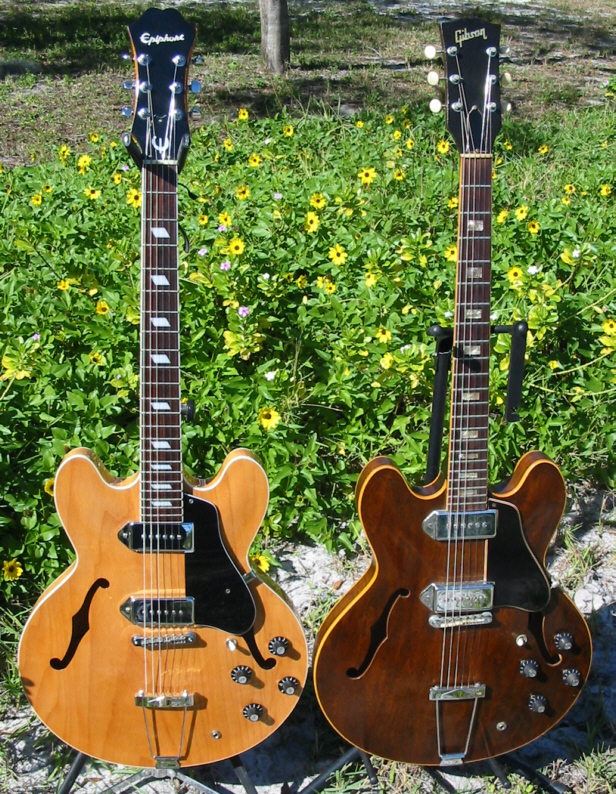 At current prices the ES330 costs 4 times as much as a Casino.
So what's the difference?
Plugged into an amp, they sound very similar (close enough to be alike).
Size is about identical, slight differences could be the differences between metric and US measurements.
The Gibson is made of better wood, and sounds better unplugged (yes they are acoustic archtops), but since I play the guitar through an amp, that doesn't make much difference.
The Gibson has real MOP inlays and the Epi uses MOT
The Gibson has the optional higher fret access (long neck), that option is not available in the Epi.
The Gibson has a nitro finish and the Epi Poly (on an electric, that is a matter of taste).
My Gibson is made in the USA, my Epi in Korea.
So is the Gibson a better guitar? Definitely yes.
Is the Gibson 4 times the guitar that the Epi is? Definitely not.
How good is the Epiphone? I play the Epiphone on stage and play the Gibson at home.
Insights and incites by Notes
This is interesting if you haven't already seen it:
Comparison of Gibson 335 and an Epi Dot
This is interesting if you haven't already seen it:
Comparison of Gibson 335 and an Epi Dot
I hear some differences -- and generally preferred the Gibby's clarity and dynamics. but for the most part, these won't matter to many, especially played as he is playing. they will be more obvious with other players/setups/styles. the player is demo'ing these in a very limited range of style and set-up. in particular, his technique emphasizes attack over sustain, has some OD crunch and moderate reverb. all of that restricts what is revealed, and so gives us only part of the story. I'd like to hear the guitars clean, mildly and solidly OD'ed, no reverb or delay EFX and over a variety of playing styles before I decide how good/different they are. what we have seen and heard is how much the player, amp and EFX level the playing field. in particular, I'd point to the guitar player.
no argument that Epi makes solid guitars.
gnease wrote:
"what we have seen and heard is how much the player, amp and EFX level the playing field."
I was going to argue that point earlier myself.
That if you were more of an amp/effects player, than searching for a higher end guitar wouldn't mean as much.
How many guitar players do you know that have a bunch of MIM type guitars, but have spent a small fortune on a great amp (or amps) and a vast array of effects?
I've seen plenty.
On the other hand - How many people do you know that have searched for (or just gave up and had built to their specs),
a wonderfully sound guitar with tons of options on them that not many players consider (ie. premium wood, thin finish nitro lac, heavy duty trem block [that's also blocked off] w/stamped steel saddles [w/Strats], bone nut [that's been cut to that specific guitar], handwound cryo pups [and I don't mean overwound], thicker [boat profile] necks, vintage tuners, plated bridge pup [again for Fenders], aluminum shielded pickguard, having the neck and pocket fitted or shimmed/blocked.... ect.
Not too many things on that list would be really visible - the difference in clean or acoustic tone and timbre (not to mention singing sustain) would be astronomical though.
And a player with that kind of guitar would undoubtedly appreciate a cleaner style of play....
might still have a nice amp (perhaps a Vox AC-15, or a '59 Thin-panel Fender Tweed Deluxe 8) ) with the guitar plugged right into the amp.
So, tonal preferences and/or how well your ear is trained will lead you to one type of guitar or another.
Ken
"The man who has begun to live more seriously within
begins to live more simply without"
-Ernest Hemingway
"A genuine individual is an outright nuisance in a factory"
-Orson Welles
Does cost = quality? No.........................
Is cost proportional to quality? Yes......................
There is a curve. At lower prices cost and quality are closer to equal, but as the price goes up the improvements become more subtle and refined. Sifting all the posts before mine, I take from it that there is a cost to quality ratio that is right for every player, but will be different for each of us as well depending on what we want to get out of it. :? or something like that. I find personally that instruments from the $400 - $1000 price range are for me, be it my skill, ear or setup I play through, that is where I live anyhow. It's different for all of us and lets not forget, there are bargains or special guitars out there as well as high end models that were made on monday with hangovers. :mrgreen:
"Work hard, rock hard, eat hard, sleep hard,
grow big, wear glasses if you need 'em."
-- The Webb Wilder Credo --
do all makers/brands deliver equivalent quality at comparable price points?
no.
Lots of good points so far.
I'm kind of disgruntled these days with name brand anything. In most cases, I will spend the dough to get a better quality item. It seems that even those have been letting me down as of late.
I don't have the ear for examining guitars the way Ken describes, and certainly not the eye for detail either. I'm in the category of player that upper-end quality would be lost on. At least with electrics anyhow. Probably with accoustics too, just maybe to a slightly lesser degree. So, I offer that value is at least partially a personal thing. I'm also the guy who could give a rat's hind side about finish on cheap guitars. Give me a dented MIM for $300 and I'll show you a nice Keefocaster in about two weeks time. I was lured in to the gold colored hardware on my Epi LP Custom though. I am not totally without the "oooo, pretty" factor. :lol:
And my short opinion on the topic title: Sometimes. That's what sucks about it. You do the best you can to make sure you don't get hosed. The beginner guitarist suffers the most. How on Earth does someone know a good guitar from a bad guitar who has never played? (aside from obvious damage of course)
Roy
"I wonder if a composer ever intentionally composed a piece that was physically impossible to play and stuck it away to be found years later after his death, knowing it would forever drive perfectionist musicians crazy." - George Carlin
I've been thinking about this one for a while before posting. It seems in the good old days that absolutely, you get what you pay for. There was some theoretical price, say $2000 where the returns really diminish for your dollar. There was some theoretical lower price limit too, where below perhaps $500 you got absolute crap that might work well for a while, but in the end you wish you'd spent just a bit more. Now it seems both limits have dropped dramatically. I think you can get a pretty decent acoustic once you pass the $300 mark, and the diminishing returns start at about $1000.
It used to be a cheap knockoff was exactly that, cheap. Now not so much. Many of the knockoff brands now have high end guitars of their own. First Act has the Lola, Epi has an acoustic and an electric that go for $2k. I have an older Washburn D-84SW Acoustic that retails for $2k go figure.
You just have to play them. You can't judge the guitars worth to you by brand name or price.
do all makers/brands deliver equivalent quality at comparable price points?
no.
If you extend this it might be the best way to look at the cost to quality issue. The correlation between cost and quality is probably strongest for instruments from one maker. So, if you can buy a guitar from brand X for $500 and a similar one for $1000 then it's likely that the $1000 one is of better quality. Not all of the $500 difference will be quality but some of it will - the rest will be decorative features (inlays; nice looking woods - flames, birds eye, etc; gold plating; etc.) and some extra profit margin.
However, brand Y may have a $500 guitar that is of higher quality than the similarly priced guitar from brand X and maybe even better than the $1000 guitar from brand X. Why? Lots of possible reasons - higher profit margins, bigger overhead, higher marketing budgets, poor quality control (costs in returned and repaired instruments), inefficient manufacturing (perhaps using hand building for processes better suited to automation), economies of scale (small manufacturer pays a higher cost per unit on things like tuners and pickups).
Pop music is about stealing pocket money from children. - Ian Anderson