Guitar Players Discussion
Topic starter
10/11/2011 9:56 pm
I am going to try to ask this in a way that is at least halfway reasonable.
I play with the pick strapped to my arm, using a sports watch band with a pick filed down and fitted through the buckle of the band. Like this.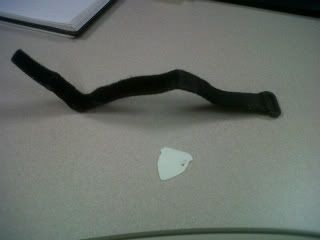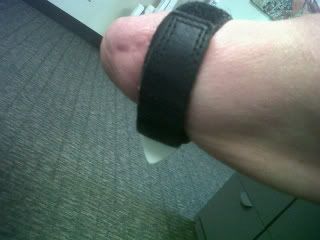 The issue that I have is what I think is excessive clicking, or pick noise. I have tried different pick thicknesses and had no luck. What I'm asking is if any of you have a guess or suggestion that might help quiet it down. Or maybe that is just how it's going to be.
Any ideas, anyone.
Thanks
Jack
I can tell that is going to be percussive but can't really explain it. It has something to do with the angle and the resonance of the pick itself not dampened by flesh in the finger and thumb. So it clicks and flaps like a cig pack in bicycle spokes! :shock:
Like a bird on the wire,
like a drunk in a midnight choir
I have tried in my way to be free.
Topic starter
11/11/2011 11:53 am
That's pretty much it Blue jay and since I can't change my grip I suppose it will just have to be there.
Thanks
Jack
All right! I think you came up with a good solution, but hope that someone else can shed some light or offer alternative? :D
So umm... taking this very seriously since I've done some work in this area before (but not too much), I suppose that Delrin or Tortex may be a little more quiet then either Acetate? (not sure about this) or very noisy Nylon for sure. I hope this helps and gives you more thoughts about your creativity and design? http://www.jimdunlop.com/products/guitar-picks
Like a bird on the wire,
like a drunk in a midnight choir
I have tried in my way to be free.
Is there room in the buckle/pick holder where a strip of neoprene, or other thin closed cell foam might fit? Might help dampen that pick a little.... of maybe dip the holder end of the pick in some of that tool handle rubber dip stuff....
I was gonna say, I'm impressed enough with what you are doing. I'm not gonna mind a little pick noise.
"Work hard, rock hard, eat hard, sleep hard,
grow big, wear glasses if you need 'em."
-- The Webb Wilder Credo --
Topic starter
11/11/2011 3:04 pm
OK, so I will grab some different pick materials and see where that goes. As far as the coating or shimming goes the pick is held by the nylon strap material but I will try fitting in something to wedge it tighter.
I am really happy with the watch band idea because it is inexpensive and gets the pick next to my skin allowing a little bit of feedback.
Thanks guys.
Jack
I dont think its a matter of fitting tight in the buckle.... I think its a sound transmitting thing. You want something to absorb the sound from carrying over to the buckle..
I would suggest trying something very heavy like a 3mm bone or wood pick.
I have both wood and bone and they are pretty quiet.
Hi,
Another possibility is to try a felt pick. Sounds odd but they're made of compressed felt and can sound good. Ukulele players sometimes use them, and for some banjos and other instruments too.
Some felt picks taken at random from Google
Good luck with it.
Chris
WOW Ive never heard of felt used for a pick before!!! I bet that would work.
Topic starter
12/11/2011 1:15 pm
There are some great ideas here guys and since we are mostly talking about picks not a lot of expense. I will start buying some different materials and fit some up and we will see how they sound.
I'm going to get some plastic dip (got some pliers to dip also) and see about coating some.
It will be interesting to see what happens.
Jack
I find the thicker pick idea sounds right. I play with Dunlop "Gator Grip" picks with a 2.0mm thickness, and they really don't make much noise at all :)
I have tried felt picks and they don't give me much. The idea was to remain quiet if playing late at night around my family.
Now I keep it simpler, please myself and have shaped my own sound using only Guitar Hands picks (medium) for all regular stuff & Dunlop Tortex 50 mm. when I want percussiveness and click or rhythm. It seems I might be an artist or guitarist. :shock:
Anyhow, you can ask Guitar Hands for a free sample of their 2 most popular picks, that will save you some money... and by the way they are dampened already or pre-dampened with foam and rubber on the grips. Here is something you have to pay for, a lot I think but still reasonable compared to some wooden picks. It provides a thicker more solid opton for you too IMO http://www.shopatron.com/products/productdetail/Exotic+Standard+Blond+Wood+3+Pcs/part_number=BWS/3/726.0.1.1.31157.31167.0.0.0 I will be ordering from Steve when I get m' show on the road. :lol:
Good luck again. Have fun, enjoy playing too. 8)
Like a bird on the wire,
like a drunk in a midnight choir
I have tried in my way to be free.
Topic starter
15/11/2011 1:25 pm
Those wooden picks are nice looking. I would really hate to cut one up to fit through the buckle.
I did buy up a felt pick last night and some delrin picks in a couple of thicknesses. They didn't have any bone or wood.
The felt pick I got will need to be thinned down a bit to get in the buckle, I hope I don't destroy its rigidity by doing that.
I will have to get up the nerve to record the various setups, maybe that will be a more definitive test than just my ear of what the picks are doing.
Thanks guys.
Jack