Guitar Players Discussion
Topic starter
09/12/2011 9:26 pm
Jim I live about 75 miles South on I-35. Both our kids live in KC though.
Jack
Jim I live about 75 miles South on I-35. Both our kids live in KC though.
Jack
Cool, we're practically neighbors! :lol:
Jim
Topic starter
19/12/2011 3:36 pm
Another quick off topic update.
Saturday night we (the wife and I) played for the group home Holiday dinner.
Lots of good food but I didn't eat anything. I have to sit to play and eating before singing and playing harp is an issue. I can't push out any air with my stomach full. So I sat around and watched everyone else eat.
We set up and played about 45 minutes, I think 12 songs in all. We did Santa Claus is Coming to Town and Jingle Bells with one of the guys from the home on the bells, then a set of Christmas Carols with three songs from Peter, Paul and Mary's Holiday album done on ukuleles. The ukes are loved by everyone. We did Children Go Where I Send Thee on ukes and my wife made number cards 1-10 and handed them out to the audience with instructions to hold up the number when it came around, they really got into that. The beginning of each verse of the song is "Children Go Where I Send Thee" followed by my wife with "How Shall I Send Thee?". I stopped after the first verse and told them all that they had to help on the response part so we went over that a couple of times and got them all involved.
We finished up with Silent Night and packed up. We really enjoyed ourselves and everyone there seemed to enjoy it also. Even got passed afew bucks on the way out the door. Other than Church I think that is it for this year.
On topic:
I played the Rogue GC with the wood pic. It sounded really good without any click that was noticable.
Thanks again.
Jack
Nice Jack. I'm so happy that a wooden pick is working out for you.
Also, near topic, I played to a full house in Church Basement (100 people?) last night, and couldn't eat either, while singing. :roll:
Like a bird on the wire,
like a drunk in a midnight choir
I have tried in my way to be free.
Cat Stevens complained about the pick noise that occurred during "Wild World". He thought about it...and made it even louder. If it becomes your personna, so be it. Go with it. From what I can see, you may end up using the medal you should have pinned on your chest, matey!
All the best...
Cat (the other one)
"Feel what you play...play what you feel!"
Topic starter
27/12/2011 6:21 pm
Thanks Cat. No medal, maybe just a ribbon, don't want to scratch the guitar you know. :lol:
I am pretty satisfied with the wooden pick so far, not silent but not excessive. The missus ordered some Dunlop felt picks and some coconut shell picks for Christmas. The Dunlops are more dense than the generic one that I picked up so I'll trim some of these down and see where they fall in the spectrum. The coconut shell are just now being sent, have been back ordered since the first of the month.
Turned out the large box next to the tree was an Epiphone 12 string. The felt pick sounds pretty good with that, seems much louder than with my 6 strings. Pics to come later.
Jack
I would suggest rather than a long pick you try something short and stubby, so theres less material to flap back and forth. Something like a stud rather than a pick, held closer to the strings, if possible
Topic starter
31/01/2012 2:31 pm
This is a little update on the pick situation.
We had a four church music service Sunday night and I brought the Madeira dreadnaught and used the coconut pick. They recorded the service but I won't get a copy till this weekend maybe. I may have to go hunt it down.
I like the feel and sound of the coconut, not really sure that it is quieter than the others it may just be a sound that blends in better. In response to Minorkey's input on length, that may be true. The coconut I am using sticks out just over 3/4" past the band. My others end up half that and are easier to control so next up is a coconut filed to stick out about 3/8" or so. They are cupped since they are from the shell and they have to be oriented correctly to strum smoothly. Other than that they have a nice finish and seem to be holding up well.
On a gig related note we really enjoyed the service. It was the missus, myself and the piano player from our worship team. There is a guy from one of the other churchs that had a Hammond and an electronic keyboard with him. Electronic Hammond by the way. We were discussing my setlist because he has been giging forever and likes that I use some pop songs in my set. People Get Ready was on this one since we liked using it in our own service. He asked if we could add some organ to it and I of course agreed it would be great. And it was. Then my wife was asked to sing harmony with their group on three songs so she was skyhigh by the end of the night. We are going to get together with this couple and work out a set of songs to do at the next service (every month with five Sundays). He plays keys and guitar, really good guitar. He is Kerry Livgrens cousin. Must run in the family. I know I can learn a huge amount from him and I can't hardely wait to get together.
On the worship team front the wife and I are stepping down from the group and we are going to spend more time out playing streetcorners and campgrounds. We are working up a set of the old gospel blues stuff that we can minister with without being in peoples faces. Not my style.
We are planning to do First Friday downtown KC in May if things go as planned, so if you are in the area!
Thankis
Jack
BTW when we go camping we go in this camper that my wife and I built from an old pop-up camper frame.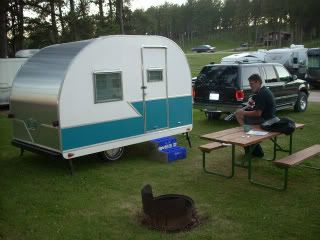 Glad to hear your narrowing down your noise issue!!
and as a aside... LOVE the camper!!! Off topic, but did you work from plans at all, or just kinda wing it.
Topic starter
31/01/2012 6:20 pm
Glad to hear your narrowing down your noise issue!!
and as a aside... LOVE the camper!!! Off topic, but did you work from plans at all, or just kinda wing it.
I pretty much winged it. I have been designing stuff for a long time. Everything from asphalt paving equipment to state of the art pet food plants. I did get some ideas here http://www.angib.pwp.blueyonder.co.uk/teardrop/tear00.htm and the teardrop forum associated with it. Some great folks on there.
We started up a ukulele jam at the last campout we attended, didn't know that anyone else was into them. They just saw us playing and dropped by.
Jack
Cool. Ill check it out. Im a big time builder, sceamer, and just allaround build/fix/rebuild anything. :)
Yeah nice job on that camper Jack! Kerry Livgren's cousin huh? And you live in Kansas .. go figure? :lol: That is cool! When you get ahold of your recording can we hear it?
"Work hard, rock hard, eat hard, sleep hard,
grow big, wear glasses if you need 'em."
-- The Webb Wilder Credo --
Topic starter
02/02/2012 12:40 am
If I get hold of the recording and it turns out any good I will post it (after pruning out the other 2 hours and 15 minutes that we weren't in). I have been messing around on my Tascam recorder and will post some when I get the sound right.
Jack
Topic starter
29/04/2013 1:55 pm
Wow over a year since I looked into this so I thought I should give an update.
I am using a coconut pick with my 6 strings, acoustic and electric and a heavy delrin hot glued to the pick holder for my 12 string. I think the coconut being much thicker than the delrin doesn't drop in between strings and get those octave strings on the 12 string. The tone isn't as rich with the coconut. I am still using the same coconut pick that I started with over a year ago. I doesn't look the least bit worn. Just killed the delrin pick last night and had to switch to the back up.
The click is still there but subdued considerably with the heavier picks, they also don't move around in the holder so they don't fall out and get lost.
https://soundcloud.com/lawhorn-gospel-blues/wayfaring-stranger
This is a recording from last fall at the request of a friend. We do this song in a less mournful key now so it's a little less depressing. :)
Thanks again for all the helpful input.
Jack