Scalloped necks...Is this true?
Topic starter
21/04/2008 12:21 am
Hey guys,
Was reading this on the Warmoth site someone showed me:
http://www.warmoth.com/guitar/necks/necks.cfm?fuseaction=scalloping
I'm talking specifically about where it says "less stress on fingering hand". It makes sense but can anyone confirm this? I'm not certain the info there is 100% reliable cos a) If scalloped necks had all those benefits n no drawbacks wouldn't we all use em? and b) Malmsteen himself said it's harder to play fast with that kinda neck, where the site says its easier...Now I think I trust Yngwie over a site trying to sell me something lol...although he does talk crap sometimes
Naturally I'll try a YJM strat out or something to get a feel for it, but I thought I'd ask too. Having long term RSI problems I'll take anything I can get which'll reduce the stress on my fingers...Plus it's pretty cool 8)
Strange
They didn't talk about slide... How can you do a fast slide with that kind of neck?
" First time I heard the music
I thought it was my own
I could feel it in my heartbeat
I could feel it in my bones
... Blame it on the love of Rock'n'Roll! "
"The man who has begun to live more seriously within
begins to live more simply without"
-Ernest Hemingway
"A genuine individual is an outright nuisance in a factory"
-Orson Welles
Scalloped necks, once you learn to play them well, do require a lighter touch with the fretting hand.
However, they are significantly harder to learn to play. Too much pressure and the note will be sharp from the extra tension you're putting on the string, too little pressure and it will be flat or buzz badly.
Frankly, I honestly believe they are more gimmick than anything else.
"The music business is a cruel and shallow money trench, a long plastic hallway where thieves and pimps run free, and good men die like dogs. There's also a negative side." -- HST
The scalloped fretboard seems to be an approximation to what is used on a sitar where the frets are just hoops of metal that are only connected to the neck at the ends. Sitar players certainly do slides so I can't see why you couldn't on a scalloped neck.
Pop music is about stealing pocket money from children. - Ian Anderson
I have a guitar that is scalloped from the 10th - 24th fret, & I really like it. Never played one that is scalloped from fret 1, so I don't know how the chording aspect would be in relation to going sharp.
I don't seem to have any problem with sharp notes up on the high end, though. It is a lot of fun to play it. Very easy to do a lot of vibrato, easier bends too. :)
Topic starter
21/04/2008 9:21 pm
Do you think I'll have any problems scalloping if I have a bound neckfretboard on my MH-400?: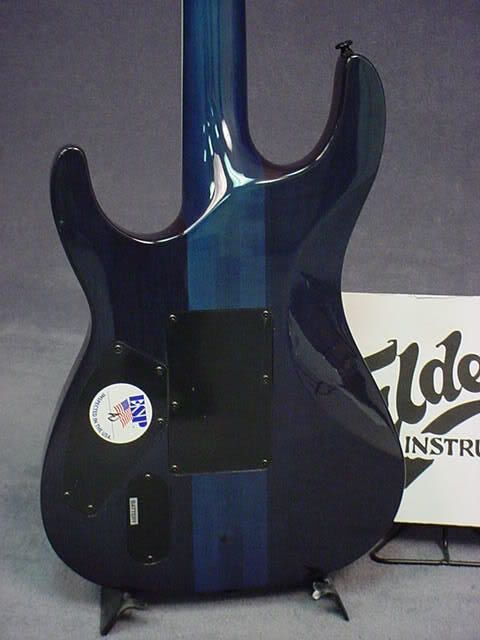 I was thinking of doing the 21st-24th frets using this simple guide http://www.projectguitar.com/tut/scalloped.htm
But with the sides of the fretboard being bound and gloss finished right up to the top, like the rest of neck...hmmmm :?
I followed a similar guide; It is really not a hard thing to do...If you have a good eye, patience, steady hand, you can really do a nice job. Some guides I have seen instruct you to tape the frets w/ masking or electrical tape.
In my case, my guitar has a Maple fretboard, which is very hard. I started out trying to file them, but in the end I wound up using a Dremel tool because it was taking incredibly long to file it. My guitar, an L-6 knockoff is not a "top of the line" instrument, so I wasn't overly concerned.
Would I carve up my $1500.00 Jackson Soloist? Hmmm....I'd have to think about that. All in all, I do like the playability of my scalloped guitar, & I find myself reaching for that one a lot more than my other instruments.
Read the reviews for Yngwie's Strat. Most guys really like it. http://www.musiciansfriend.com/product/Fender-Yngwie-Malmsteen-Stratocaster?sku=511849
I might suggest trying your scalloping project on a "beater" guitar first before working on something really nice. As far as your RSI problems goes...I would think that light gauge strings & an ultra-close action would be your best bet. My Jacksons play like soft butter, the combination of the low action, thin neck is really easy on the hands.
Hope I gave you some good info that you can use. :)
Best pic I have avail right now...
Looks like a pretty good job there Katmetal. I need to finish some of my other projects before starting on that type of work. Besides, I may have found a bassist with similar music interests to start jamming with. So, the projects either need to come to a finish soon, or they may not get done for a while.
It is a small world for metal fanatics. I welcome you fellow musicians, especially the metalheads!
Topic starter
22/04/2008 11:36 am
Just got off the phone with the guys at Charlie Chandler's Guitar Experience (possibly the best play for guitar repairsworks in the UK). They said, as I suspected, that the bound neck will make things more difficult and I certainly wouldn't be able to just file the top 4 frets myself as normal. And with the full job being absolutely no less than £350 (but likely much more) it seems I just have the wrong guitar for it...Unless I find a money tree...hmmmmmmmm. Yes,....
But whats worse is that he warned me there may be a link between scalloped fretboards and tendinitis . Just the damn thing I wanted to get away from! He said it's because, although you don't press down as hard, you have to make other muscles work in different ways to balance and compensate. Almost like a gymnast uses muscles to balance on those whatjumecall-ems.
Wow, that IS balance. I am sure I would fall walking straight on it... :?
Balance?
I think that's just an elegant way to fall
" First time I heard the music
I thought it was my own
I could feel it in my heartbeat
I could feel it in my bones
... Blame it on the love of Rock'n'Roll! "
Topic starter
23/04/2008 7:03 pm
thats nothing. I can hop on just my tongue along those things all day!