Topic starter
30/06/2011 7:19 am
Okay, I'm a noob here so please be patient as I don't know the names of all the parts on a guitar even though I should by now.
I was recently given my grandpa's vintage Kay Truetone archtop semi-electric guitar but she's really banged up from not being taken care of.
Firstly, and probably the worst part is right around the bridge area the archtop part of the face has warped and sunk in. I don't know if this is due to faulty bracing or what, but its really bad. Is it even worth it to try and salvage it? How is this fixed, if at all?
Here are a couple of pics of the guitar so you can see what I'm talking about. Please excuse the dirtiness of it as I took these pics before I cleaned her up.
Secondly, the heel of the neck and the sides where it's glued to the face and back of the guitar have come loose as well as the bridge. I assume this can be fixed with some hide glue and clamps and I could probably fix these myself.
Finally, is there anything I can do to fix up the cracked finish, or anything I can use to polish it or possibly prolong the life of the finish?
Thanks for any help you can give me. I would really like to restore my grandpa's guitar if I can. Its the only thing I have of him now.
I'm afraid I'm going to have to say probably not worth the effort, unless it really means something to you.
Topic starter
01/07/2011 1:09 am
I was starting to think that too. Although last night I was looking at it and it doesn't seem as if any of the bracing is broken. Of course there are only two pieces running from the bottom to the top that don't even touch the face except where its sunk in.
I did form a theory though. I'm beginning to wonder if it's supposed to be like that. One would think that a thin piece of wood going from a convex curve to a concave one would crack and break the wood itself. I think I'm going to do a bit more research on it. One would also think that the dip between the tailpiece and the fingerboard might be there for resonance as there's not a hole in the middle like a regular acoustic.
As I said, I'm a noob when it comes to guitar repairs and how they're supposed to be built. It might not even be a problem like I originally thought. I probably shouldn't have posted that until I knew more about the situation though so I do apologize.
The arch of the top should be smooth across the top.
Kay guitars were built to be cheap, mass-market instruments.
They were sold under many names in many department stores (such as Sears, Montgomery Ward, etc).
Sad to say, longevity wasn't much of a design priority.
As Nick said, from a purely financial point of view, it's not worth fixing. For less than the cost of repair, you could buy a new archtop that plays better than the Kay ever did.
Since it's a sentimental item for you, I'd do some cosmetic cleanup and get a good display hanger, to mount it on the wall.
I wrapped a newspaper 'round my head
So I looked like I was deep
Topic starter
01/07/2011 11:19 pm
Yeah, I guess I was just in denial that it probably can't be fixed up. You're right about them not being very good though. The bracing was just horrid. Im not going to pretend I know anything about guitars, but Im definately not a noob to violin (which also has an arched top). I was rather appalled that there didn't seem to be any type of bracing on the actual top.
Well, I suppose I should go find some polish and a mount for it. Thanks for the help.
I understand about sentimental instruments.
When my parents downsized, I ended up with my grandmother's old mandolin
It's probably from between WW1 and WW2. But it's an incredibly cheaply made thing. She probably got it from a mail order catalogue for very little money (being a depression era farmer's daughter, and of Scottish descent, I know she wouldn't/couldn't spend a lot).
Surprisingly, it's still in playable condition. Or at least as playable as it ever was.
The frets are too tall, and rough at the ends. The varnish has runs in it. There's a small knot in the wood of the back.
But I don't care. It's part of my family history, and I love it.
I wrapped a newspaper 'round my head
So I looked like I was deep
iPlayOboe though usually girls or women play double reeds right? I love the bassoon though and contra bassoon. My daughter plays violin. This is her 1952 Gibson Archtop. She got it when she was 9 yrs. because the original owner was 9 in 1952 when she got it too. :shock: I actually do know quite a bit about archtops, w/Kays and Silvertones. Sunken top can not be repaired. :cry:
See link please, then switch to mandolin repairs, go to sunken top. http://www.fretnotguitarrepair.com/repair/acoustic-guitar.php
That's a good link to always keep handy, one of the best in the business and http://www.archtop.com/ KEEP IT EVERYBODY!
I'll get to the '52 L50 pic; we have the matching 1918 Gibson A style mandolin, dehydrated with sunken top, what a waste. Kent (my CDN buddy who has a guitar named after him): we have a mandolin like yours too, 1922 Martin and... still new. :lol: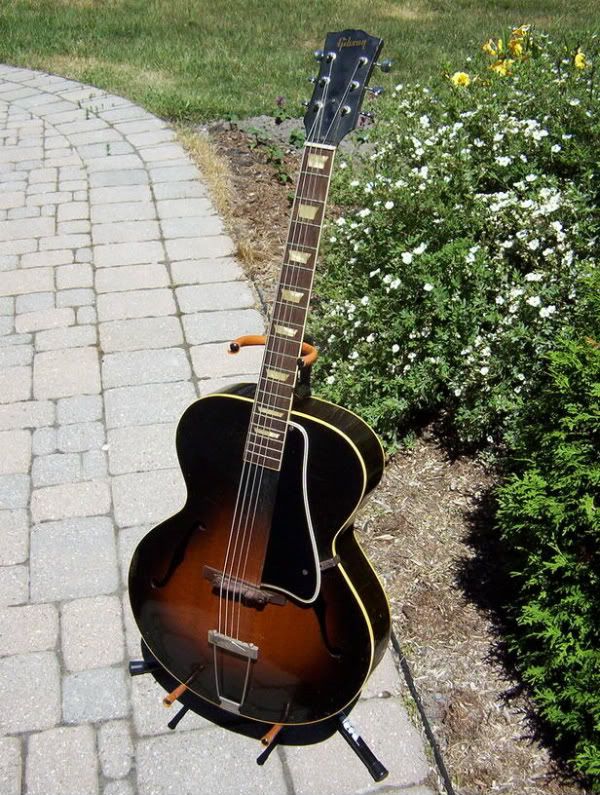 Again, too bad about the sunken top. Scratched and burnt guitars are actually cool: Billie built this with Bill Nash and myself not just for instruction to learn Strats, she had new Tele's, but she had terrific fun doing it and putting the pieces together.
Like a bird on the wire,
like a drunk in a midnight choir
I have tried in my way to be free.