Topic starter
18/04/2010 8:30 am
Don't discount Danelectro - I use their Black Licorice "Beyond Metal" mini pedal. A very sick sound
A :-)
"Be good at what you can do" - Fingerbanger"
I have always felt that it is better to do what is beautiful than what is 'right'" - Eliot Fisk
Wedding music and guitar lessons in Essex. Listen at: http://www.rollmopmusic.co.uk
If you get a chance to try out the Sansamp gt2...this thing is unbelievable. It is one of my fav. pedals, lots of settings, but easy & fast to use. Warm fuzz to heavy crunch & more...
I like the quick setting pedals, not really a fan of the zoom & such where I have to read a manual as thick as a phone book.
I have not tried the Satch pedal, but it looks/sounds cool; check out the youtube vid.
i'll toss in my 2 cents.
I owned a satchurator. It wasn't my thing...and I don't really think that it would be that great for metal (although that guitarist in the vid makes it appear that way) The boost was pretty cool
Rocktron - haven't tried metal planet, but the zombie is pretty awesome for metal. It gives a very thick rectified sound
Blackstar - they have a couple of tube distortion pedals that are awesome that I'd recommend trying out
I haven't tried the metalzone and other pedals mentioned so no opinion there
darkhorse after reading your posts on this Rocktron pedal and searching for a good distortion pedal myself I did some checking of reviews and most were along the lines of what you wrote there were several that said this was a very thin sounding pedal.
Normally I a few bad reviews to me don't matter that much if the consensus is good BUT what bothers me a bit in this case is the complaints are exactly the same from everyone that didn't like it that the pedal was very tinny sounding.
I've had tinny sounding distortion pedals so I don't want to waste my money on any more of those.
How do you think this compares with the distortion on the VS Jekyl and Hyde? I have one that I am borrowing so I can get an idea maybe what to expect.
I'm going to run this through a Fender Hot Rod Deluxe amp with an equalizer in the chain also.
"It's all about stickin it to the man!"
It's a long way to the top if you want to rock n roll!
I have yet o find a pedal I like better then my Wampler SuperPlextortion.
Dean Icon PZ
Line 6 Variax 700
Dean 79 ML (silverBurst) Dean 79 ML Arctic White
Dean V-Wing Dove
Wampler SuperPlextortion - Skreddy Lunar Module
Peavey Transtube 110 EFX - Vox DA20 - Valve Jr Head/Cab
Phonic 620 Power Pod PA
Line 6 Pod HD
H2O Chorus/Echo
I browsed your thread, and got some of the more valid points, and probably missed some too? :shock:
I am really pleased that we have a BBE Sonic Stomp/Maximizer supporter - I didn't know you had talked about it already when I was discussing it last week. I also mentioned the Proco Rat but haven't seen one lately. I like the old DOD's, used.
Supra Distortion seems to be their strongest offering now, I dunno? http://www.dod.com/fxpedals/pedallist.htm
But I looked at the Big Muff that has tempted me for awhile, an early 90's; and now the store has the Dimebag MXR that you mention. I didn't have to try, both are good. We use Boss Metal Zone with no complaints. Really don't need better. :?:
My all-time favorite, which you can try & buy is the Ibanez Smash Box SM7. Still have it, but my son stole it. I want it back (I don't want to BUY another one out of principle). I recommend it to anybody without hesitation, it's wild & it kix!
http://www.ibanez.com/Electronics/model-SM7
From the link for those that don't click it for whatever reason: For super-aggressive heavy-rock distortion for that don't-mess-with-me attitude, this box will deliver. Comes armed with obscene amounts of gain, tight low end, and searing highs. A void switch eliminates excessive string noise and feedback. An edge switch allows 2 different preamp flavors.
Like a bird on the wire,
like a drunk in a midnight choir
I have tried in my way to be free.
No we don't have the Keeley mod on the Metal zone, but I'm glad you liked it. I don't do much "sound" and have always focused on having the weapon at the beginning of the chain, unlike many people. The guitar is the first thing I hot rod, and IMHO, is always the biggest "gun". Then the amp would be the last thing I would hot rod and I don't get around to doing much with the stomp boxes inbetween, and sometimes take the lazy approach - all in one GT6, and then a smaller ZOOM G1. I know it isn't sturdy and it is only a toy, but FRRR-eeeak, does it ever have some wild metal patches on it!
Getting back to your realm okay, my son has these on a Roland Juno 106 Synth in the pics but the chain is the same for guitar, and they go into a fairly complex and very old/vintage Traynor mixing board. He has the Snarling Dog Addicted-to-Wah somewhere in there, and a red Digitech Whammy, just like yours - always on the floor of course. Spare wah is a seldom-used Dunlop Jimi Hendrix, and there are some critical Moogerfoogers that I don't understand at all, I just know they include the low pass filter and ring mod. http://en.wikipedia.org/wiki/Moogerfooger I got him a Roland Space Echo 301 due to his move backwards to analog, and all vintage, where possible. So, I wish he'd give my SM7 back, but we do everything in 2's it seems, with a backup for everything? I haven't told him about all of my distortions, or he'd steal one.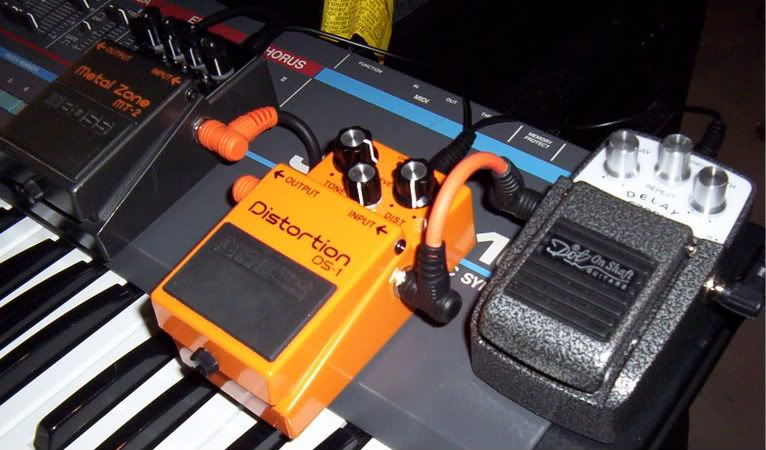 Again, I just want to say that the SM7 would be my Metal box of choice, it is so over the top, bone crushing, dirty mean and ferocious. But I don't play in a band, occasionally as a fill-in, and in rehearsal jams where somebody can't make it. The principal characters are dictators and don't allow much gear in the house, car/van or to the gig - it's all about them.
I solo as a one-man band I guess, and already push the envelope by bringing a little Hendrix or Blues to a Coffee House, when they are supposed to Bluegrass, Country or Folksie. I don't have much problem inserting a little noise into Folk-Rock? The biggest offence is actually going with a Strat and Tele, and it is most often not allowed, only if Country. Nuff said, my set up can typically be this and that's all - sometimes no amp; so they don't like any boxes and a few extra cords before the house board when it's just supposed to be walk up, plug'n play all into one cord. But I don't get paid so be bold.
You really have the actual topic covered with all of your trials and expertise, but here's my simple gadgets, fairly benign - the Strat is hopped up and an it would take pages to adequately talk about it's pickups and 10 tones - it can do metal; has done some heavy rock in a pretty big show (ha ha not Ed Sullivan) and we've let Anthony Gomes use it for scorching blues, and FWIW, Nuno Bettencourt signed it before my son bought it, then he gave it to me. It's just a SRV look-alike.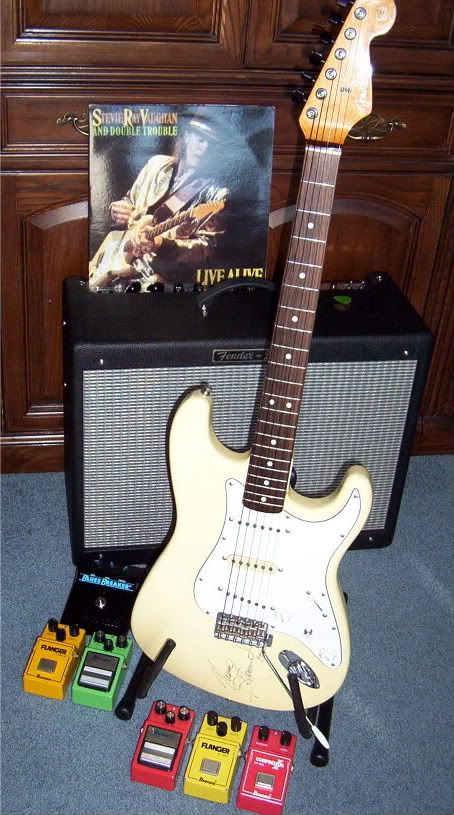 The 1979 - 81 compressor is pick-attack sensitive and has only level and sustain, the other early 80's CP-9 incorporated adjustable attack time. The 1983 TS-9 is not Keeley modded, because it was too old to open up, but I have the mod in a little plastic bag. :shock: A Marshall Bluesbreaker is still new, and can back that up; overdrive, not distortion. I have the Ibanez TS-5 also, but it is only plastic, and somehow produces a meaner sound. I have the TS-7 to go with the SM-7 that started this conversation. They are the same series, the silver metal boxes, and match eachother perfectly. I have a bunch of new Danelectro mini-effects just as novelties and my wah is the simple original Cry Baby with a battery door and a red land-mine Dallas Arbiter Fuzz Face.I'm sorry that I am not a big user of heavy metal effects, but again, I have the SM-7 somewhere, I love it to death :lol: because it's tight, razor sharp, quick & killer :evil: & it was my ultimate choice.
Like a bird on the wire,
like a drunk in a midnight choir
I have tried in my way to be free.
Yeah, sorry I am not at the place where that setup was anymore, but your question was valid, or you assumed correctly, and the Moogerfoogers came first, and went before the delay which went into distortions. And after that, came the wah and whammy and mixing board. It's probably no different with the tape echo. My son is fussy about what signal he'll put through it. Just my guess - I think he wants a clean or cleaner signal, and no clipping to go through sensitive circuits?
I don't know what goes where - for sure I'm not a "sound" guy, as I said. Don't use it all myself. I just take the pics? :lol:
So, I use the simpler stuff that I talked about with the other pics, only Acoustic Simulator and Flanger for folk music; Compressor, Tube Screamer and optional Flanger for bluesy music or pop rock. Then I found patches that I liked on the ZOOM G1, and use one cheap plastic multi effects. My 'unruly' behaviour probably prompted signs, saying "acoustic jam".
So I am very simple, and far from pro. I take the easy route if I can, and never get paid. The pedals are not welcome where I played, and I took 'em anyway, but now I have a Roland Cube 20 with COSM FX on board - sometimes, if you can hear the effects (delay, flanger or chorus, reverb or vibrato) the other players will wince and scowl in strong disapproval.
I will NOT play clean or dry, or play by their clean rules, and now there is a requirement to be entirely unplugged at most coffee house venues. The soundman and soundboard has been taken away and the vocal mike is set up at the beginning.
I find no thrill in that, not being able to use toys, and not being able to use an electric guitar over two thirds of the time.
Like a bird on the wire,
like a drunk in a midnight choir
I have tried in my way to be free.
Yes, read it all twice, now that's paying attention. 8) It's only fair if you go to all the trouble to write and share that info.
Okay, I learned a lot. I think we had an effects loop there but I dig what you say about the delay or anything being sucked into a black hole when it comes to distortion boxes. I'm glad my son had the MOOGS first. Actually he is on Synth Forums and is part of a scientific, maybe not-so-friendly, but technical community. If you're not highly educated there, you don't belong, and wouldn't get away with ignorance or mistakes. The people seem to have a lot of money, hundreds of thousands of dollars in gear and engineering degrees. It's so "European" IMO. You gotta be an Artist, "Baron von Synthesizer", a PhD or something, ha ha. This place on the opposite hand, is friendly and for all levels of interest or participation. We don't have to be Eric Clapton, Paul Reed Smith, Seymour Duncan etc. to be here. Now ain't that cool? Okay, we have some Dr's. :lol:
Getting back to my playing for charities, with the restrictions placed on volunteer players, entertainers and fundraisers around here, I am losing interest in "helping out", it's true. :roll:
The latest, besides having to pay to play, to add to the coffers, is to pay for Insurance, in case somebody in the audience gets hurt. I don't need that and would rather give up. :shock:
Like a bird on the wire,
like a drunk in a midnight choir
I have tried in my way to be free.