<...>
on the versatility project: congrats on your first. did you consider pairing the one P90 with a humbucker? bet it would yield even more interesting and desirable timbres, esp with a coil tap a phase reverse switch for the 'bucker.<...>
Nope, never considered it (duuuuuh).
One of the Mean 90s is "reversed" so when both pickups are selected it acts like a humbucker as far a noise canceling is concerned - at least according to the manufacturer. It sounds a bit "bucker-ish" in that position, but not much.
I thought about coil taps but the guitar is a cheap one, it was my first mod, and I didn't want to invest a lot of money in an inexpensive guitar. Yet an inexpensive guitar was the best choice for the first mod, that way if I screwed it up, I wouldn't have been out much.
Plus I play a lot of private parties here is South Florida, which used to have a big construction base and has a lot of retirement communities. The work is slow and I know many people who used to live in wealthy communities who have even gone back to work due to the fact that their bank, Chrysler and GM stock has become worthless.
If the work ever gets back to normal, and I'm still playing that guitar, I might put a coil tap humbucker in the bridge position.
On a side note, I'm surprised at the quality of build of the cheap, bottom-of-the-line LTD. Either they have good QC or I happened to get a very good one.
Notes
yeah -- from what I've seen, LTD does seem to have good Q in the line top to bottom. most of the LTD guitars are lookers as well, though that appeal is taste dependent.
most modern pup pairs are now RWRM for humbucking operation in "middle" (parallel combined) switch position. the same can be true for mixed P90s and tapped 'buckers, as long as one pays attention to pup designations. I replaced the anemic neck pups in two of my Squier '51 project guitars -- one is Reverend P90 ($$ on fire sale) and the other a GFS. both work well against the 'bucker, and when combined are humbucking with the tapped 'bucker (as expected). if the humbucker is in full bucking mode, then combining it with the P90 will not cancel any of the P90s hum pickup. been quite pleased with the P90-humbucker combo. have to do it on a better guitar. the '51 necks just haven't proven stable enough for real gigging.
I'm really a P90 fan, the clean highs, the pick response and the full midranges.
But I like the idea of one humbucker. Perhaps some day I'll by an inexpensive 3 pup guitar, put a P90 in the neck and bridge position and a humbucker in the middle.
I also need to get a strat some day. One with a longer neck radius (I like the 12" radius that Gibson/Epi favors).
But right now, the work is still slow. I just got an e-mail from people who used to hire us every year, their retirement portfolio tanked as it was heavily in GM and Banks, and they are going back to work, no more parties. Until the economy gets back on track, I'm afraid my GAS will have to be contained. Especially since the GAS is shared by my saxophone, wind synth, and sound modules
BTW, here is a picture of my other two P90 guitars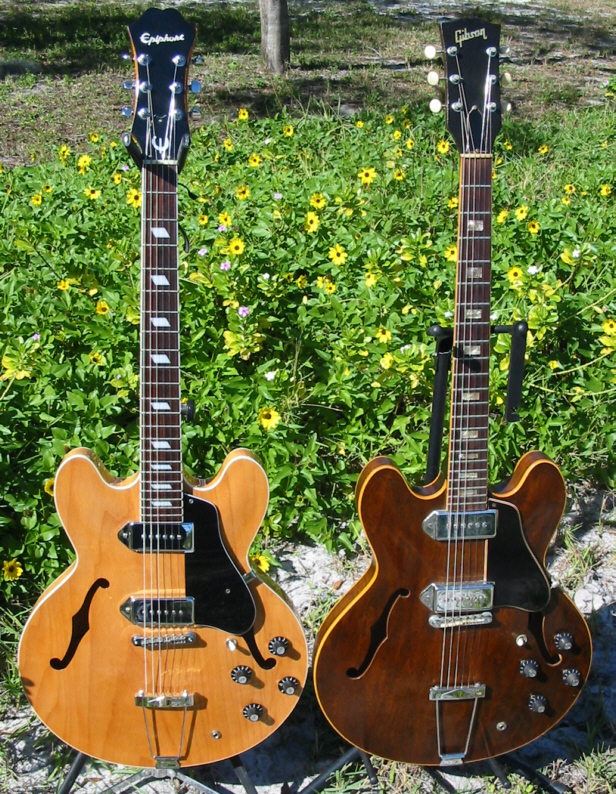 If I was restricted to having only one guitar, it would be the ES-330 and I'd put the Duncan P90s on it that are now on my Epiphone.
Notes