DeArmond 230 soundhole pickup Question
Topic starter
24/06/2009 10:31 pm
I just received an old DeArmond 230 soundhole pickup I bought off ebay. I installed it and noticed that its output is incredibly weak. I'm trying to figure out if I got a broken/damaged piece of equipment. On my 180W Fender Super Twin I need both the output and master volume at 8-9 to even noticeably hear it.
1) Do I need to use special strings in order to help the magnetics out? I'm using normal acoustic strings now.
2) Is it meant to only run through a huge PA system? I would think a 180W amp should be more than enough, but figured I'd ask anyways.
Thanks in advance for any assistance.
Picture:
DeArmond pickups are sometimes as low as 2K ohms in resistance.
You may check to confirm this with a certain model of DeArmond Telecaster which Fender produced about 5 years ago, and may still produce. Specs were on the website.
I own a new old stock DeArmond Les Paul-type guitar with low-output DeArmatrons, but they work beautifully, as designed and intended, but I realize they don't have much potency.
In your case, for this application inside an acoustic guitar soundhole, you would have to use an L.R. Baggs or Fishman pre-amp, 9V powered, with circuits and equalizers inside a remote plastic box-type unit.
http://www.museweb.com/ag/amp/ag_amp.html for an excellent and technical tutorial - explains it all, and is anything but commercial. Google the products themselves if you want the marketing hype and prices.
Of course it would be cheaper to buy a new soundhole pickup instead. I wanted a new DiMarzio @ $200 CAD, but realized from past experience that I lose them, or people have taken them - I mean just helped themselves.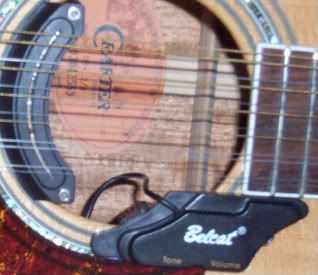 So, I bought a new, cheaper, and non-invasive, easy-to-use 2-piece Belcat, which I recommend. My friend bought a pickup for 4 times the price and it is no better. However, I also like or recommend Seymour Duncan's and Rio Grande.
Like a bird on the wire,
like a drunk in a midnight choir
I have tried in my way to be free.