Your Gear...
I can't look at this thread and help but wonder how yoyo286 is these days. (he started this thread)
anyone here remember him, or keep in contact?
He still has a Soundclick site, but I don't think he's posted anything on there since he disappeared.
:D :D :D
Vic
"Sometimes the beauty of music can help us all find strength to deal with all the curves life can throw us." (D. Hodge.)
My gear.
Guitars:
Electric:
Epiphone Vintage G400 Brown (I love SGs and the vintage brown looks awesome. Doesn't show fingerprints like a gloss finish would.)
Epiphone Les Paul Plus Top Limited Edition Ebony (I gassed about a Les Paul for a while, Probably should've went for a wine red or something, but the black looks like a plain top from certain angles and I kinda liked that effect.)
Epiphone Firebird Studio Limited Edition Tobacco Sunburst (My upgrade from a Squire Bullet Stratocaster copy which I sold for 30 bucks to a girl who wanted to learn guitar.)
Squire Thinline Modified Telecaster (I needed some twang and it was dang cheap. Plus all the necks on the fender telecasters were orange :? .)
Acoustics:
Fender DGA1 NAT ( it was a cheap acoustic I bought for 120 bucks, played nice too! )
Takamine G Series EG531SCDR Dreadnought cutaway acoustic electric ( It was a beatiful guitar the I got for cheap, and the Dragon inlayed into the body is sexy. )
Amps:
Marshall MG 15 DFX (My first amp. I don't care what anyone says I like the way it sounds and the effects are fun!)
Fender Blues Junior (My tube amp, I love the simplicity and sound. Plus it was on sale.)
Effects:
Boss MD2 Mega Distortion Pedal (I wanted a pedal that could get me close to Slash's sound. I love useing it to play Guns N' Roses songs.)
DOD FX100 Integrated Tube Distortion pedal (I got this pedal cause it gets nice blues tones)
DOD FX101 Grunge Distortion pedal ( It was a gift, It's actually not a bad pedal. Noisy though)
Canrock I have the same Tele that you got. :D
Nice guitar Ryan, are those locking tuners? Clip the string ends before you poke your eye out!
Minotaur ... nice gear. 8)
hahaha, those have been on there for like a month >.>
Im so lazy, I even just bought new strings.
back down to 9s!
haha, anyone have a soldering iron I can borrow? )
I guess i lost mine moving or something, cant find it.
e--------------------9--12--16--12--9-----------------------
B---------------10-----------------------10-------------------
G----------11---------------------------------11-------------
D---9h12------------------------------------------12--7~~---
ZOMG
Well, the Turser only lasted four months due to a rush decision on my part, but here's the well-fitting replacement:
Epiphone Firebird Studio in worn cherry finish. I replaced the factory pickups with Seymour Duncan SH-2 and SH4 neck and bridge respectively then added the pearl knobs. Just have this thing about pearl lately, but for now the pickguard is safe
"...I don't know - but whasomever I do, its gots ta be FUNKY!"
WOW this thread got busy since the last time I'd checked it.
Great collection of pix representing some great gear.
As Musica said, this thread is great!!
Bish
"I play live as playing dead is harder than it sounds!"
Some great instruments in this thread!
I've only been playing (again) for about 6 months, but allready have my apartment at the bursting point... I don't even know how it happened!
I started with an Epiphone Les Paul Standard:

A few months in and I grabbed a smokin' deal on a Washburn acoustic from Musician's Friend:


(you can see the Pocket Pod that I used with the LP in that shot too.
When I was unemployed for a couple months this spring I finally tackled a DIY bass project that I'd had for years unassembled under the bed:


It went together OK, but I don't really play it. I'll get around to doing a better set-up on it at some point I'm sure, but for now I'm focusing on the guitar(s).
Then my mother surprised me with an amazing Charvel for my 30th birthday this month:


She might not look the part, but she plays some real nice blues!
I then decided that I needed to really hear the guitars through something other than 'phones so I splurged on a Vox AC15:


I'm having a blast dialing in different sounds with it! It gets a real nice growl even at apartment volumes.
WOW, you really have got a bad case of GAS. I'm glad it seems to be in remission, some.
Beautiful gear collection, CuppaJack.
Bish
"I play live as playing dead is harder than it sounds!"
WOW, you really have got a bad case of GAS. I'm glad it seems to be in remission, some.
Beautiful gear collection, CuppaJack.
+1. Thanks CuppaJack; thought I could be satisfied for at least a little while longer!
"...I don't know - but whasomever I do, its gots ta be FUNKY!"
WOW, you really have got a bad case of GAS. I'm glad it seems to be in remission, some.
You aren't kidding.
The scary thing was I didn't even realize it was happening... Totally snuck up on me!
If I can keep the Tele-dreams out of my head I think I'll be safe for a while!
Epiphone Les Paul Classic Goldtop
Ibanez RG320DX
Parker P-44 w/ piezo
Ibanez AEG6TN
Korg a1500g processor
Peavey Bandit 112
It's been a long time since I was here...I just want to help now...maybe learn something along the way...my inventory has grown some so...let's see if this works...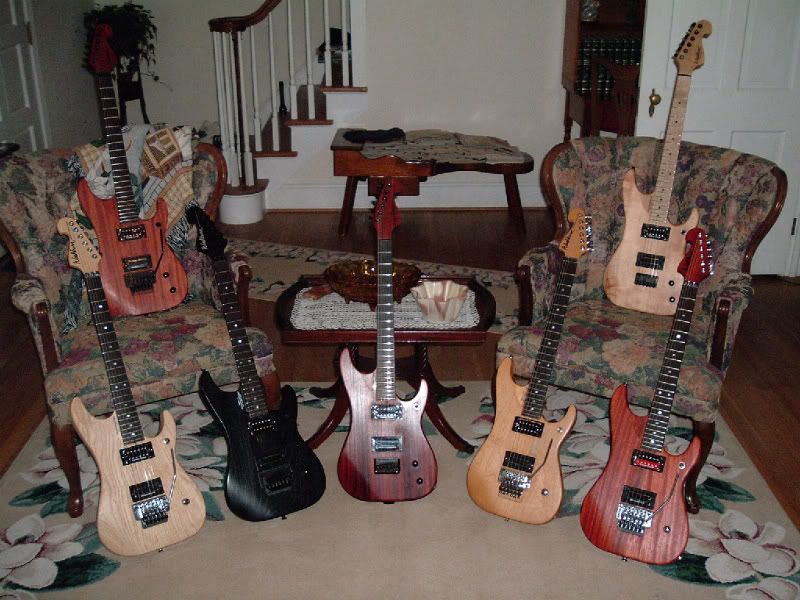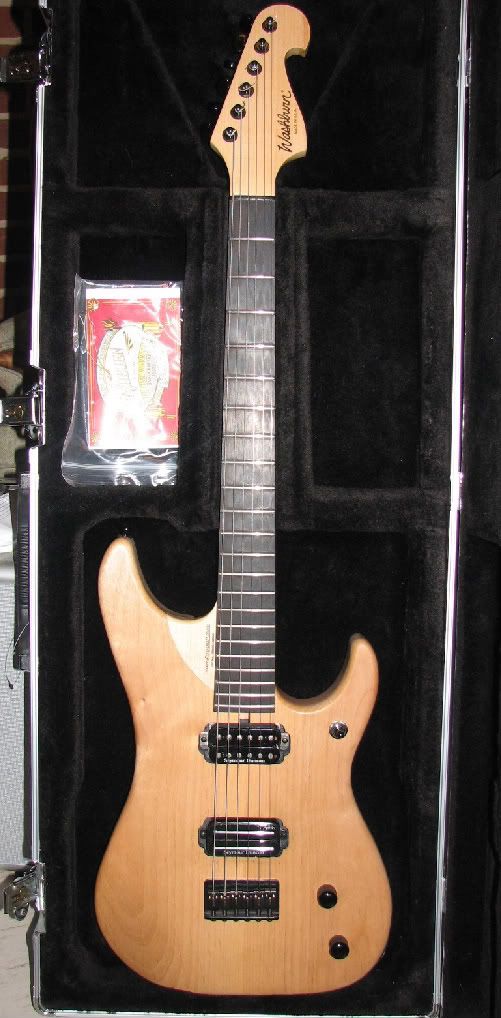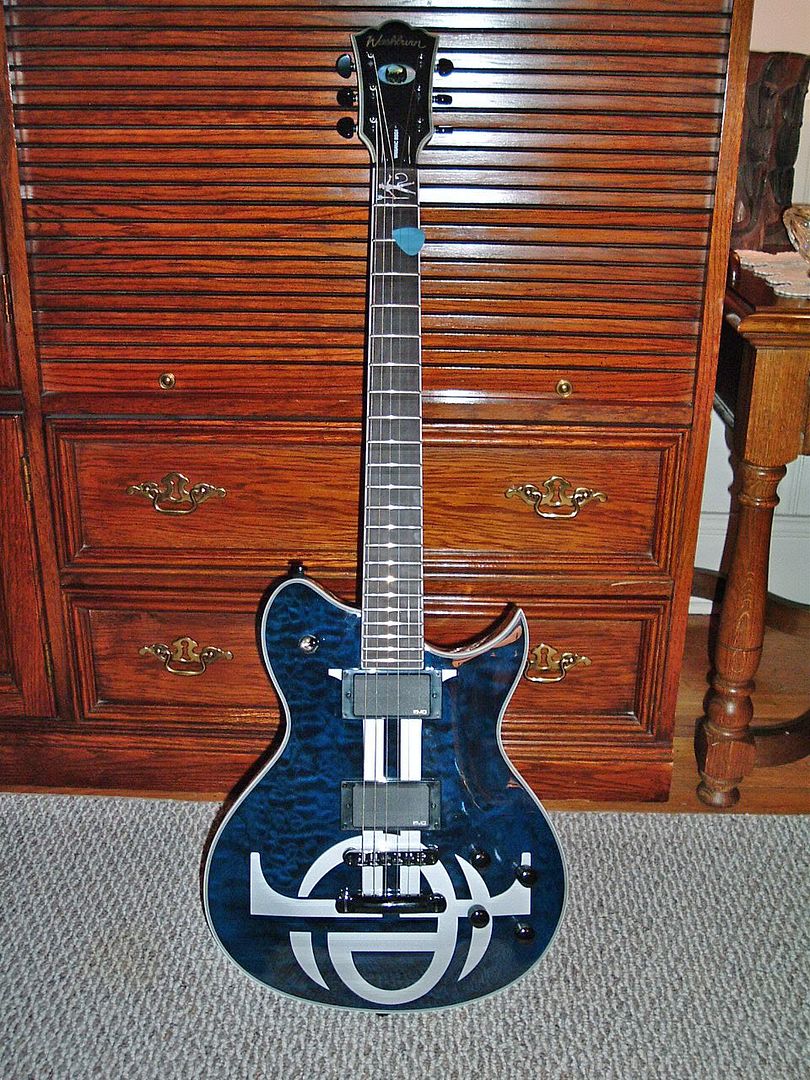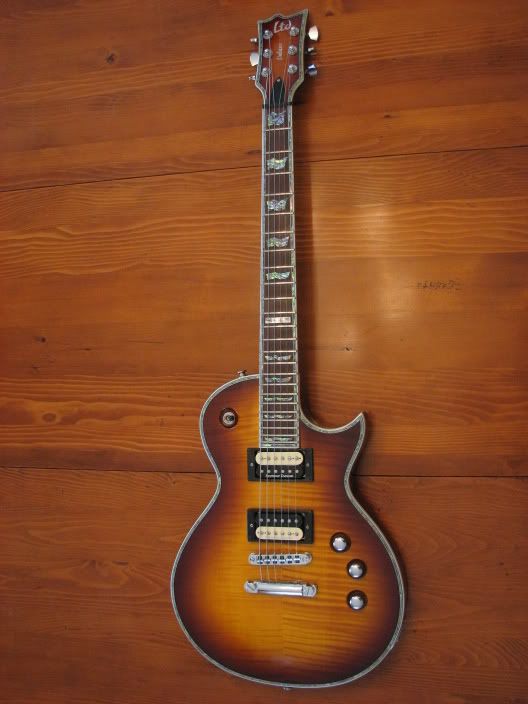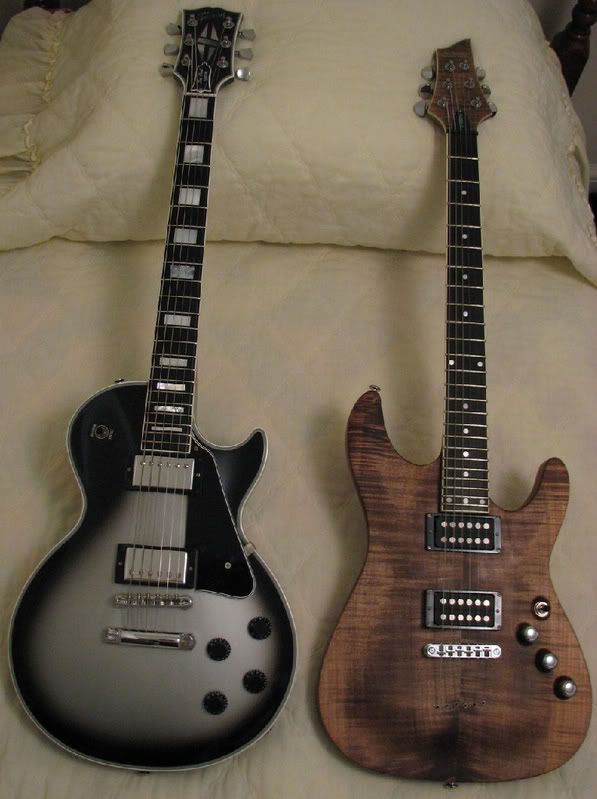 And of course my crap acoustics except for the Martin of course
I know noone cares but in order from the top and left to right:
Washburn "Lost Forest" all maple NX6
Washburn "one of a kind" Padauk NX6 with a floyd
Washburn Padauk NX6 (one of my faves)
92 Washburn Davies N4
next pic you've seen the top two...from left to right:
Washburn Swamp Ash N4
Washburn Prototype Black Ash N4 (Nuno has the other one)
you've seen the Padauk and the Davies N4 but on the far right a Washburn Padauk N4
Next pic just a standard Washburn Alder NX6 with the direct mounted pickups (Dimebucker!)
Next a Washburn (boogiestreet) Evil Twin..mine's #16
Next pic:
-89 HM Strat
-Fernandes Ravelle Elite (China made, not the crap they make in Korea now)
-Fender 50th Anniversary Strat Deluxe
-81 made in Japan squier Strat
-ESP LTD EC-1000...book matching sucks but I like the sound...was the closest I ever got to buying a Les Paul (swore I never would but)
-next picture is of a Schecter C-1 Exotic Maple top and of course
the guitar on the left needs no introduction...almost twenty years and I finally bought a Les Paul a few months ago.
-then the acoustics
-Martin DCME
-Yamaha piece of shh
-Cortley something still don't know where it came from but it's small and plays nice
Gear is simple:
Marshall JCM900 100w half stack (looking to trade heads for a 50w)
Atomic Amp 1x12 (really want the 2x12)
Line 6 Pod 2.0
Line 6 Pod XT
BBE Sonic Maximizer 482 (need to trade it for just the pedal)
Boss GE-7 Equalizer
Boss MT-2 Metal Zone
Digitech Dan Donegan Sig pedal
Digitech Scott Ian Sig pedal
Boss digital wah pedal PW-10?
plain ol' Dunlop Crybaby
and a bunch of other pedals I've either sold or don't use anymore. Like an original Marshall Guv'nor I recently sold.
Ok enough about me now let me get back to looking at everyone elses collections.
BTW looking for a Tele....want one bad and don't know whether to go for the new ones or ? Know nothing about them.
Take care
That is an astounding collection of guitars. WOWWEEEE
Very nice!
Welcome back, Kerbdog.
Bish
"I play live as playing dead is harder than it sounds!"
Great collection, KerbDoG! 8)
How do ya like that Fernandes Ravelle? I always wanted to play one and see how it feels, but was never able to find one in a store. It sure is cool-lookin' and I'll bet it sounds great, too!
Thanks for the pics! Amazing! :D :D :D
Love and Peace or Else,
CC