This instrument acquisition brought me the most joy! a TUBA!
Topic starter
17/04/2008 7:30 am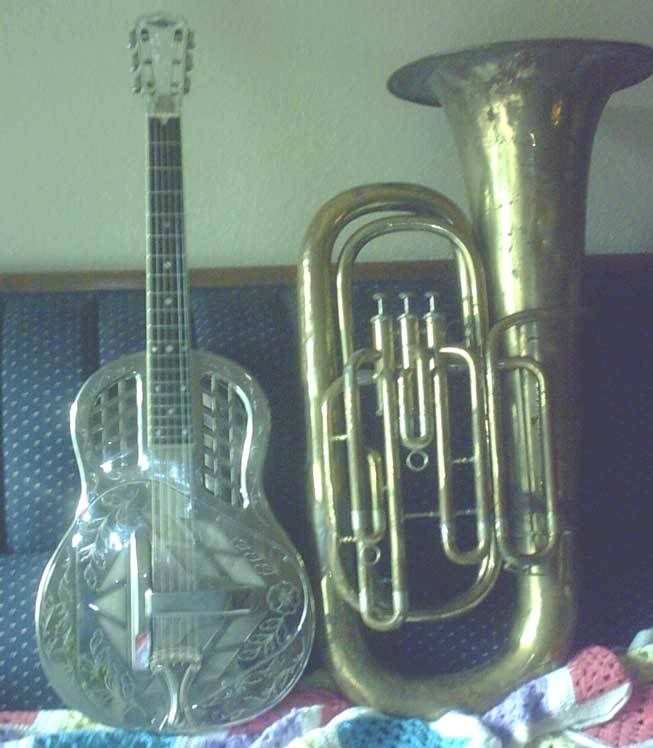 A BBb TUBA!! (i hope the image displays). this should probably be posted in the bass forum but this slide forum is where I always come and this is my contribution to the Gear Acquisition Syndrome (GAS) topics, as well as the fact that I am going to use the tuba with acoustic slide on the tricone and fingerstyle.
I have wanted a tuba for many years to play bass parts in mostly old time blues and some ragtime, dixieland, New Orleans street jazz, like in the Jazz Funeral scene in the movie Easy Rider and in fact I had hoped to some day to play a New Orleans jazz/blues funeral. (maybe my own). That is a historic tradition among the black folks of New Orleans that goes way back, more than a century, I think I read one observer account from 1815, long before the naming of both blues and jazz genres, so it was evidently (at that time) a mixture of some white Christian tradition, gospel music and traditional African music and culture which are integral with the roots of blues. Yeah, that's pretty sad, (funeral stuff) what's more blues than that(?) but blues is supposed to take us from the blue to a higher place (my view on it) which coincidently is the course of a jazz funeral. Blues, thus is a deeply felt and healing form of music which is why I'm so into it. It's a spiritual thing too.
I never thought i would be able to get a tuba because they are very expensive instruments, not nearly as common or available as guitars, that's for sure and I am surviving off of a very low income medical disability with very limited funds. , But despite hardship I've been very fortunate in so many ways when it comes to music stuff. I won this tuba in an online auction. It was listed as having no name on it (so it was risky to bid) and the seller didn't know anything or reveal much about it. I got it for $54.00, $2,00 under my maximum bid plus $18.00 shipping. I was so happy I was jumping up and down waiting for it to get here to see what I had won. I was very excited. I had never felt so excited about any instrument before. I was hoping that it was in fact a real tuba and not a smaller horn like a Euphonium. It arrived in a huge box and it turns out to be a Mirafone BBb (double B flat) tuba, made in Germany in 1969. Yup, it's a real tuba, 3 piston valves and has approximately the same range as a double bass (upright string bass). I intend to use it in the same way as an upright bass (playing the same parts) and a little bit of bass (tuba) soloing. It didn't have a mouthpiece and I was able to find a Mirafone tuba mouthpiece to match the brand of the tuba at a horn restoration shop in Seattle for another $48. A professional player at the restoration shop played this tuba and it sounded great!! It plays very well. It is beat up but that's part of it's blues mojo and I like it. The lacquer is badly worn off in places and i intend to chemically clean it and refinish it by painting in order to preserve it from further oxidation of the metals (yeah, proper painting is cool and appropriate on a tuba or other brass instrument) I'll make this thing visibly ready, a stand out beauty for the parade or the funeral :-). i might hang some bats from the bell - or maybe canaries - or whatever suits my mood. 'Fish Ain't Bitin' by Corey Harris is a nice blues piece with a tuba and acoustic guitar which is very cool, to give you an idea but a tuba can do alot more than that. I plan to use it with the tricone in the photo and whatever music i can create for it.
I haven't had a chance to learn to play it yet, other than a few notes but I used to be a very good trumpet player so it is going to be very easy for me to learn. (I also have a trombone and 2 trumpets and a clarinet (squeek) I downloaded some fingering charts and I just need to get some good method books.
I am setting up an electric piano (heavy old yamaha PF10) right in front of my computer monitor and setting up my ampeg bass amp and MIJ P-Bass immediately to the right. The tuba surprisingly fits on an adjustable guitar stand, I am going to study and learn Piano (I think I will be good at it) at the same time that I am learning to sight read standard notation sheet music in the bass clefs on the tuba and on the P-bass. these three instruments will work fine together. To my left I have a VOX valvtronix (50 watt) and a pick of several electric guitars - one stand will be dedicated to the tricone. Incidentally that is a Continental Style 2 (Rose Engraved) tricone, made in Germany, 1997 and an extraordinary high quality guitar in my personal own experience. i just took out out of it's case after about 5 or 6 months and it is still in tune. it never ceases to amaze me.
Behind me to the right is my recording studio equipment, BR864 (portable digital, 8 track studio up to 64 virtual tracks), Alesis RA100 and peavy rack mount studio amps, etc. that I still haven't got set up yet. i have mics and boom stands and I even have some vintage drums (1939 Ludwig and Gretsch) that I can make room for at some point. I have to make some hangers to hang guitars on the walls because of limited space. I have 17 guitars but only about 5 or 6 that I intend to use regularly. All of this is being set up in my living room. I even have a cello which is laying on top of a huge 3 tier Rogers church organ in the bedroom.
I look all around me and notice all of the remaining space I have which is on the ceiling and I wonder, what can I put up there? i can hang the trumpets and smaller instruments from the ceiling, that would be very cool.
I am looking forward to moving someplace (not an apartment) where i can play up to volume.
My objective is to become a song-writer composer rather than a performer so the whole approach to playing and studying is quite different. i am more interested in studying music over-all on a number of instruments rather than focusing just on one. Another factor is that since I am on medical disability with limitations on energy etc., i would not be able to endure the work demands and lifestyle of a performing musician. Hopefully some day in the future I can get off of medical disability and do that, but the reality for now is such that staying at home and doing what I am doing now is just what the great spirit doctor would advise. If not for that I would probably pursue the performing aspect since I love to play guitar and I might get really good at it.
Anyhow, that is a bit of a glimpse into my life and how a Tuba brought me joy! I have it on a guitar stand in my living room and it makes me very happy just to look at it :-) I'll start playing it when I get my piano workstation/bass station all set up here.
In addition to all that a tuba is fun, a much under-estimated and under appreciated instrument.
I don't check in here very often because I've been too busy (a good sign) but I appreciate the people I've met in this slide forum so I thought it was time for an update.
Catch you all later.
This post brought me that special deja vu feeling in a strong way. Enjoy the tuba :D
Jim
"The hardest thing in life is to know which bridge to cross and which to burn" - David Russell (Scottish classical Guitarist. b.1942)
That's awesome!
(Now you need to figure out how to rack it so you can play it with the guitar, like a harp.) :lol:
"A cheerful heart is good medicine."
WOw - that's a steal! Congrats!!
I want a Tuba too
lars
BTW - I think a Trombone in the slide forum would've been appropriate - but a tuba - hmmm :wink:
Topic starter
18/04/2008 6:30 pm
That's awesome!
(Now you need to figure out how to rack it so you can play it with the guitar, like a harp.) :lol:
That's quite easy Ricochet, (like in the old photo below) although it's not a priority for me right now. It might be fun to try sometime. The tuba already fits tightly enough in a guitar stand and all I would need to make is a long lead pipe attachment and the pedal mechanism to work the three piston valves.
I'm more interested in what it might sound like when I apply various effects. I've heard a couple of amazing tuba solos comparable to the best electric bass guitar solos, I heard one recently by the Youngblood Brass Band, appropriately named 'Tuba Solo;' (played on a Sousaphone tuba). i wish I could find a link to that sound file for you because these are pretty awesome instruments in the hands of a good player. I haven't heard one with guitar/bass effects applied yet but I would expect it to be quite amazing. I don't expect to play nearly as well as alot of these tuba players but I hope to create some cool sounding stuff.
Here is the url to one of many web pages about the Youngblood Brass Band. This one has some Youtube videos
http://musictonic.com/music/Youngblood-Brass-Band
My original plan was for a soft bass tone for for some simple acoustic blues and there is some really cool stuff that can be done with a tuba. I found a song by T-Bone Burnett, 'Man Don't Dog Your Woman' a slow bluesy song with a nice two part vocal harmony and the Tuba is the primary instrument providing the rhythm and background for the song which also has a nice clean basic electric guitar solo (slow blues). It's a very cool song. Here's that old photo, I found it on the web somewhere.
"A cheerful heart is good medicine."
Topic starter
18/04/2008 7:16 pm
WOw - that's a steal! Congrats!!
I want a Tuba too
lars
BTW - I think a Trombone in the slide forum would've been appropriate - but a tuba - hmmm :wink:
Thanks, Lars. I really should have posted this in the bass section because they basically play the same parts as a bass guitar. The tonal range of this 3 valve BBb tuba goes a full octave lower than the low E string on a bass guitar and up to a Bb fourth string third fret on a bass guitar. i hope I have that right, i don't have my bass guitar set up to compare the range- It's on a stand in another room with the strings slackened. This low range is part of the fascination i have for this instrument for bass parts, so I am hoping to get some nice low bass parts in that range. A 4 valve BBb tuba will go even lower by four full tones down to a very low Bb.
I have to edit this. I am not sure that a BBb tuba will go a full octave lower than the low E string on a bass guitar, or if the tuba low E is the same as a bass guitar. The confusion is where the notes are placed on the so-called bass clef for bass guitar music. It seems to me that these bass guitar notes are actually a full octave below that bass clef which would place the same notes on different lines and spaces on a 5 line staff below the bass clef staff. It's actually arbitrary and I'll have to sort this out later. ( I should have posted this in the bass guitar forum)
I have a trombone too, it's on loan to a neighbor who used to play one. He's learning blues guitar and some bottleneck. i sold/ traded a couple of guitars to him. He played trombone in high school and I expect him to polish up on it so we can do some recording this summer, hopefully in his mother's garage. I have a number of different instruments and hope to be able to play them all for recording purposes. It's alot of fun to have different kinds of instruments within reach. Since this is primarily just a song writing venture I don't have to be a virtuoso on each one. I should be pretty good on a few though, guitar, trumpet, tuba and hopefully piano.
Yeah, i know this is a guitar website but i couldn't help but post the tuba here. The fact that I plan to use it along with the Tricone for acoustic bottleneck blues makes it relevant though.
I have to get off of the internet so I can get some work done and get all off this stuff set up. I also have to take some photos of that slide I mentioned in the 'slide tilt' topic.
later,
phangeaux
A few years ago, when I was working as a stagehand at a folk festival, one of the filler* acts was a guitar (acoustic) and tuba duo.
Their first song was Purple haze.
The second was a New Orleans style jazz number.
And the third was Paint It Black.
They got a louder response from the crowd than several of the "main" acts. :lol:
*Filler acts do 2 or 3 songs in the corner of the stage while the crew re-sets the main stage for the next act. They keep the audience from getting bored and wandering off during the changeover.
I wrapped a newspaper 'round my head
So I looked like I was deep
love the picture. a hooka tuba player!
wow, nice tuba. what a find. a friend plays one at our jams. incredible sounding. he plays ACDC riffs with his..
congrats on the tuba purchase. I went through school on tuba - even got some fancy scholarships for it.
Have you taken it into a shop to get looked at yet? I started out on the B flat model, but ended up purchasing a professional C model later - Cerveny 4 rotary valves, .835 bore.
if you ever need help or advice or anything, send me a PM